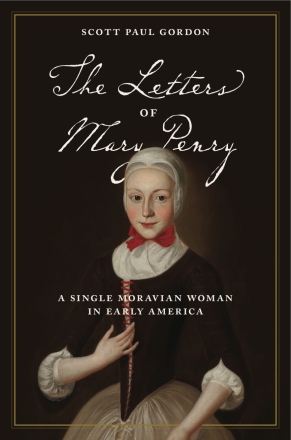 The Letters of Mary Penry
A Single Moravian Woman in Early America
Edited by Scott Paul Gordon
BUY
The Letters of Mary Penry
A Single Moravian Woman in Early America
Edited by Scott Paul Gordon
"A thoroughly astonishing record of a woman's life, work, and thought in the age of the American Revolution. Gordon's careful editing, detailed notes, and engaging introduction bring Mary Penry to life and make it easy to slip into a long-past world. This source adds an essential work to the corpus of women's writings from the eighteenth century. It will be prized by scholars and readers alike for a long time to come."
Description

Reviews

Bio

Table of Contents

Sample Chapters

Subjects
In
The Letters of Mary Penry
, Scott Paul Gordon provides unprecedented access to the intimate world of a Moravian single sister. This vast collection of letters—compiled, transcribed, and annotated by Gordon—introduces readers to an unmarried woman who worked, worshiped, and wrote about her experience living in Moravian religious communities at the time of the American Revolution and early republic.
Penry, a Welsh immigrant and a convert to the Moravian faith, was well connected in both the international Moravian community and the state of Pennsylvania. She counted among her acquaintances Elizabeth Sandwith Drinker and Hannah Callender Sansom, two American women whose writings have also been preserved, in addition to members of some of the most prominent families in Philadelphia, such as the Shippens, the Franklins, and the Rushes. This collection brings together more than seventy of Penry's letters, few of which have been previously published. Gordon's introduction provides a useful context for understanding the letters and the unique woman who wrote them.
This collection of Penry's letters broadens perspectives on early America and the eighteenth-century Moravian Church by providing a sustained look at the spiritual and social life of a single woman at a time when singleness was extraordinarily rare. It also makes an important contribution to the recovery of women's voices in early America, amplifying views on politics, religion, and social networks from a time when few women's perspectives on these subjects have been preserved.
"A thoroughly astonishing record of a woman's life, work, and thought in the age of the American Revolution. Gordon's careful editing, detailed notes, and engaging introduction bring Mary Penry to life and make it easy to slip into a long-past world. This source adds an essential work to the corpus of women's writings from the eighteenth century. It will be prized by scholars and readers alike for a long time to come."
"Mary Penry's letters as edited and introduced by Scott Paul Gordon offer a valuable glimpse into one woman's experiences in early America, but this particular woman's letters illuminate an unexpected and unique range of perspectives on eighteenth-century life. An unmarried woman living in the women's community of a Moravian choir house, Penry engaged for more than half a century with forms of life writing, leaving a fascinating epistolary record of her experiences and beliefs."
"The letters of Mary Penry provide a unique and insightful perspective on early American history. Scott Gordon has rescued this remarkable female author from obscurity in a volume that should expand the canon of American literature."
Scott Paul Gordon is Professor of English and Andrew W. Mellon Chair at Lehigh University.
Contents
List of Illustrations
Acknowledgments
Genealogical Charts
Editorial Note
Abbreviations
Introduction
Letters
Appendix A: Mary Penry's Memoir
Appendix B: Mary Attwood's Memoir
Appendix C: The Stocker and Drinker Families
Appendix D: Business Correspondence 275
Bibliography
Index
From the Introduction
The letters of Mary Penry (1735–1804) offer a sustained glimpse into the spiritual and social life of an ordinary eighteenth-century American woman over a period of forty-five years. Mary Penry emigrated from Wales with her widowed mother in 1744 and lived for a decade in cosmopolitan Philadelphia. For the rest of her life, nearly fifty years, she lived in Bethlehem and Lititz, small Moravian communities in Pennsylvania, as a single woman or, in Moravian terminology, a "single sister." Few eighteenth-century American women produced such a prodigious amount of first-person writing as did Penry, and little survives of what they produced. Penry appears as a minor character in two famous diaries: both Elizabeth Drinker, whose diary of staccato entries extends from 1758 to 1807, and Hannah Callender Sansom, whose diary records a trip to Bethlehem in 1761, were Penry's schoolmates, and both describe their visits with her. In her own letters, of course, Penry speaks in her own voice. Hers is a not an early American voice we have heard before: deeply devout and garrulous, always, but also witty, plaintive, worldly-wise, curious, heartbroken, joyous, prophetic, bold, irreverent.
Penry may have been an "ordinary" woman, but she is unusual in an important way for historians of early America: she writes, self-consciously, as a single woman at a time when singleness was rare. A recent study of revolutionary America tells the story of four women—the Philadelphian Deborah Reed Franklin, the Mohawk Margaret Brant, the Virginian Elizabeth Dutoy Porter, and her enslaved African Peg—to "represent the major varieties of women's experience" in eighteenth-century America. Rural, urban, white, black, native, wealthy, impoverished: these women are various indeed. But all were married. Penry's letters, by contrast, offer the perspective of a woman who chose to remain single. "I desire to spend and be spent," she wrote, "in the Service of the Virgin Choir" (Letter 64). This choice to remain single was made possible by the Moravian communities in which Penry lived. In both Bethlehem and Lititz, single women lived together in great stone buildings, which Moravians called "choir" houses. In these choir houses, which still stand, Moravian single sisters lived, worked, and worshipped alongside one another. They also laughed, played music, gossiped, and mourned their dead. These Moravian communities offered Penry not only the rare opportunity to remain single but also to have a career that fulfilled her, as she worked at varied occupations, including bookkeeper and translator, that supported her and her community.
The early American culture that surrounded these Moravian communities pressured young women to marry to survive. This pressure was not equally intense everywhere in early America. Unmarried women, as Karin Wulf has shown, could find economic opportunities in urban environments. Some religious groups that emphasized the spiritual equality of men and women, including Pennsylvania's Quakers, encouraged women of means to imagine fulfilling lives independent of marriage. In general, however, early Americans tended to conflate "woman" with "wife," which ensured women's subordination and dependence. Unmarried women, as Wulf summarizes, "defied the presumption of masculine authority over women" on which Anglo-American society was organized. They remain invisible, too, in most recent scholarship: "virtually every woman in 17th and 18th century America," one recent textbook asserts, "eventually married." Few systematic studies reveal what percentage of women in early America actually remained single. In New England, where "religious and behavioral norms were supposed to be inculcated voluntarily within the family," singleness was very rare. A study of late seventeenth-century Hingham, Massachusetts, found that only 3.4 percent of women did not marry.5 One study of Quakers near Philadelphia between 1681 and 1735 found that 14 percent of women never married; another study of two New Jersey Quaker meetings before 1786 found that about 10 percent of women had not married by the age of fifty. The rate of Quaker women who had not married by age fifty rose later in the eighteenth century to 23.5 percent, which roughly matches the rate of women among the Philadelphia gentry who had not married by fifty (17.6 percent before 1775, 23.2 percent from 1775 to 1800). But historians emphasize that these rates of singleness are unusually high, enabled by extraordinary economic circumstances or religious beliefs. Among the general population, the rate of singleness was much lower.
Cohorts of Moravian women tell a very different story and reveal the rare opportunity that these settlements offered to single women. Visitors to Bethlehem between 1754 and 1773, for instance, would have found that about 54 percent of the community's women were single, having never married (an additional 6 to 9 percent were widows).7 Some of these women, of course, would marry. But the number of those who, like Penry, chose to remain single throughout their life was high. In 1758, for instance, Penry lived with ninety-three others in Bethlehem's single sisters' house. Over half of these women (60 percent) were born in America. Most of the rest had emigrated from Germany, but some women had been born in Norway, France, England, and Wales. Among the group were three Native Americans (a Wampanoag, a Delaware, and a Mohican), an African American (born in Trenton), and an African (born in Guinea). It was a remarkably diverse group of women. An astonishing 42 percent of these women remained single sisters for their entire life. Half of these women lived into their sixties and many into their seventies and eighties, and so most spent more than four decades as single sisters in a Moravian choir house.
Anna Nitschmann (1715–1760) established the first house for single women in 1730 at Herrnhut, a small village on the estate of Count Nicholas Ludwig von Zinzendorf (1700–1760), about sixty miles from today's Dresden. In 1727 Zinzendorf collaborated with a group of religious refugees, to whom he had given sanctuary, to renew or reinvent a pre-Lutheran Protestant church called the Ancient Brethren. For more than thirty years Zinzendorf led an evangelical movement that spread Moravian piety throughout the Atlantic. Moravians assured listeners that anybody would find salvation who accepted the simple truth that only Christ's sacrifice enabled unworthy human beings to find the grace to do good, and Moravian hymns and sermons centered devotion on Christ's bloody wounds as the source of such grace. Individuals were encouraged to cultivate a personal relationship with their Savior. Their piety and simplicity, approximating the practice of the early apostles, attracted followers from every rank of society, including the evangelists George Whitefield and Charles and John Wesley. Zinzendorf expanded the Pietist tendency to encourage worship in small bands by organizing his movement into "choirs," which were groups of people of the same gender at a similar stage of life: single men worshiped with other single men, single women with single women, married couples with married couples, widows with widows. This arrangement offered an extraordinary amount of authority to women, who, as a group of single sisters remarked, were "led and guided by people like themselves, which . . . elsewhere in the whole world is not usual." Herrnhut's single men and single women began to live together in separate residences. This model was reproduced in Moravian settlements around the globe in which the church owned all property, permitted only Moravians to establish residences, and closely controlled the economic and social activities of these residents.
Most recent scholarship on eighteenth-century Moravians in America has focused on these settlement communities, Bethlehem in Pennsylvania and Salem (later Winston-Salem) in North Carolina. But such places were rare in the Moravian Atlantic in the decades after the church's renewal. More common were the mission stations that Moravians established in the Caribbean islands, Africa, Greenland, and throughout colonial America from Georgia to New York. In missions, a Moravian couple (or two) would minister to a congregation of enslaved men and women in the West Indies or to a community of Native Americans who had converted to Christianity. In addition to numerous missions, Moravians also established churches in urban centers, including New York City, Philadelphia, Lancaster, and York. In these urban areas, a pastor held services, sometimes in German and in English, and often supervised a school for boys and girls. Church members lived dispersed in family homes, and church authorities did not monitor or control their economic lives. Many non-Moravians attended services, even though they had not been admitted either as provisional members or as full members who participated in Holy Communion.
None of these Moravian communities relegated single women to the "usual despised State of Old Maids" (Letter 52). Only "in the world outside" of Moravian communities, Zinzendorf affirmed, was "an old maid . . . mocked and scorned." Zinzendorf did not, however, always speak of the single life and married life equally. He often depicted marriage as the proper trajectory for all single women: "The actual profession of a Single Sister when she is in the Congregation," he stated in an address to the single sisters in 1747, "is to enter into marriage." When Jean-François Reynier joined the Moravians at Marienborn in late 1739, he was told that single people were only "half people." The choir system established in Moravian communities in the 1730s and the practices and piety in those houses, however, provided a powerful counterweight to such statements. The choir system was, as Craig Atwood writes, a "practical expression of Zinzendorf 's theory that the earthly existence of the Son of God has sanctified all aspects of human life"—including singleness. A "Choir-Ode" for the single sisters in the 1759 Litany-Book, for instance, reminded single sisters that:
In old Times was Virginity
Preserved but indiff'rently;
For one did scarce a Virgin see,
But she was a Bride immediately.
The first Change happen'd in this Plan,
When the Creator was made Man;
And from that awful Hour we date
The Honour of the Virgin-State.
Regular ceremonies and festivals (e.g., May 4 was the single sisters' festival), hymns, and litanies particular to these choir houses valorized the state of singleness. These daily routines and this organized piety sustained Penry's faith.
The popularity of the single sisters' choir took Bethlehem's founders by surprise. Initially there were few single sisters in Bethlehem, and church authorities did not expect the number to grow: most single sisters, they thought, would quickly marry. But by 1746 the numbers of single women outgrew the space allotted to them. Authorities moved them to Nazareth, a Moravian community a few miles north, but the choir's continued growth convinced authorities to find a place for it back in Bethlehem. The community built a new house for its single brothers and, when the brothers vacated their building, twenty-one single sisters (and twenty-eight older girls) returned to Bethlehem in November 1748 to occupy it. When Mary Penry arrived in Bethlehem in 1756, about seventy-five single sisters lived in the house, which had been enlarged by an extension to the north in 1752 and would be further enlarged in 1773 by an extension to the east. By 1760, over one hundred single sisters (and many older girls) lived in the house, a number that would remain stable for the next forty years.
Penry's early experience did not promise a life in a Moravian choir house. Born in 1735 in Abergavenny, Wales, Penry moved after the death of her father, Hugh Penry (1705–1740), to Bristol with her mother, Mary Stocker Penry (1715–1760). Moravian evangelists had worked in Bristol and in Wales in the late 1730s and early 1740s. Their message of simple piety, based in the celebration of Christ's sacrifice, together with universal access to salvation found a receptive audience. But Penry's family, attached to the Anglican church, had no contact with this movement. In 1744 mother and daughter immigrated to America, invited to Philadelphia by a cousin who was married to a rich Quaker merchant, William Attwood. The Penrys arrived on September 16 and moved into the Attwoods' home. A powerful man, Attwood served on Philadelphia's city council and was elected mayor during these years (1747–1748). He was involved in the transatlantic trade and had a diverse set of financial interests. In the 1720s he was vending "Sundrey Sorts of European Goods," including raisins, garlic, hats, and nails; he invested in the Colebrookdale Iron Furnace in the 1730s; and in the 1740s he had his own ship and wharf, where in 1748 the volunteer militia, formed to defend Philadelphia and the Delaware River during King George's War, erected a ten-foot-thick breastwork and a battery of thirteen guns. Attwood also sold slaves. Only a few men—among them William Allen, Israel Pemberton, Isaac Norris, and Anthony Morris—contributed more than the fifty pounds that Attwood gave to the Philadelphia Hospital for the Relief of the Poor. The Penrys' relative, Ann Attwood, died in 1747 of yellow fever, and subsequent events, as Penry tells them, resemble an eighteenth-century novel.
(Excerpt ends here.)
Mailing List
Subscribe to our mailing list and be notified about new titles, journals and catalogs.