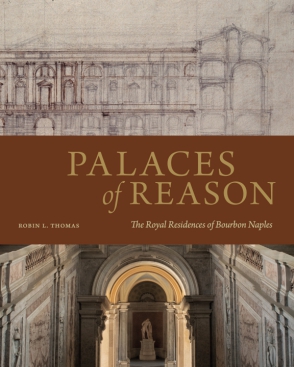 Palaces of Reason
The Royal Residences of Bourbon Naples
Robin L. Thomas
Buy
Palaces of Reason
The Royal Residences of Bourbon Naples
Robin L. Thomas
"In sparkling prose, Thomas argues that three remarkable palaces in Naples were not only important works of architecture but embodiments of Enlightenment ideals. These buildings have never been considered together in print nor have their larger cultural ambitions been discussed. Built on learned foundations of eighteenth-century printed and archival sources, much of it unpublished, Palaces of Reason serves to put Naples back in its proper place as a key artistic and intellectual center of the 1700s."
Description

Reviews

Bio

Subjects
Palaces of Reason
traces the fascinating history of three royal residences built outside of Naples in the eighteenth century at Capodimonte, Portici, and Caserta. Commissioned by King Charles of Bourbon and Queen Maria Amalia of Saxony, who reigned over the Kingdom of the Two Sicilies, these buildings were far more than residences for the monarchs. They were designed to help reshape the economic and cultural fortunes of the realm.
The palaces at Capodimonte, Portici, and Caserta are among the most complex architectural commissions of the eighteenth century. Considering the architecture and decoration of these complexes within their political, cultural, and economic contexts, Robin L. Thomas argues that Enlightenment ideas spurred their construction and influenced their decoration. These modes of thinking saw the palaces as more than just centers of royal pleasure or muscular assertions of the crown's power. Indeed, writers and royal ministers viewed them as active agents in improving the cultural, political, social, and economic health of the kingdom. By casting the palaces within this narrative, Thomas counters the assumption that they were imitations of Versailles and the swan songs of absolutism, while expanding our understanding of the eighteenth-century European palace more broadly.
Original and convincing, Thomas's book will be of interest to historians of art and architectural history and eighteenth-century studies.
"In sparkling prose, Thomas argues that three remarkable palaces in Naples were not only important works of architecture but embodiments of Enlightenment ideals. These buildings have never been considered together in print nor have their larger cultural ambitions been discussed. Built on learned foundations of eighteenth-century printed and archival sources, much of it unpublished, Palaces of Reason serves to put Naples back in its proper place as a key artistic and intellectual center of the 1700s."
"Palaces of Reason orders and animates one of the most ambitious and complex architectural programmes of eighteenth-century Europe. No author has studied the three Bourbon palaces of Naples together in this way and provided such an original and well-researched analysis."
Robin L. Thomas is Professor of Art History and Architecture at Penn State University. He is the author of Architecture and Statecraft: Charles of Bourbon's Naples, 1734–1759, also published by Penn State University Press.
Mailing List
Subscribe to our mailing list and be notified about new titles, journals and catalogs.