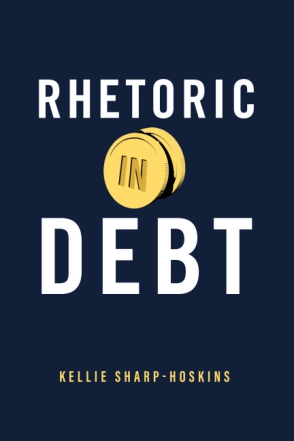 Rhetoric in Debt
Kellie Sharp-Hoskins
Buy
Rhetoric in Debt
Kellie Sharp-Hoskins
"To those interested in affect studies, this book offers an original application of two concepts: stickiness and circulation. To those interested in debt, this study offers a close analysis of how indebted subjectivity is created through everyday assumptions and rhetorical artifacts. Rhetoric in Debt gets to the granular level, explaining not only how indebted subjectification happens but also how we might look for indebted subjectification in other places. To those interested in the rhetoric of economics, this book offers a new topic and a fresh analytical method."
Description

Reviews

Bio

Table of Contents

Sample Chapters

Subjects
In recent years, household indebtedness in the United States reached its highest levels in history. From mortgages to student loans, from credit card bills to US deficit spending, debt is widespread and increasing.
Drawing on scholarship from economics, accounting, and critical rhetoric and social theory, Kellie Sharp-Hoskins critiques debt not as an economic indicator or a tool of finance but as a cultural system. Through case studies of the student-loan crisis, medical debt, and the abuses of municipal bonds, Sharp-Hoskins reveals that debt is a rhetorical construct entangled in broader systems of wealth, rule, and race. Perhaps more than any other social marker or symbol, the concept of "debt" indicates differences between wealthy and poor, productive and lazy, secure and risky, worthy and unworthy. Tracking the emergence and work of debt across temporal and spatial scales reveals how it exacerbates vulnerabilities and inequities under the rhetorical cover of individual, moral, and volitional calculation and equivalency.
A new perspective on a serious problem facing our society, Rhetoric in Debt not only reveals how debt organizes our social and cultural relations but also provides a new conceptual framework for a more equitable world.
"To those interested in affect studies, this book offers an original application of two concepts: stickiness and circulation. To those interested in debt, this study offers a close analysis of how indebted subjectivity is created through everyday assumptions and rhetorical artifacts. Rhetoric in Debt gets to the granular level, explaining not only how indebted subjectification happens but also how we might look for indebted subjectification in other places. To those interested in the rhetoric of economics, this book offers a new topic and a fresh analytical method."
Kellie Sharp-Hoskins is Associate Professor of Rhetoric and Professional Communication at New Mexico State University. She is coeditor of Kenneth Burke + The Posthuman, also published by Penn State University Press.
Acknowledgements
Introduction: Imagining Rhetoric in Debt
1. Accounting for Rhetoric in Debt
2. Economic Crisis, Financial Literacy, and Accounting for Student Loan Debt
3. "Dividuals," Community Development, and Accounting for Municipal Bond Debt
4. Community Risk, Actuarial Remainders, and Accounting for Medical Debt
Conclusion: Rhetorical Futures in Debt
Notes
Works Cited
Index
Mailing List
Subscribe to our mailing list and be notified about new titles, journals and catalogs.