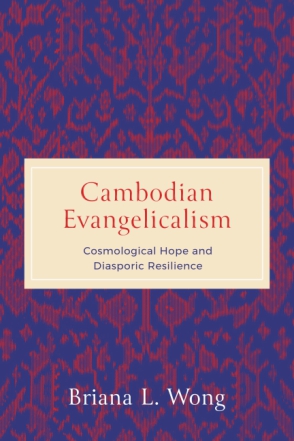 Cambodian Evangelicalism
Cosmological Hope and Diasporic Resilience
Briana L. Wong
Buy
Cambodian Evangelicalism
Cosmological Hope and Diasporic Resilience
Briana L. Wong
"This is an insightful and invaluable resource for scholars of Christianity in Cambodia, in the diaspora, and more broadly in Southeast Asia. The contextualization of Christianity in Khmer language, history, and culture and the meticulous qualitative research are of particular benefit. Wong's treatment of her subjects is probing but sympathetic, adding nuanced layers to this chapter in world Christianity."
Description

Reviews

Bio

Subjects
The Cambodian Civil War and genocide of the late 1960s and '70s left the country and its diaspora with long-lasting trauma that continues to reverberate through the community. In this book, Briana L. Wong explores the compelling stories of Cambodian evangelicals, their process of conversion, and how their testimonials to the Christian faith helped them to make sense of and find purpose in their trauma.
Based on ethnographic fieldwork with Cambodian communities in the metropolitan areas of Philadelphia, Los Angeles, Paris, and Phnom Penh, Wong examines questions of religious identity and the search for meaning within the context of transnational Cambodian evangelicalism. While the community has grown in recent decades, Christians nevertheless make up a small minority of the predominantly Buddhist diaspora. Wong explores what it is about Christianity that makes these converts willing to risk their social standing, familial bonds,and, in certain cases, physical safety in order to identify with the faith.
Contributing to ongoing dialogues on conversion, reverse mission, and multiple religious belonging, this book will appeal to students and scholars of world Christianity, missiology, and the history of Christianity, as well as Southeast Asian studies, secular sociologies, and anthropologists operating within the field of religious studies.
"This is an insightful and invaluable resource for scholars of Christianity in Cambodia, in the diaspora, and more broadly in Southeast Asia. The contextualization of Christianity in Khmer language, history, and culture and the meticulous qualitative research are of particular benefit. Wong's treatment of her subjects is probing but sympathetic, adding nuanced layers to this chapter in world Christianity."
Briana L. Wong is Assistant Professor of the History of World Christianities at Phillips Theological Seminary in Tulsa, Oklahoma.