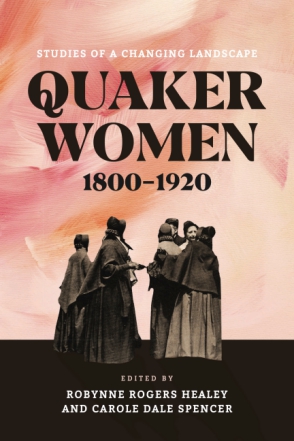 Quaker Women, 1800–1920
Studies of a Changing Landscape
Edited by Robynne Rogers Healey and Carole Dale Spencer
Pre-Order, Releases September 26
Quaker Women, 1800–1920
Studies of a Changing Landscape
Edited by Robynne Rogers Healey and Carole Dale Spencer
"This volume is an engaging overview of the diversity of women's experiences in a pivotal century for the Society of Friends. The essays offer important new insights on how Quaker women navigated competing religious and social expectations."
Description

Reviews

Bio

Subjects
This collection investigates the world of nineteenth-century Quaker women, bringing to light the issues and challenges Quaker women experienced and the dynamic ways in which they were active agents of social change, cultural contestation, and gender transgression in the nineteenth century.
New research illuminates the complexities of Quaker testimonies of equality, slavery, and peace and how they were informed by questions of gender, race, ethnicity, and culture. The essays in this volume challenge the view that Quaker women were always treated equally with men and that people of color were welcomed into white Quaker activities. The contributors explore how diverse groups of Quaker women navigated the intersection of their theological positions and social conventions, asking how they challenged and supported traditional ideals of gender, race, and class. In doing so, this volume highlights the complexity of nineteenth-century Quakerism and the ways Quaker women put their faith to both expansive and limiting ends.
Reaching beyond existing national studies focused solely on white American or British Quaker women, this interdisciplinary volume presents the most current research, providing a necessary and foundational resource for scholars, libraries, and universities.
In addition to the editors, the contributors to this volume include Joan Allen, Richard C. Allen, Stephen W. Angell, Jennifer M. Buck, Nancy Jiwon Cho, Isabelle Cosgrave, Thomas D. Hamm, Julie L. Holcomb, Anna Vaughan Kett, Emma Lapsansky-Werner, Linda Palfreeman, Hannah Rumball, and Janet Scott.
"This volume is an engaging overview of the diversity of women's experiences in a pivotal century for the Society of Friends. The essays offer important new insights on how Quaker women navigated competing religious and social expectations."
Robynne Rogers Healey is Professor of History and Codirector of the Gender Studies Institute at Trinity Western University. She is the editor of Quakerism in the Atlantic World, 1690–1830, also published by Penn State University Press.
Carole Dale Spencer was Associate Professor of Christian Spirituality at Earlham School of Religion and Adjunct Professor of Spiritual Formation at Portland Seminary of George Fox University. She is the author of Holiness: The Soul of Quakerism; An Historical Analysis of the Theology of Holiness in the Quaker Tradition.
Mailing List
Subscribe to our mailing list and be notified about new titles, journals and catalogs.