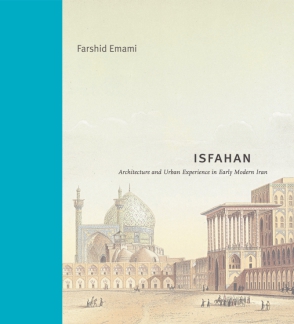 Isfahan
Architecture and Urban Experience in Early Modern Iran
Farshid Emami
Coming in April
Isfahan
Architecture and Urban Experience in Early Modern Iran
Farshid Emami
"Emami's approach to Isfahan considers this imperial city as a total lifeworld filled with movement, smells, sounds, and people. His prose is simply superb: it is such a pleasure that it transforms an otherwise deeply researched scholarly study into a spirited page-turner."
Description

Reviews

Bio

Subjects
A vibrant urban settlement from medieval times and the royal seat of the Safavid dynasty, the city of Isfahan emerged as a great metropolis during the seventeenth century. Using key sources, this book reconstructs the spaces and senses of this dynamic city.
Focusing on nuances of urban experience, Farshid Emami expands our understanding of Isfahan in a global context. He takes the reader on an evocative journey through the city's markets, promenades, and coffeehouses, bringing to life the social landscapes that animated the lives of urban dwellers and shaped their perceptions of themselves and the world. In doing so, Emami reveals seventeenth-century Isfahan as more than a cluster of beautiful monuments and gardens. It was a cosmopolitan city, where senses and materials, nature and artifice, and ritual and sociability acted in unison, engendering urban experiences that became paramount across the globe during the early modern period.
Drawing extensively on Persian literary and visual sources, including the "Guide for Strolling in Isfahan," this book casts new light on the history of a major Eurasian city and opens up new possibilities for cross-cultural studies of urban experience in the early modern period.
"Emami's approach to Isfahan considers this imperial city as a total lifeworld filled with movement, smells, sounds, and people. His prose is simply superb: it is such a pleasure that it transforms an otherwise deeply researched scholarly study into a spirited page-turner."
"Farshid Emami's ambitious study of one of the most celebrated cities of the Islamic world sheds new light on Isfahan's urban transformation in the early modern period and reconstructs the way urban dwellers experienced and perceived the city not only as a work of architecture, but as a living space. Essential reading for all those interested in the global history of early modernity, urbanism, and visuality."
Farshid Emami is Assistant Professor in the Department of Art History at Rice University.
Mailing List
Subscribe to our mailing list and be notified about new titles, journals and catalogs.