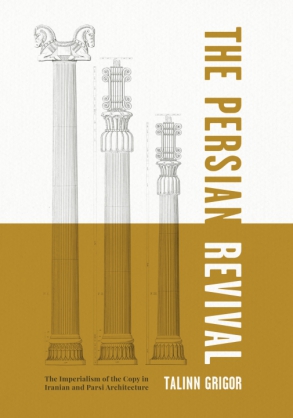 The Persian Revival
The Imperialism of the Copy in Iranian and Parsi Architecture
Talinn Grigor
Buy
The Persian Revival
The Imperialism of the Copy in Iranian and Parsi Architecture
Talinn Grigor

"The Persian Revival is an original study that builds a strong case for the transmission and deployment of knowledge across regions and cultural realms. It does so for a hitherto uncharted period and region—one that has not received adequate scholarly attention—and makes a significant contribution to the growing literature on global art and architectural histories of the long nineteenth century."
Media

Description

Reviews

Bio

Table of Contents

Sample Chapters

Subjects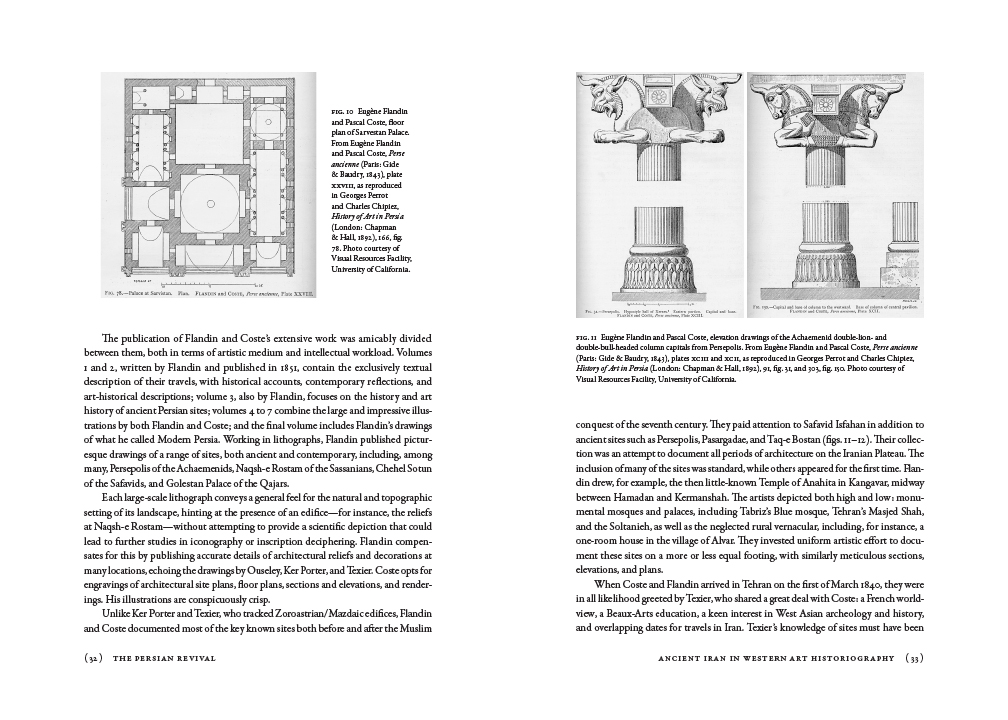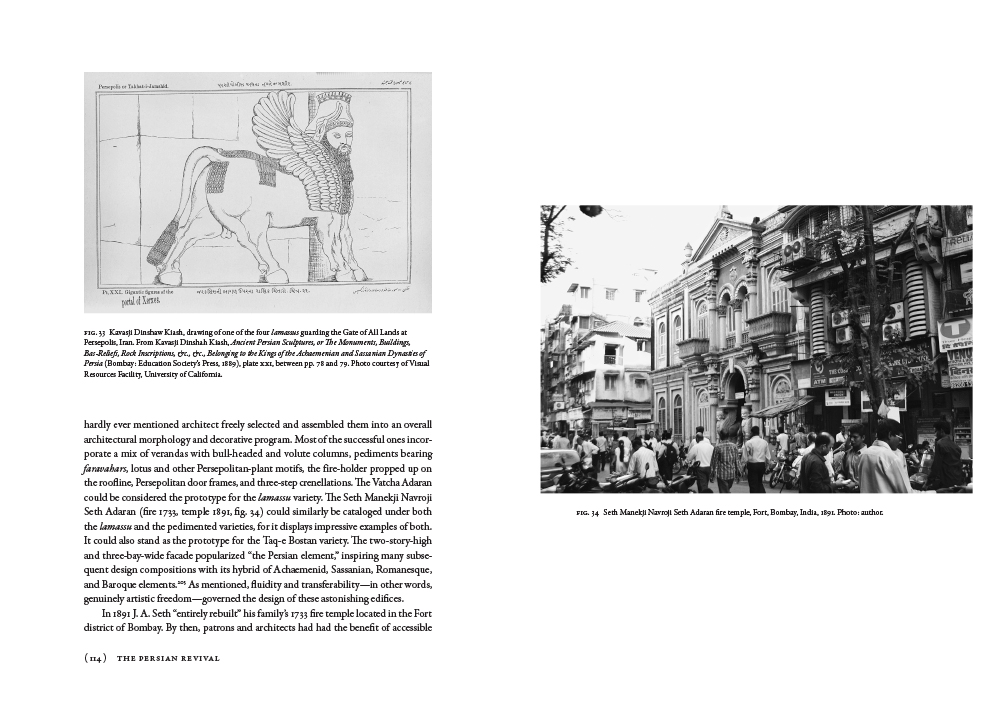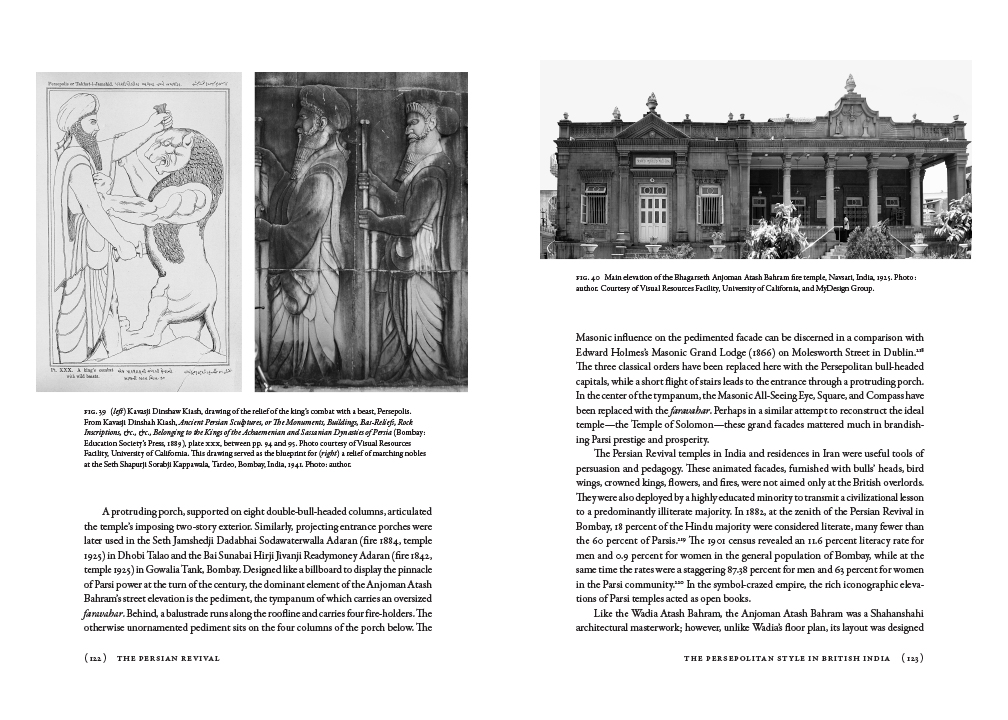 One of the most heated scholarly controversies of the early twentieth century, the Orient-or-Rome debate turned on whether art historians should trace the origin of all Western—and especially Gothic—architecture to Roman ingenuity or to the Indo-Germanic
Geist
. Focusing on the discourses around this debate, Talinn Grigor considers the Persian Revival movement in light of imperial strategies of power and identity in British India and in Qajar-Pahlavi Iran.
The Persian Revival
examines Europe's discovery of ancient Iran, first in literature and then in art history. Tracing Western visual discourse about ancient Iran from 1699 on, Grigor parses the invention and use of a revivalist architectural style from the Afsharid and Zand successors to the Safavid throne and the rise of the Parsi industrialists as cosmopolitan subjects of British India. Drawing on a wide range of Persian revival narratives bound to architectural history, Grigor foregrounds the complexities and magnitude of artistic appropriations of Western art history in order to grapple with colonial ambivalence and imperial aspirations.
She argues that while Western imperialism was instrumental in shaping high art as mercantile-bourgeois ethos, it was also a project that destabilized the hegemony of a Eurocentric historiography of taste.
An important reconsideration of the Persian Revival, this book will be of vital interest to art and architectural historians and intellectual historians, particularly those working in the areas of international modernism, Iranian studies, and historiography.
"The Persian Revival is an original study that builds a strong case for the transmission and deployment of knowledge across regions and cultural realms. It does so for a hitherto uncharted period and region—one that has not received adequate scholarly attention—and makes a significant contribution to the growing literature on global art and architectural histories of the long nineteenth century."
"The Persian Revival is a finely wrought, insightful, and successful contribution to the study of the reception of ancient Iran in the modern world. Entirely original, it draws observations from archives and from a wide range of literature and material evidence."
Talinn Grigor is Professor of Art History at the University of California, Davis. She is the author of Building Iran: Modernism, Architecture, and National Heritage Under the Pahlavi Monarchs and Contemporary Iranian Art: From the Street to the Studio.
List of Illustrations
Acknowledgements
Prologue: Fallacy of Origins
1. Ancient Iran in Western Art Historiography
2. The Persepolitan Style in British India
3. The Persian Revival as Iranian Modernity
Epilogue: Copy's Imperialism
Notes
Bibliography
Index
Download a PDF sample chapter here: Prologue
Mailing List
Subscribe to our mailing list and be notified about new titles, journals and catalogs.