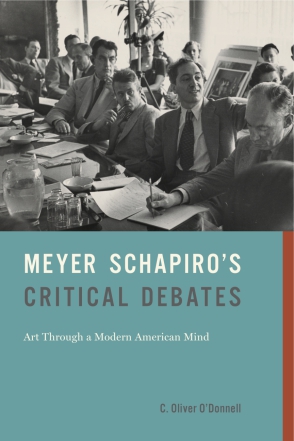 Meyer Schapiro's Critical Debates
Art Through a Modern American Mind
C. Oliver O'Donnell
Buy
Meyer Schapiro's Critical Debates
Art Through a Modern American Mind
C. Oliver O'Donnell
Winner of the Zentralinstitut für Kunstgeschichte's 2019 Willibald Sauerländer Award for distinguished research in the history and practice of art-historical writing
"O'Donnell's noteworthy study breaks new ground in dealing comprehensively with the career of one of the most influential American intellectuals of the past century. Meyer Schapiro was active as an art historian and theorist with remarkably wide-ranging interests. He was also involved in the critical debates that accompanied the rise of Abstract Expressionism. His early engagement with Marxism is closely analysed here, as is his deep affiliation with the tradition of American Pragmatism."
Description

Reviews

Bio

Table of Contents

Sample Chapters

Subjects
Described in the
New York Times
as the greatest art historian America ever produced, Meyer Schapiro was both a close friend to many of the famous artists of his generation and a scholar who engaged in public debate with some of the major intellectuals of his time. This volume synthesizes his prolific career for the first time, demonstrating how Schapiro worked from the nexus of artistic and intellectual practice to confront some of the twentieth century's most abiding questions.
Schapiro was renowned for pioneering interdisciplinary approaches to interpreting visual art. His lengthy formal analyses in the 1920s, Marxist interpretations in the 1930s, psychoanalytic critiques in the 1950s and 1960s, and semiotic explorations in the 1970s all helped open new avenues for inquiry. Based on archival research, C. Oliver O'Donnell's study is structured chronologically around eight defining debates in which Schapiro participated, including his dispute with Isaiah Berlin over the life and writing of Bernard Berenson, Schapiro's critique of Martin Heidegger's ekphrastic commentary on Van Gogh, and his confrontation with Claude Lévi-Strauss over the applicability of mathematics to the interpretation of visual art. O'Donnell's thoughtful analysis of these intellectual exchanges not only traces Schapiro's philosophical evolution but also relates them to the development of art history as a discipline, to central tensions of artistic modernism, and to modern intellectual history as a whole.
Comprehensive and thought-provoking, this study of Schapiro's career pieces together the separate strands of his work into one cohesive picture. In doing so, it reveals Schapiro's substantial impact on the field of art history and on twentieth-century modernism.
"O'Donnell's noteworthy study breaks new ground in dealing comprehensively with the career of one of the most influential American intellectuals of the past century. Meyer Schapiro was active as an art historian and theorist with remarkably wide-ranging interests. He was also involved in the critical debates that accompanied the rise of Abstract Expressionism. His early engagement with Marxism is closely analysed here, as is his deep affiliation with the tradition of American Pragmatism."
"Meyer Schapiro belongs to that small number of art historians who can be regarded as world-class intellectuals; even Theodor W. Adorno was dazzled by his 'tireless imagination.' He was one of those rare scholars who engaged so deeply with the philosophical and political issues of their times that their writings illuminate in profound ways the larger culture to which they belonged. In this concise, learned, and well-researched study, C. Oliver O'Donnell offers the first synthetic overview of Schapiro's achievement in a sequence of essays that compellingly illustrate his range and complexity as a historian and a thinker. Schapiro is a demanding subject, and O'Donnell has risen magnificently to the challenge."
"During a long and fabled career, Meyer Schapiro transformed the field of art history, influenced the development of modern art, and earned an honored place in the heady world of the New York intellectuals. In this incisive and judicious account of eight major controversies in which he participated, C. Oliver O'Donnell provides ample evidence that one of the giants of twentieth-century culture still has much to teach us in the twenty-first."
"An important resource on one of art history's most brilliant practitioners."
"O'Donnell illuminates how art can suffer from [a] theoretical load, portraying the original artwork straining under the weight of the multiple 'debates' in which it found itself. O'Donnell recaptures the origins of those debates, plugging nuance back in in order to rescue art from the indeterminacy of multiple theoretical perspectives. That is the purchase of intellectual history, a genre whose relative absence from the field of art history, O'Donnell proves, is in desperate need of remedying."
C. Oliver O'Donnell is a research associate at the Warburg Institute, University of London.
List of Illustrations
Preface and Acknowledgments
List of Abbreviations
Introduction: 1929 Formalism and Perception: From Löwy and Fry to Wertheimer and Gombrich
1936 Reviewing Kunstwissenschaft: Foreshadowing the Two Cultures Debate
1941 Science and the Dialectic: Raphael and Dewey, Courbet and Picasso
1947 The "Aesthetic Attitude," Coomaraswamy's Metaphysics, and the Westernness of Art's History
1956 Pragmatic Psychoanalysis and the Confirmation of Woman I
1961 Debating Berenson with Berlin: Two Concepts of Art-Historical Liberty
1968 Heidegger and Goldstein: Van Gogh's Shoes and the Liabilities of Ekphrasis
1973 Words and Pictures: A Color Field Critique of Structuralist Semiotics
Epilogue
Notes
Bibliography of Works by Meyer Schapiro
General Bibliography
Index
Mailing List
Subscribe to our mailing list and be notified about new titles, journals and catalogs.