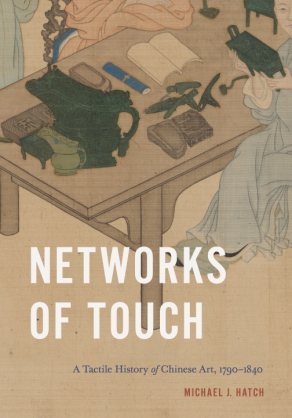 Networks of Touch
A Tactile History of Chinese Art, 1790–1840
Michael J. Hatch
Coming in January
Networks of Touch
A Tactile History of Chinese Art, 1790–1840
Michael J. Hatch
"Thoroughly researched, smartly conceived, and artfully presented, Networks of Touch is one of those rare books that would satisfy both the specialist scholar and the general reader. With his intellectual ambition, formal visual analysis skills, and fine eye for details, Hatch has enlivened both the forest and the trees down to the textures of the bark and leaf."
Description

Reviews

Bio

Subjects
In early nineteenth-century China, a remarkable transformation took place in the art world: artists among China's educated elites began to use touch to forge a more authentic relationship to the past, to challenge stagnant artistic canons, and to foster deeper human connections.
Networks of Touch
is an engaging exploration of this sensory turn.
In this book, Michael J. Hatch examines the artistic network of Ruan Yuan (1764–1849), a scholar-official whose patronage supported a generation of artists and learned people who prioritized epigraphic research as a means of truing the warped contours of Confucian heritage. Their work instigated an "epigraphic aesthetic"—an appropriation of the stylistic, material, and tactile features of ancient inscribed objects and their reproductive technologies—in late eighteenth- and early nineteenth-century artwork. Rubbings, a reduplicative technology, challenged the dominance of brushwork as the bearer of artistic authority. While brushwork represented the artist's physical presence through ink and paper, rubbings were direct facsimiles of tactile experiences with objects. This shift empowered artists and scholars to transcend traditional conventions and explore new mediums, uniting previously separate image-making practices while engaging audiences through the senses.
Centering on touch and presenting a fresh perspective on early nineteenth-century literati art in China, this volume sheds light on a period often dismissed as lacking innovation and calls into question optical realism's perceived supremacy in reshaping the sensory experience of the modern Chinese viewer.
"Thoroughly researched, smartly conceived, and artfully presented, Networks of Touch is one of those rare books that would satisfy both the specialist scholar and the general reader. With his intellectual ambition, formal visual analysis skills, and fine eye for details, Hatch has enlivened both the forest and the trees down to the textures of the bark and leaf."
Michael J. Hatch is Associate Professor of Art and Architecture History at Miami University in Ohio.