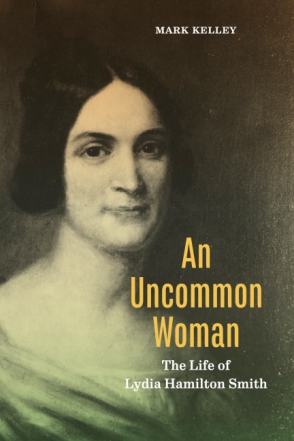 An Uncommon Woman
The Life of Lydia Hamilton Smith
Mark Kelley
Buy
An Uncommon Woman
The Life of Lydia Hamilton Smith
Mark Kelley
"Mark Kelley presents valuable new information about Lydia Hamilton Smith, Congressman Thaddeus Stevens's mixed-race housekeeper and life companion, while providing refreshingly new perspectives on Stevens himself. The book offers important new information and insights by documenting how Smith managed Stevens's household, took care of him as his health failed, and used her relationship with him to accumulate property and cross racialized social boundaries. It also contributes to our understanding of Stevens's powerful political opposition to slavery and racial discrimination."
Description

Reviews

Bio

Subjects
Lydia Hamilton Smith (1813–1884) was a prominent African American businesswoman in Lancaster, Pennsylvania, and the longtime housekeeper, life companion, and collaborator of the state's abolitionist congressman Thaddeus Stevens. In his biography of this remarkable woman, Mark Kelley reveals how Smith served the cause of abolition, managed Stevens's household, acquired property, and crossed racialized social boundaries.
Born a free woman near Gettysburg, Smith began working for Stevens in 1844. Her relationship with Stevens fascinated and infuriated many, and it made Smith a highly recognizable figure both locally and nationally. The two walked side by side in Lancaster and in Washington, DC, as they worked to secure the rights of African Americans, sheltered people on the Underground Railroad, managed two households, raised her sons and his nephews, and built a real-estate business. In the last years of Stevens's life, as his declining health threatened to short-circuit his work, Smith risked her own well-being to keep him alive while he led the drive to end slavery, impeach Andrew Johnson, and push for the ratification of the Thirteenth, Fourteenth, and Fifteenth Amendments.
An Uncommon Woman is a vital history that accords Lydia Hamilton Smith the recognition that she deserves. Every American should know Smith's inspiring story.
"Mark Kelley presents valuable new information about Lydia Hamilton Smith, Congressman Thaddeus Stevens's mixed-race housekeeper and life companion, while providing refreshingly new perspectives on Stevens himself. The book offers important new information and insights by documenting how Smith managed Stevens's household, took care of him as his health failed, and used her relationship with him to accumulate property and cross racialized social boundaries. It also contributes to our understanding of Stevens's powerful political opposition to slavery and racial discrimination."
Mark Kelley holds a PhD in journalism from Syracuse University. He worked for twenty-five years as a broadcast journalist and has taught journalism and mass communications at Goshen College, Syracuse University, the University of Maine, and the New England School of Communications. He resides in Lancaster, Pennsylvania, with his wife, Marty.
Mailing List
Subscribe to our mailing list and be notified about new titles, journals and catalogs.