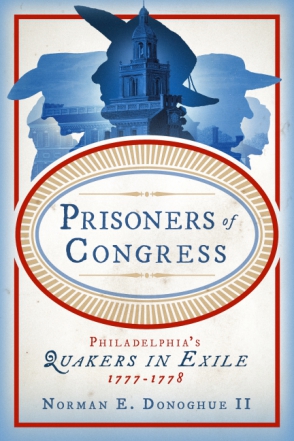 Prisoners of Congress
Philadelphia's Quakers in Exile, 1777–1778
Norman E. Donoghue II
Buy
Prisoners of Congress
Philadelphia's Quakers in Exile, 1777–1778
Norman E. Donoghue II
"Prisoners of Congress is one of the best books I've read in ages. If history is traditionally dry, this book is an atmospheric river. The factual telling and interpreting of this little-known history is so vivid and character-based that it feels cinematic. It captures how our social values at the time history was made directed the actions of our ancestors—and in so doing set the foundations for so much of what was to come. This book is so cinematic I would not be surprised to see it on Netflix sooner rather than later."
Description

Reviews

Bio

Table of Contents

Sample Chapters

Subjects
In 1777, Congress labeled Quakers who would not take up arms in support of the War of Independence as "the most Dangerous Enemies America knows" and ordered Pennsylvania and Delaware to apprehend them. In response, Keystone State officials sent twenty men—seventeen of whom were Quakers—into exile, banishing them to Virginia, where they were held for a year.
Prisoners of Congress reconstructs this moment in American history through the experiences of four families: the Drinkers, the Fishers, the Pembertons, and the Gilpins. Identifying them as the new nation's first political prisoners, Norman E. Donoghue II relates how the Quakers, once the preeminent power in Pennsylvania and an integral constituency of the colonies and early republic, came to be reviled by patriots who saw refusal to fight the English as borderline sedition.
Surprising, vital, and vividly told, this narrative of political and literal warfare waged by the United States against a pacifist religious group during the Revolutionary War era sheds new light on an essential aspect of American history. It will appeal to anyone interested in learning more about the nation's founding.
"Prisoners of Congress is one of the best books I've read in ages. If history is traditionally dry, this book is an atmospheric river. The factual telling and interpreting of this little-known history is so vivid and character-based that it feels cinematic. It captures how our social values at the time history was made directed the actions of our ancestors—and in so doing set the foundations for so much of what was to come. This book is so cinematic I would not be surprised to see it on Netflix sooner rather than later."
"Norman Donoghue's Prisoners of Congress brings to life one of the most important and compelling events of the American Revolution in Philadelphia. It is an untold story of national significance."
"Anybody interested in the tensions between politics and religion, a matter so urgent to us today, should read Donoghue's account of the Quaker exiles. Almost novelistic in its compelling narrative, this study marshals familiar and unfamiliar sources to recover the story of America's first political prisoners."
"Far from a niche story, Prisoners of Congress is a meticulously researched book with enormous present-day relevance. It reveals important truths about American political and religious institutions before, during, and after the Revolution and shines a startlingly new and important light on familiar people, places, and themes."
"Norman Donoghue has given us what is likely to be the definitive account of a largely forgotten but significant episode of the American Revolution. Elegantly written and based on exhaustive research, Prisoners of Congress illustrates the tensions between religious liberty and dissent, on one hand, and fears of invasion and subversion, on the other, that have been present from the founding of the American republic."
"Donoghue's book is not only an exceptional examination of a little-known episode during the War of Independence, but also a cautionary tale for our divided times."
"Prisoners of Congress illustrates how the national debate over individual rights versus national security regarding habeas corpus in wartime began not during the Civil War but during the very founding of our nation. . . . An excellent read as well as an educational one for a debate that continues to this day."
"Prisoners of Congress is a fascinating tale recounting a little-known roundup of Quaker leaders during the Revolution, to tell us in spare, elegant prose, the story of their history in Philadelphia and what made them tick."
Norman E. Donoghue II is an independent historian of American Quakerism based in Philadelphia. His website is prisonersofcongress.com.
List of Illustrations
Acknowledgements
List of Abbreviations
Dramatis Personae: The Quaker Exiles of 1777–1778, Their Nemeses, and the Women's Mission
Introduction
1. Quaker Rebellion
2. Quaker Refusals
3. Friends as Enemies
4. Quaker Arrests
5. Peaceable Caravan
6. Virginia Exiles
7. Quaker Home Front
8. Quaker Peace Mission
9. Quaker Ordeals
10. Winter Stress
11. Shadow of Death
12. "Entirely an Act of Our Own"
13. "Able Politicians"
14. Release and Return
Coda: Reintegration, or Not
Epilogue
Homage
Appendix A: Combined Timeline of the Quaker Exile (September 11, 1777–April 30, 1778) amid the Philadelphia Campaign (August 25, 1777–June 18, 1778), Including Governance of the City
Appendix B: Israel Pemberton et al., [Protest] "To the President and Council of Pennsylvania," September 8, 1777
Appendix C: The Women's Petition, April 1778
Notes
Bibliography
Index
Mailing List
Subscribe to our mailing list and be notified about new titles, journals and catalogs.