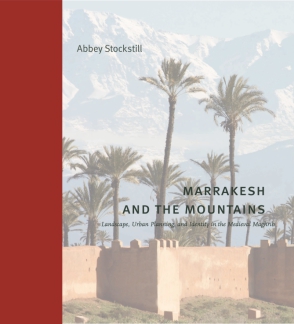 Marrakesh and the Mountains
Landscape, Urban Planning, and Identity in the Medieval Maghrib
Abbey Stockstill
Coming in May
Marrakesh and the Mountains
Landscape, Urban Planning, and Identity in the Medieval Maghrib
Abbey Stockstill
"Through a close reading of the city of Marrakesh, this book offers a novel exploration of how landscape, political practice, and religious ideology intersect to produce urban space. Beautifully written and deeply researched, Marrakesh and the Mountains restores Marrakesh to its central place in the study of pre-modern urbanism."
Description

Reviews

Bio

Subjects
Over the course of the Almoravid (1040–1147) and Almohad (1121–1269) dynasties, medieval Marrakesh evolved from an informal military encampment into a thriving metropolis that attempted to translate a local and distinctly rural past into a broad, imperial architectural vernacular. In
Marrakesh and the Mountains
, Abbey Stockstill convincingly demonstrates that the city's surrounding landscape provided the principal mode of negotiation between these identities.
The contours of medieval Marrakesh were shaped in the twelfth-century transition between the two empires of Berber origin. These dynasties constructed their imperial authority through markedly different approaches to urban space, reflecting their respective concerns in communicating complex identities that fluctuated between paradigmatically Islamic and distinctly local. Using interdisciplinary methodologies to reconstruct this urban environment, Stockstill broadens the analysis of Marrakesh's medieval architecture to explore the interrelated interactions among the city's monuments and its highly resonant landscape. Marrakesh and the Mountains integrates Marrakesh into the context of urbanism in the wider Islamic world and grants the Almoravid and Almohad dynasties agency over the creation and instantiation of their imperial capital.
Lushly illustrated and erudite, Marrakesh and the Mountains is a vital history of this storied Moroccan city. This is a must-have book for scholars specializing in the Almoravid and Almohad eras and a vital volume for students of medieval urbanism, Islamic architecture, and Mediterranean and African studies.
"Through a close reading of the city of Marrakesh, this book offers a novel exploration of how landscape, political practice, and religious ideology intersect to produce urban space. Beautifully written and deeply researched, Marrakesh and the Mountains restores Marrakesh to its central place in the study of pre-modern urbanism."
Abbey Stockstill is Assistant Professor of Islamic Art and Architecture at Southern Methodist University.
Mailing List
Subscribe to our mailing list and be notified about new titles, journals and catalogs.