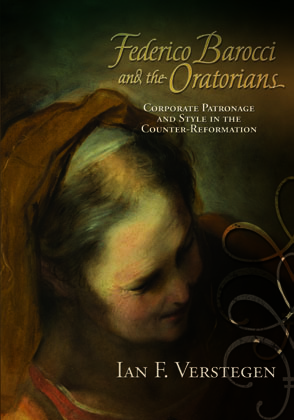 Federico Barocci and the Oratorians
Corporate Patronage and Style in the Counter-Reformation
Ian F. Verstegen
BUY
Federico Barocci and the Oratorians
Corporate Patronage and Style in the Counter-Reformation
Ian F. Verstegen
"Federico Barocci and the Oratorians is a meticulously researched, carefully plotted piece of detective work that reconstructs the process of Barocci's commissions for the Oratorians from various angles, including a philosophical reassessment of art historical method, a thorough and insightful use of archival sources, a critical eye, and rich, balanced contextualization with the historical, political, and religious climate of the time in Italy and beyond. Ian Verstegen is one of the world's foremost experts on the art of Federico Barocci in particular and the Oratorians in general, and this book makes an invaluable contribution to the growing field of post-Tridentine art."
Description

Reviews

Bio

Table of Contents
In 1586, Federico Barocci delivered his Visitation of the Virgin and St. Elizabeth to the Chiesa Nuova in Rome. For the next quarter century, Barocci dominated the art scene in Rome; there was no other artist from whom it was harder to get work and no other artist charged such high prices. Having two important altarpieces in the Chiesa Nuova and two additional commissions discussed was an impressive feat for an artist living exclusively in Urbino. Why did the Oratorians monopolize Barocci's talents in Rome and why does it seem that Barocci was their first choice when considering artists to decorate their church? What was it about Barocci's art that appealed to Oratorian sensibilities and their vision of the artistic program for decoration of their church?
This book examines the relationship between Barocci and the Congregation of the Oratory, arguing for a distinct physiognomy of Oratorian patronage and exposing the function the Oratorians expected of religious imagery in contrast to other groups of their time. While explaining Oratorian patronage, it thus deals with a thorny question in social science: how can a collective body have unified intentions and actions? The result is a contribution both to the history of Italian painting and to art historical methodology.
"Federico Barocci and the Oratorians is a meticulously researched, carefully plotted piece of detective work that reconstructs the process of Barocci's commissions for the Oratorians from various angles, including a philosophical reassessment of art historical method, a thorough and insightful use of archival sources, a critical eye, and rich, balanced contextualization with the historical, political, and religious climate of the time in Italy and beyond. Ian Verstegen is one of the world's foremost experts on the art of Federico Barocci in particular and the Oratorians in general, and this book makes an invaluable contribution to the growing field of post-Tridentine art."
"Ian Verstegen's Federico Barocci and the Oratorians melds close attention to historical specificity with wide-ranging methodological and historiographic reflection to grapple with a longstanding art historical dilemma: can institutions ever be associated convincingly with particular artistic styles, and — a related question — how might institutions and the artists they employed inflect each other's representational projects? Verstegen offers at once intriguing new analyses of the evolving Oratorian engagement with the arts from the 1580s into the seventeenth century, and sustained readings of critical paintings by Barocci. His conclusion, which traces the appreciation and impact of Barocci's style in the Oratorian environment all the way to Guido Reni, stages new ways to think about the continuities and transformations in Italian art during the critical decades between c. 1580 and 1630, and ultimately the question of periodization in art historical discourse."
"This well-researched and convincingly argued book explores how a fragmented group of patrons could develop a seemingly unified, decorative program by commissioning works from different artists over a period of time. Highly recommended for upper-level undergraduates and above who are interested in the history of art, religion, and culture."
"Verstegen's analysis of the dates and finances of the commissions by both orders clarifies—both refuting and substantiating—earlier assessments of how each decorated their principal churches… the material presented allows for a better understanding of the order, those connected to it, and how artistic commissions of this period are rarely as straightforward as they may seem."
Ian Verstegen studied art with Rudolf Arnheim at the University of Michigan, which led to studies in experimental psychology at Rutgers University. He received his PhD with Marcia Hall at Temple University. He is currently the Associate Director of Visual Studies at the University of Pennsylvania.
Illustrations
Preface
Introduction: What's in a Style? Barocci and the Oratorians
Chapter 1: Federico Barocci, Filippo Neri, and Christian Optimism
Chapter 2: The Altarpiece Cycle: The Rosary and Coordinated Devotion
Chapter 3: The Visitation and the Presentation of the Virgin
Chapter 4: The Nativity of the Virgin for the High Altar and the Institution of the Eucharist for the Pope
Chapter 5: Baroccismo into the Seicento
Appendix 1: Chiesa Nuova Altars and the Altarpieces Adorning Them
Appendix 2: Chiesa Nuova Timeline
Appendix 3: Order of Altarpiece Commissions and Completions
Appendix 4: Giovan Battista Guerra's Renovations in the Chiesa Nuova
Works Cited
Index
About the Author