Employment Opportunities
Journals Production Manager
The Journals department at Penn State University Press is seeking a Production Manager. Please visit Penn State's Careers Website for the full job description and application instructions.
Sales and Marketing Director
Founded in 1956, the Pennsylvania State University Press, a scholarly publisher focusing on the arts and humanities, seeks an experienced and multidimensional Sales and Marketing Director to develop and implement strategies leading to maximum growth for the Press in its core lists as well as in two imprints: Eisenbrauns, which specializes in scholarship on the ancient Near East and Semitic linguistics, and Graphic Mundi, which publishes trade graphic novels.
The ideal candidate will be thoroughly versed in both scholarly and trade marketing/sales practices and will oversee all aspects of sales and marketing including, sales and inventory, vendor relations, publicity, advertising, email and other digital marketing, exhibits, branding, and institutional outreach/PR. The Sales and Marketing Director is a member of the Press management team and participates in organizational decisions including publishing strategies, goal setting, strategic planning, and fundraising. The position reports to the Press Director and oversees departmental staff. Travel is required; international travel may be expected.
Located in University Park in central Pennsylvania, Penn State, a land-grant institution, is a member of the CIC (Big 10) academic consortium. The town of State College offers a vibrant community with outstanding recreational opportunities, a low crime rate, and excellent public schools. The campus is within a half-day drive to Washington, DC, Baltimore, Philadelphia, New York City and Pittsburgh. We would love to have our new colleague join us in State College (with the opportunity for a hybrid schedule), but we are open to considering a remote appointment for the right candidate.
Please visit Penn State's Careers Website for the full job description and application instructions.


Penn State is an equal opportunity, affirmative action employer, and is committed to providing employment opportunities to all qualified applicants without regard to race, color, religion, age, sex, sexual orientation, gender identity, national origin, disability or protected veteran status.
Mailing List
Subscribe to our mailing list and be notified about new titles, journals and catalogs.
Reviews and Media
Catalog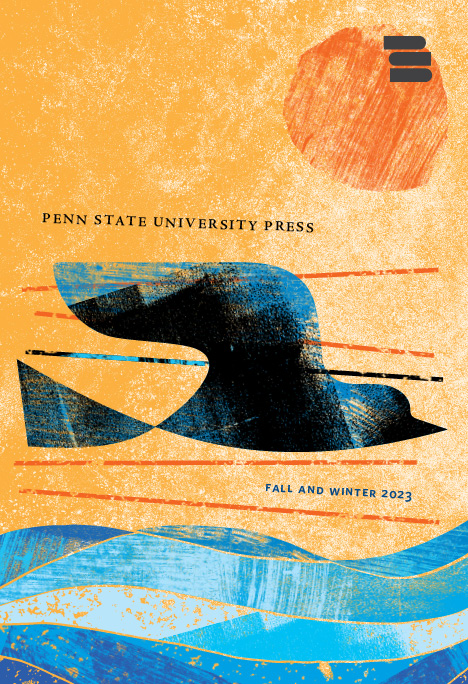 Fall/Winter 2023
PSU Press News