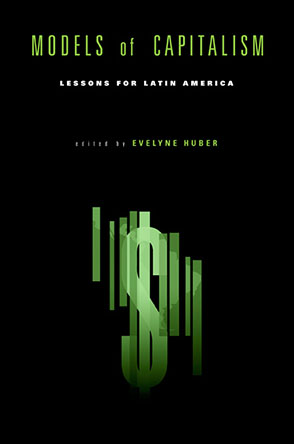 Models of Capitalism
Lessons for Latin America
Edited by Evelyne Huber
BUY
Models of Capitalism
Lessons for Latin America
Edited by Evelyne Huber
"Inasmuch as Models of Capitalism compares capitalism in multiple regions, it should appeal to various audiences. Latin Americanists will certainly need to consult the book, and professionals interested in capitalism in other regions will benefit as well. Since the book is clearly written and very well organized, it also should prove attractive to college students and a general adult reading audience."
Description

Reviews

Bio

Subjects
Latin American societies have undergone fundamental changes in the past two decades, moving from capitalist economies with very wide-ranging state intervention to more market-driven systems. After a prolonged period of recession, these changes produced some successes in economic growth in the 1990s, but they also exacerbated many problems, especially poverty and inequality.
Models of Capitalism
examines why some societies with market economies perform much better than others in combining growth and equity, and what the less successful countries can learn from the more successful ones.
The contributors look at different models of capitalism in Latin America, Northeast and Southeast Asia, and advanced industrial countries, asking which patterns of economic and social policies governments in the more successful societies pursued, and which configurations of institutions made pursuing such policies possible. The investigation focuses on economic policies designed to stimulate growth, on labor-market policies designed to promote a qualified labor force and increase productivity and wages, and on social policies designed to improve general human capital and to distribute life chances in an equitable way.
The volume is innovative in explicitly connecting the discussion of growth policies with an analysis of labor market and social policies and in going beyond comparison of Latin American with East Asian approaches to include reference to equity-oriented policies in North America and Western Europe as well. This approach helps demonstrate how important policy design is in determining distributive outcomes at any given level of development.
The contributors are Antonio Alas, Renato Baumann, Ha-Joon Chang, Carlos H. Filgueira, Fernando Filgueira, Robert Grosse, Thomas Janoski, John Myles, T. J. Pempel, Wilson Peres, David Brian Robertson, John Sheahan, John D. Stephens, Víctor E. Tokman, and Bridget Welsh. Sponsored by the Joint Committee on Latin American Studies of the Social Science Research Council and the American Council of Learned Societies.
"Inasmuch as Models of Capitalism compares capitalism in multiple regions, it should appeal to various audiences. Latin Americanists will certainly need to consult the book, and professionals interested in capitalism in other regions will benefit as well. Since the book is clearly written and very well organized, it also should prove attractive to college students and a general adult reading audience."
Evelyne Huber is Morehead Alumni Professor of Political Science at the University of North Carolina.
Mailing List
Subscribe to our mailing list and be notified about new titles, journals and catalogs.