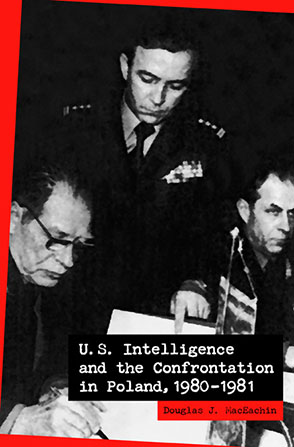 U.S. Intelligence and the Confrontation in Poland, 1980–1981
Douglas MacEachin, and Jeannine O'Grody
BUY
U.S. Intelligence and the Confrontation in Poland, 1980–1981
Douglas MacEachin, and Jeannine O'Grody
"Douglas MacEachin has provided a valuable insider's account of the performance of the U.S. intelligence community in an important episode of the Cold War. It is a significant addition to the literature on intelligence analysis."
Media

Description

Reviews

Bio

Subjects
Winner of a 2003 AAUP Book, Jacket and Journal Show Award for Scholarly Typographic. Designed by Steve Kress
Despite the U.S. government's sophisticated intelligence capabilities, policy makers repeatedly seemed to be caught off guard when major crises took place during the Cold War. Were these surprises the result of inadequate information, or rather the use made of the information available? In seeking an answer to this question, former CIA analyst Douglas MacEachin carefully examines the crisis in Poland during 1980–81 to determine what information the U.S. government had about Soviet preparations for military intervention and the Polish regime's plans for martial law, and what prevented that information from being effectively employed
Drawing on his experience in intelligence reporting at the time, as well as on recently declassified U.S. documents and materials from Soviet, Polish, and other Eastern European archives, MacEachin contrasts what was known then with what is known now, and seeks to explain why, despite the evidence available to them, U.S. policy makers did not take the threat of a crackdown seriously enough to prevent it.
It was the mind-set of those who processed the information, not the lack or accuracy of information, that was the fundamental problem, MacEachin argues. By highlighting this cognitive obstacle, his analysis points the way toward developing practices to overcome it in the future.
"Douglas MacEachin has provided a valuable insider's account of the performance of the U.S. intelligence community in an important episode of the Cold War. It is a significant addition to the literature on intelligence analysis."
"Douglas MacEachin's analysis of the use of intelligence during the Polish crisis of 1980–81 offers a rare insight into how intelligence impacts on policymaking. This book is a valuable contribution to our understanding of the events leading up to the 1981 martial law."
"The book is an excellent analysis of the current intelligence process at work at the national level. It will be of most value to professional scholars of the intelligence process, graduate students in a seminar environment, and intelligence community professionals."
"The unique value of MacEachin's work lies in its critical account of the information made available on virtually a daily basis to U.S. policy makers through the President's Daily Brief, the National Intelligence Daily, the National Intelligence Estimate, and other documents produced by the CIA and other member agencies of the U.S. Intelligence Community. His book thus provides a record of real-time interaction between Warsaw and Washington as the crisis in Poland developed and reached its peak during the imposition of martial law in December 1981."
"MacEachin asks the right questions and is not afraid of the answers. U.S. Intelligence and the Confrontation in Poland offers a detailed dissection of the structure and functioning of U.S. intelligence in a crisis—from the unique perspective of someone who was intimately involved. It is also a valuable documentation of a turning point in Cold War history."
Douglas J. MacEachin worked for the Central Intelligence Agency for thirty years, rising to the position of Deputy Director of Intelligence.
Also of Interest
Mailing List
Subscribe to our mailing list and be notified about new titles, journals and catalogs.