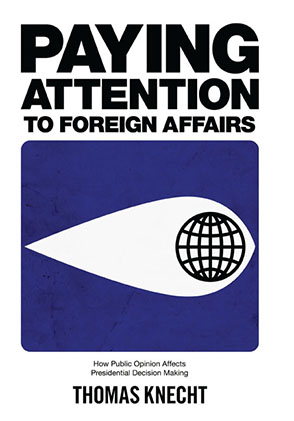 Paying Attention to Foreign Affairs
How Public Opinion Affects Presidential Decision Making
Thomas Knecht
BUY
Paying Attention to Foreign Affairs
How Public Opinion Affects Presidential Decision Making
Thomas Knecht
"This important study focuses on the most difficult and least studied aspect of public opinion—its impact on American foreign policy. Thomas Knecht develops a model linking types of decisions and the stages of the decision-making process with the likely impact of public opinion. The fine case studies of the Gulf War and the response to the Ethiopian famine draw on both archival research and interviews. This is a major addition to the growing literature on public opinion and foreign policy."
Description

Reviews

Bio

Table of Contents

Sample Chapters

Subjects
Do American presidents consider public opinion when making foreign policy decisions? In a democracy, it is generally assumed that citizen preferences inform public policy. For a variety of reasons, however, foreign policy has always posed a difficult challenge for democratic governance. In Paying Attention to Foreign Affairs, Thomas Knecht offers new insights into the relationship between public opinion and U.S. foreign policy. He does so by shifting our focus away from the opinions that Americans hold and toward the issues that grab the public's attention. Policy making under the glare of public scrutiny differs from policy making when no one is looking. As public interest in foreign policy increases, the political stakes also rise. A highly attentive public can then force presidents to choose foreign policies that are less politically risky but usually less effective. By tracking the ebb and flow of public attention to foreign policy, this book offers a method of predicting when presidents are likely to lead, follow, or simply ignore the American public.
"This important study focuses on the most difficult and least studied aspect of public opinion—its impact on American foreign policy. Thomas Knecht develops a model linking types of decisions and the stages of the decision-making process with the likely impact of public opinion. The fine case studies of the Gulf War and the response to the Ethiopian famine draw on both archival research and interviews. This is a major addition to the growing literature on public opinion and foreign policy."
Thomas Knecht is Assistant Professor of Political Science at Westmont College.
Contents
List of Figures and Tables
Preface and Acknowledgments
A Note on the Surveys
Introduction
1. Foreign Policy in the Shadows and the Spotlight
2. The Five Stages of Decision Making
3. Patterns of Public Attention
4. The Persian Gulf Crisis: Problem Definition and Option Generation
5. Operation Desert Storm: Decision, Implementation, and Review
6. The Ethiopian Famine: Problem Definition and Option Generation
7. The Ethiopian Famine: Decision, Implementation, and Review
Conclusion
Appendix A: Quantitative Methods
Appendix B: Case Study Methods
Bibliography
Index
Mailing List
Subscribe to our mailing list and be notified about new titles, journals and catalogs.