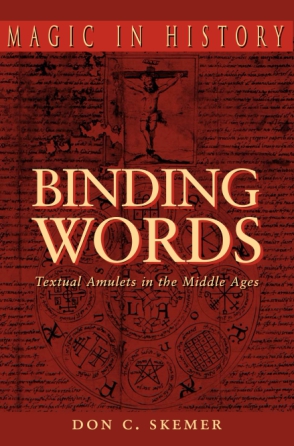 Binding Words
Textual Amulets in the Middle Ages
Don C. Skemer
Buy
Binding Words
Textual Amulets in the Middle Ages
Don C. Skemer
"Binding Words covers a wide territory, temporally and geographically, to show how amulets are embedded in the fabric of medieval European society as both physical and cultural artifacts. The book avoids artificial distinctions between magic and religion, prayer and charm, to show how an amulet can be simultaneously devotional and protective. This contextualized approach is a significant contribution to the field."
Description

Reviews

Bio

Table of Contents

Subjects
In the Middle Ages, textual amulets—short texts written on parchment or paper and worn on the body—were thought to protect the bearer against enemies, to heal afflictions caused by demonic invasions, and to bring the wearer good fortune. In
Binding Words
, Don C. Skemer provides the first book-length study of this once-common means of harnessing the magical power of words.
Textual amulets were a unique source of empowerment, promising the believer safe passage through a precarious world by means of an ever-changing mix of scriptural quotations, divine names, common prayers, and liturgical formulas. Although theologians and canon lawyers frequently derided textual amulets as ignorant superstition, many literate clergy played a central role in producing and disseminating them. The texts were, in turn, embraced by a broad cross-section of Western Europe. Saints and parish priests, physicians and village healers, landowners and peasants alike believed in their efficacy.
Skemer offers careful analysis of several dozen surviving textual amulets along with other contemporary medieval source materials. In the process, Binding Words enriches our understanding of popular religion and magic in everyday medieval life.
"Binding Words covers a wide territory, temporally and geographically, to show how amulets are embedded in the fabric of medieval European society as both physical and cultural artifacts. The book avoids artificial distinctions between magic and religion, prayer and charm, to show how an amulet can be simultaneously devotional and protective. This contextualized approach is a significant contribution to the field."
"Binding Words will become a prized source of information and inspiration for future research on magic, popular culture and text."
"Don Skemer's study on medieval textual amulets represent the latest return on what is already proving to be a remarkable profitable investment of scholarly and publishing resources."
"Don Skemer's book makes a very important contribution to the study of medieval charms. The author offers a new and detailed synthesis about textual amulets and presents new materials based on his own experience of medieval manuscripts and archives. . . . The book is an excellent piece of scholarship and will be an indispensable companion for any research on medieval beliefs."
"[Skemer] has taken an enormous, important, and understudied topic and ranged widely through its history. . . . He buttresses his points with rich footnotes that show the amazing breadth of his erudition. His book will be fundamental for all future work in this field, and hopefully will inspire more work on early modern and antique amulets as well."
"Although Binding Words presents a focused and extensive examination of a specific magical mechanism used in the later medieval period, the greatest asset of the book rises not only from the multiple aspects of medieval culture that it reveals but also from the many areas of research that it includes. This book would be a useful tool to any scholar of popular culture seeking to look beyond the modern definitions of magic and religion through the study of a particular facet of medieval society."
Don C. Skemer is Curator of Manuscripts in the Department of Rare Books and Special Collections at Princeton University's Harvey S. Firestone Memorial Library.
Contents
List of Plates
Introduction
1. Christian Doctrine and Practice
2. The Magical Efficacy of Words
3. Methods of Production and Use
4. General Protection and Specific Benefits
5. Textual Amulets for Women
Conclusion
Appendix 1: The Canterbury Amulet, mid-thirteenth century (Canterbury Cathedral Library, Additional MS 23)
Appendix 2: French or Burgundian Amulet Roll, early fifteenth century (private collection)
Appendix 3: Italian Amulet, late fifteenth century (Princeton University Library, John Hinsdale Scheide Collection, no. 7923).
Select Bibliography
Index
Mailing List
Subscribe to our mailing list and be notified about new titles, journals and catalogs.