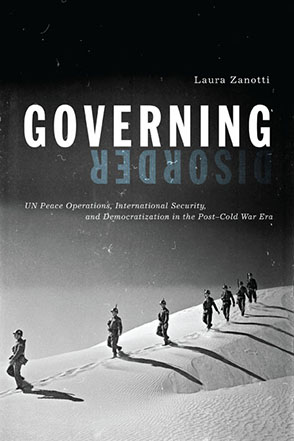 Governing Disorder
UN Peace Operations, International Security, and Democratization in the Post–Cold War Era
Laura Zanotti
BUY
Governing Disorder
UN Peace Operations, International Security, and Democratization in the Post–Cold War Era
Laura Zanotti
"Governing Disorder is not only an unconventional examination of 'power'; it is about politics and its ineluctable dilemmas that cannot be 'solved' by rational design or the simple transfer of 'solutions' that once worked, or worked somewhere else. It will be read with interest by international relations scholars, practitioners, organization theorists, and activists. It will certainly not be embraced by all of them, for the 'politics' to which this book draws attention might be too controversial. Nevertheless, it elevates the discourse and leads to new insights and a research agenda that is heuristically fruitful and extremely important for practical politics."
Description

Reviews

Bio

Table of Contents

Sample Chapters

Subjects
The end of the Cold War created an opportunity for the United Nations to reconceptualize the rationale and extent of its peacebuilding efforts, and in the 1990s, democracy and good governance became legitimizing concepts for an expansion of UN activities. The United Nations sought not only to democratize disorderly states but also to take responsibility for protecting people around the world from a range of dangers, including poverty, disease, natural disasters, and gross violations of human rights. National sovereignty came to be considered less an entitlement enforced by international law than a privilege based on states' satisfactory performance of their perceived obligations. In Governing Disorder, Laura Zanotti combines her firsthand experience of UN peacebuilding operations with the insights of Michel Foucault to examine the genealogy of post–Cold War discourses promoting international security. Zanotti also maps the changes in legitimizing principles for intervention, explores the specific techniques of governance deployed in UN operations, and identifies the forms of resistance these operations encounter from local populations and the (often unintended) political consequences they produce. Case studies of UN interventions in Haiti and Croatia allow her to highlight the dynamics at play in the interactions between local societies and international peacekeepers.
"Governing Disorder is not only an unconventional examination of 'power'; it is about politics and its ineluctable dilemmas that cannot be 'solved' by rational design or the simple transfer of 'solutions' that once worked, or worked somewhere else. It will be read with interest by international relations scholars, practitioners, organization theorists, and activists. It will certainly not be embraced by all of them, for the 'politics' to which this book draws attention might be too controversial. Nevertheless, it elevates the discourse and leads to new insights and a research agenda that is heuristically fruitful and extremely important for practical politics."
"Laura Zanotti is a distinguished critical scholar in conflict studies and international relations. Her work reveals the genealogy of techniques, discourses, and instrumentalities of power in the governance of war-torn societies. This book is essential for understanding the intrusive mechanisms, as employed by the United Nations and the so-called international community, that discipline and disempower societies that do not conform to ideals of 'good governance.'"
"Laura Zanotti provides a refreshing perspective on humanitarian intervention and complex peacekeeping. She skillfully uses Foucaultian concepts to make sense of her firsthand, incongruous experiences with peacekeeping missions in Haiti and Croatia. The result is a set of empirically rich and theoretically adept examinations of the political rationalities of 'good governance' and international biopolitics. The book superbly illustrates the complexities of a new international power politics that both normalizes and disciplines, but is also hijacked and thwarted."
"Throughout, interesting observations abound. Zanotti is particularly good at illuminating the reflexivity of the good governance agenda. . . . Zanotti has crafted an absorbing and thought-provoking study of peacekeeping's place and practices in the post–cold war system."
Laura Zanotti is Associate Professor of Political Science at the Virginia Polytechnic Institute and State University.
Contents
Preface
Acknowledgments
List of Abbreviations
1 Introduction
2 Re-Theorizing the Post–Cold War International Order
3 Governmentalizing the Post–Cold War International Regime: The United Nations Debate on Democratization and Good Governance
4 Establishing a Global Biopolitical Order: Managing Risk, Protecting Populations, Blurring Spaces of Governance
5 Imagining Democracy, Building Unsustainable Institutions: International Disciplinarity in the UN Peacekeeping Operation in Haiti
6 Normalizing Democracy and Human Rights: Discipline, Resistance, and Carceralization in Croatia's Pacification and Euro-Atlantic Integration
7 Conclusions
Bibliography
Index
Mailing List
Subscribe to our mailing list and be notified about new titles, journals and catalogs.