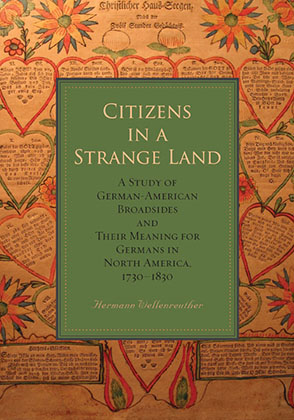 Citizens in a Strange Land
A Study of German-American Broadsides and Their Meaning for Germans in North America, 1730–1830
Hermann Wellenreuther
BUY
Citizens in a Strange Land
A Study of German-American Broadsides and Their Meaning for Germans in North America, 1730–1830
Hermann Wellenreuther
"Through his analysis of these prints, Wellenreuther provides new insights into the social, political, and religious history of the largest non-Anglophone minority in colonial, revolutionary, and young republican America. As a bonus to its scholarly value, the book is also an enjoyable read."
Media

Description

Reviews

Bio

Table of Contents

Sample Chapters

Subjects
In Citizens in a Strange Land, Hermann Wellenreuther examines the broadsides—printed single sheets—produced by the Pennsylvania German community. These broadsides covered topics ranging from local controversies and politics to devotional poems and hymns. Each one is a product of and reaction to a particular historical setting. To understand them fully, Wellenreuther systematically reconstructs Pennsylvania's print culture, the material conditions of life, the problems German settlers faced, the demands their communities made on the individual settlers, the complications to be overcome, and the needs to be satisfied. He shows how these broadsides provided advice, projections, and comment on phases of life from cradle to grave.
"Through his analysis of these prints, Wellenreuther provides new insights into the social, political, and religious history of the largest non-Anglophone minority in colonial, revolutionary, and young republican America. As a bonus to its scholarly value, the book is also an enjoyable read."
"[Wellenreuther] and his team have provided ample fodder for those who want to do further research. This together with their willingness to transcend the 'purely textual meaning' of the broadsides recommend their project to readers and researchers on both sides of the Atlantic."
"Broadside scholars, move over! This book by Germany's leading Americanist is the capstone of the Göttingen University survey of German-language printing in the United States in its first century (1730–1830). Wellenreuther's meticulous textual analysis of the American German broadside corpus, paired with relevant European background materials, vividly reconstructs both the secular and the religious worlds of America's pioneer German-speaking population. His insights into the motivations and expectations of the producers, consumers, and peddlers of these ephemeral prints spotlight in new ways the complex printing network in early America. The book's masterful use of political broadsides before and during the Revolution, as well as in the Federal era, accents the often underrated role German speakers played in middle states politics. We come away with an impression of the very particular American identity of the Pennsylvania Germans and their linguistic kinsmen in the South, the Midwest, and Canada. Thank you, Professor Wellenreuther, for a fascinating transatlantic read!"
"Wellenreuther's masterful and meticulous examination of popular printed works provides a nuanced perspective on the culture of German-speaking settlers in colonial America. What interested them? What worried them? What did they desire? Often reprinted texts resonated with the German-speaking public in a way that rarely printed texts couldn't. These broadsides show that German-speaking settlers did not simply replicate the religious and political structures they had left behind but created a new German-American culture."
"Citizens in a Strange Land offers fascinating insight into the material conditions of early German settlers in America. By analyzing broadsides, a means of communication previously disregarded by many scholars, Wellenreuther is able to vividly evoke the religious and political world of German settlers, their expectations and concerns, their anxieties and joys, and their ideals and ideas."
"In this systematic and thorough study of German-language broadsides in early America, Hermann Wellenreuther works the magic of a master historian. First, through a meticulous analysis of hundreds of broadsides, he brings to light the details of the broadsides' production and distribution as well as the motivation behind their creation. Then, drawing on his deep knowledge of German-speaking communities in America, Wellenreuther shows how these simple one-page documents enrich our understanding of German life and culture and reveal a people intent on defining for themselves their place in American society."
"In Citizens in a Strange Land, Hermann Wellenreuther provides a unique window into the print world of eighteenth- and nineteenth-century German-speaking Americans. Based on a meticulous analysis of more than 1,600 broadsides printed in German, this study illuminates the material, economic, religious, and political world of the immigrants and their descendants. Wellenreuther argues that broadsheets during the period mediated relationships between their producers and those who read them. They raised attention to ways of supplying the needs or fulfilling the interests of their consumers. By carefully examining the content of broadsides and placing them in their context, Wellenreuther and his team reveal the extensive and fascinating web of social relations among German-speaking Americans."
"Hermann Wellenreuther explores the perceptions and visions of the creators, distributors, and consumers of German-language broadsides. He describes a dispersed network of printers, peddlers, booksellers, and merchants that supplied these documents to German customers throughout Pennsylvania and surrounding areas. The broadsides covered a surprising range of secular and religious topics, which Wellenreuther explores through careful and nuanced textual analysis. By approaching each broadside as the product of and a reaction to a particular historical setting, he is able to shed new light on the distinct needs and concerns of Germans in America. Wellenreuther's detailed study of a unique and substantial body of printed records produced by and for German Americans greatly enhances our understanding of German society in colonial and early national America."
Hermann Wellenreuther is Professor Emeritus at the Georg-August University in Göttingen.
Contents
List of Illustrations
Preface and Acknowledgments
Introduction
1 The German-American Printing World
2 The German-American Secular World
3 Praying and Reading: House Devotions of German Settlers
4 Pennsylvania Politics and German Political Broadsides, 1730–1830
Conclusion
Appendix A: Georg Hohmann's Broadsides
Appendix B: Statistical Tables
Notes
Bibliography
Index
Mailing List
Subscribe to our mailing list and be notified about new titles, journals and catalogs.