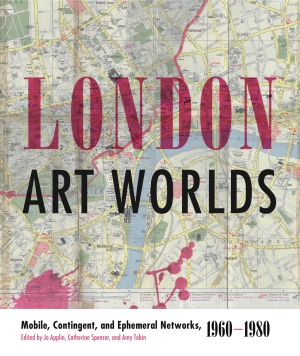 London Art Worlds
Mobile, Contingent, and Ephemeral Networks, 1960–1980
Edited by Jo Applin, Catherine Spencer, and Amy Tobin
Buy
London Art Worlds
Mobile, Contingent, and Ephemeral Networks, 1960–1980
Edited by Jo Applin, Catherine Spencer, and Amy Tobin
"The essays examine diverse practices, including interactive installation and environmental art, offering instructive discussion of intersections between art, feminism, and film and of the evolution of the London art scene in the 1960s–70s. Recommended."
Description

Reviews

Bio

Table of Contents

Sample Chapters

Subjects
The essays in this collection explore the extraordinarily rich networks of international artists and art practices that emerged in and around London during the 1960s and '70s, a period that saw an explosion of new media and fresh attitudes and approaches to making and thinking about art.
The contributors to London Art Worlds examine the many activities and movements that existed alongside more established institutions in this period, from the rise of cybernetics and the founding of alternative publications to the public protests and new pedagogical models in London's art schools. The essays explore how international artists and the rise of alternative venues, publications, and exhibitions, along with a growing mobilization of artists around political and cultural issues ranging from feminism to democracy, pushed the boundaries of the London art scene beyond the West End's familiar galleries and posed a radical challenge to established modes of making and understanding art.
Engaging, wide-ranging, and original, London Art Worlds provides a necessary perspective on the visual culture of the London art scene in the 1960s and '70s. Art historians and scholars of the era will find these essays especially valuable and thought provoking.
In addition to the editors, contributors to this volume are Elena Crippa, Antony Hudek, Dominic Johnson, Carmen Juliá, Courtney J. Martin, Lucy Reynolds, Joy Sleeman, Isobel Whitelegg, and Andrew Wilson.
"The essays examine diverse practices, including interactive installation and environmental art, offering instructive discussion of intersections between art, feminism, and film and of the evolution of the London art scene in the 1960s–70s. Recommended."
"The volume is bound to become an essential resource for anyone working in the field of twentieth-century British art, including those with a special interest in the continued development of sculpture in the context of the dematerialization of the art object. What is more, the book will undoubtedly prompt further research into the rich artistic worlds it maps out. I, for one, am thrilled by this prospect."
"The sixties—less so the seventies—is a crowded field, but this original and provocative collection challenges received wisdom on the period. It casts new light on work by women artists and filmmakers; on conceptual, performance, feminist, and other kinds of politicized and often collaborative activity; on the increasingly international traffic in artists and ideas; and on a counterculture unfolding across two decades from the Britain of Harold Wilson to the emergence of Margaret Thatcher."
"The fascinating episodes recounted in London Art Worlds expand, deepen, and complicate what we mean by the art history of the 1960s and 1970s—whether in the capital, across Britain, or on an international stage."
"London Art Worlds is a fresh and original rethinking of experimental art practices of the 1960s and 1970s produced in Britain that provides an important supplement to critical postcolonial studies of the period. The London that emerges is not the complacently assumed center of the former empire, but a contingent site for a new set of global networks and a sometimes temporary home for a diverse range of artists who may or may not claim Britishness."
Jo Applin is Lecturer at the Courtauld Institute of Art, London. Her recent books include Eccentric Objects: Rethinking Sculpture in 1960s America and Yayoi Kusama: Infinity Mirror Room—Phalli's Field.
Catherine Spencer is Lecturer in Art History at the University of St. Andrews. She has published articles and essays in Tate Papers, Oxford Art Journal, and the book British Art in the Nuclear Age.
Amy Tobin lectures in the History of Art at the University of Cambridge. She has published essays in Tate Papers, British Art Studies, and MIRAJ.
Contents
List of Illustrations
Acknowledgments
Introduction (Jo Applin, Catherine Spencer, and Amy Tobin)
1. Everything Was Connected: Kinetic Art and Internationalism at Signals London, 1964–66 (Isobel Whitelegg)
2. A Porous Entity: The Centre for Behavioural Art at Gallery House,
1972–73 (Antony Hudek)
3. Mapping the City: Felipe Ehrenberg in London, 1968–71 (Carmen Juli)
4. Restoring Some Period Color to Roelof Louw's Pyramid of Oranges (1967) (Joy Sleeman)
5. Collectivity, Temporality, and Festival Culture in John Dugger's Quasi-Architecture, 1970–74 (Courtney J. Martin)
6. Taking the Trouble to Sound It: Mediating Conflict in the Work of Rita Donagh (Catherine Spencer)
7. Circulations and Cooperations: Art, Feminism, and Film in 1960s and 1970s London
(Lucy Reynolds)
8. Project sigma: An Interpersonal Logbook (Andrew Wilson)
9. The Artist as a Speaker-Performer: The London Art School in the 1960s–70s (Elena Crippa)
10. File Under COUM: Art on Trial in Genesis P-Orridge's Mail Action (Dominic Johnson)
From the Introduction
Jo Applin, Catherine Spencer, and Amy Tobin
In a 1970 article entitled "Artists in Revolt," published in the Times, the writer and curator Guy Brett summed up the negative response among artists and critics to the controversially conservative exhibition British Sculpture out of the Sixties at the Institute of Contemporary Arts (ICA) in London: "It seems to me that if there is any justification at all for a backward look at British art of the sixties, it should at least be to explode the official line, not repeat it." Taking up Brett's challenge nearly fifty years on, one place we might look to see this "official line" being "exploded"—and to get a sense of the competing social and political countercultural assays made by artists, writers, activists, and commentators outside the officially and institutionally recognized art scene during the 1960s and into the 1970s—is the London-based International Times newspaper, launched in 1966. Initially known by the zeitgeisty sobriquet "The Longhair Times," the International Times encapsulates the intersection of counterculture, communication, irreverence, and internationalism that began to emerge in this era. Its pages featured original and often provocative artwork, including cartoons and photo collages, combined with commentary on contemporary political events. One cover from 1973, for example, designed by the photographer George Snow, features a pixelated version of the iconic International Times logo, depicting the silent-film actress Theda Bara, above a photograph of the Bogside area in Derry (Londonderry), a flash point for the violence that erupted in Northern Ireland in the late 1960s (fi I.1).
The walls of one house are daubed with the words "You are now entering Free Derry," demarcating a nationalist republican zone that for several years existed outside official state and police control, forming a vivid rejection of a coherent "British" identity. The headline above, "Bloody Sunday: Ireland Twelve Months On," registers the continued reverberations of a particularly violent incident during the so-called troubles, when the British army shot dead thirteen civilians. As a forum for both the collection and dissemination of information about festivals, performances, artworks, commentary, community action, and politics, the International Times was part of a dynamic visual and conceptual field, from which many artists drew inspiration and in which they actively participated.
The fluidity of references caught in the pages of the International Times expanded on the "long front of culture," influentially identified by the critic Lawrence Alloway in 1959. Alloway had been a participant in the activities of the Independent Group, which ran between 1952 and 1955 at the ICA, together with artists including Eduardo Paolozzi and Richard Hamilton. The activities of group members continued during the 1960s, becoming part of the burgeoning Pop movement and its contribution to, and absorption of, mass-mediatized culture. As Lisa Tickner has argued, Pop artists did not just use the images and icons of vernacular forms of entertainment in their works but were themselves submerged in a new and dynamic field of value that was economic, cultural, and symbolic: "artists steeped in consumer culture in turn inspired it. . . . Signs and motifs are contagious, spreading from hand to hand, sloughing or absorbing earlier referents, sliding into irony and fashion." An example of this is seen in the collision of Brutalist ruin and candy color in Eduardo Paolozzi's series As Is When (1964–65), which merges high and low culture together with imagined future technologies and obsolete kitsch, on the single plane of a screen-printed surface. Pauline Boty's semi-abstract canvases, meanwhile, pair painterly shape and color with images of celebrity culture, fusing together one and the other without hierarchy or value judgment. Seen from this perspective, works by artists like Paolozzi and Boty are less about taking from the world outside than entering into a new, vital cultural stream of dialogue between art and its surrounding environment.
The practices uncovered by this book, however, are very different from the more familiar Pop works associated with the early 1960s. Indeed, the London art world of the 1960s has typically been considered either in terms of a hermetic history with its own internal currents and lineages or, conversely, as an art scene indebted to its international, and specifically American, peers, against whom the work of London-based artists and practices has often been pitched as somewhat provincial. While this book does not intend to ignore the very real differences and particularities of the London art world that were frequently, and significantly, tied to the specificities of place, time, and circumstance, it does seek to loosen that world's boundaries in important ways. Even in the case of Pop art produced in Britain, for example, many works figured their own complex economic, social, and political relationship with the fantasy of postwar consumerism and popular culture in ways that were wholly distinct from American Pop, while simultaneously engaging with an increasingly globalized mass media and a wider Cold War imaginary.6 Proceeding from this perspective, London Art Worlds examines the extraordinarily rich and underexplored networks of international artists and art practices that emerged in and around Britain's capital during the 1960s and 1970s, although these dates are necessarily porous by several years at either end. In particular, this volume seeks to link the activities of artists across these two decades, in contrast with much of the literature on art in Britain during this period, which treats the 1960s and 1970s as separate moments with very different casts of characters and almost opposing socioeconomic contexts. By bringing together the two decades, we want to make new connections across a broader field of cultural production—to invoke the work of the sociologist Pierre Bourdieu—and to suture some of the divisions fissuring the way in which this field has been mapped to date.
The 1960s and 1970s witnessed an explosion of new media, attitudes, and approaches to making and thinking about art, from the rise of cybernetics, through the establishment of alternative publications, to public protests and new pedagogical models in London's art schools. Often these activities occurred outside of, or in tension with, established institutions and venues for art and its display. The London art world was no longer contained within the familiar galleries of London's West End and major national institutions, nor was it tied to a specific medium or "movement." Rather, new and constantly shifting networks and transient sites of collaboration, exhibition, and action emerged. Groups of international artists, many from Latin America and recently decolonized countries, mobilized politically in the capital around issues relating to gender, sexuality, feminism, and democracy. London Art Worlds traces the many informal, impromptu, and experimental relationships that exist alongside and fragment more established institutional histories of British art in this period. The chapters address the diversity of practices, movements, and spaces across the sixties and seventies, from painting, sculpture, and film through to performance and conceptual works. Feminism, activism, and the rising internationalism and politicization of the art scene are also foregrounded for their radical challenge and reformulation of the "art world" as it had previously been understood. Under these pressures, and as a result of a new emphasis on process, collaboration, and exchange, the "art world" was transformed into "art worlds." This shift in terminology encompasses the interactions and participation of myriad artists, and the contingent artworks that circulated as a result, on national and international scales. We envisage this period as one of multiple and overlapping spheres, rather than a coherent system.
Activity in London needs to be approached as part of a wider range of burgeoning endeavors in sites and venues throughout Britain during the 1960s and 1970s. Ikon in Birmingham (founded in 1964), the Museum of Modern Art, Oxford (1966, now Modern Art Oxford), the Fruitmarket in Edinburgh (1974), Side in Newcastle (1977), and Site Gallery in Sheffield (1978), among many others, formed points of activity across the United Kingdom. To take one example, the Richard Demarco Gallery in Edinburgh acted as a point of contact between artists working in the United Kingdom and those in Soviet Bloc countries. Through a series of physical exchanges, artists could visit partners in different countries and political systems, until interventions by Soviet states excluded Western visitors, while the Edinburgh Festival provided a platform for artists like Allan Kaprow, Joseph Beuys, Tadeusz Kantor, Marina Abramović, and Carolee Schneemann. Adrian Henri, a painter and member of the "Liverpool poets" during the 1960s, notes in 1974 that while the London art world "has tended to promote safe, easily saleable commodities," outside of the city, "for financial and social reasons, it has been more possible for small, self-sustaining groups of artists to create multimedia works in a localized context. There is a strong provincial tradition of contact with avant-garde groups in other countries: in Edinburgh, Cardiff and Newcastle it is possible, via letters, little magazines and exchange visits, to relate to an international movement and be free from fashionable London attitudes."
This book, however, remains focused on the capital, not only because extensive work remains to be done on recuperating the alternative practices that effloresced in London during this period, but also because it undeniably and inevitably formed an important site for many artists, whether the city was a permanent residence or a staging post. Even when they were reacting against it—such as when the Mexican artist Felipe Ehrenberg moved from London to Devon to establish the Beau Geste Press, as Carmen Juliá shows in her contribution to this book— London remained a significant psychical and conceptual site to be navigated and negotiated, rejected as well as embraced. When the Brazilian artist Hélio Oiticica traveled to London for his exhibition at the Whitechapel Art Gallery in 1969, he also visited the University of Sussex in the south of England, where he worked collaboratively with students to create a series of "Nest-Cells," provisional spaces that individuals could inhabit with found materials. The impact of this work in Sussex can be discerned in his later constructions in New York, underlining that London was not the only environment that proved important for Oiticica during his time in England. The essays collected here offer fresh understandings of work produced by a range of practitioners passing through the capital, allowing us to complicate rather than confirm the binaries of center and periphery.
The activities of artists such as Ehrenberg and Oiticica emerged from the experience of geographic movement and interchange, while emphasis on that mobility was often conditioned by the processes of emigration and forced relocation. Such displacements encompass the experience of political exile, together with more local evictions and the growing squatters' movement. The "internationalism" of the 1960s and 1970s, forged as it was during decades of decolonization and the arrival in Britain of diaspora artists from newly independent countries, and exemplified by initiatives such as the Caribbean Artists Movement (1966–72), differs significantly from the current globalization in the art world. Such difference resulted in works and practices reflecting unique understandings of mobility that anticipated, but were distinct from, contemporary concerns. This is by no means to suggest that the present volume aligns "internationalism" with an automatic assumption of fluid and easy exchange. As writers and artists such as Rasheed Araeen have pointed out, the discourse of internationalism has often been infused with imperialist dynamics. Many of the contributors to this volume approach art in Britain from a distinctly transnational perspective, building on postcolonialism's embrace of hybridity, investment in cosmopolitanism, and movement beyond the model of the nation-state as a demarcation of identity. This position offers a valuable alternative to the imperialist inflections of "internationalism." Yet we preserve the latter term here, precisely in order to retain a sense of the problematic unevenness with which it was imbued during the 1960s and 1970s and because an acutely critical awareness of such imbalances directly informed many of the practices considered in the following essays.
(Excerpt ends here)
Mailing List
Subscribe to our mailing list and be notified about new titles, journals and catalogs.