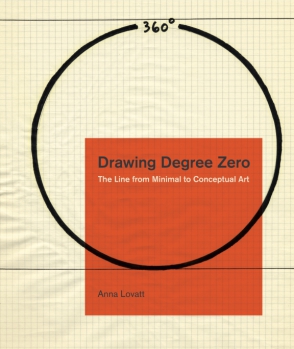 Drawing Degree Zero
The Line from Minimal to Conceptual Art
Anna Lovatt
Buy
Drawing Degree Zero
The Line from Minimal to Conceptual Art
Anna Lovatt
"Drawing Degree Zero is well researched, provides unique contributions to the discourse, and includes both color and black-and-white images of exhibitions, installations, and ephemera. This text is an important addition to any library that supports advanced scholarship in postmodern/contemporary art, poststructuralism, or modern French literature."
Description

Reviews

Bio

Subjects
Drawing Degree Zero
examines a pivotal moment in the history of drawing, when the medium was disengaged from its connoisseurial associations and positioned at the forefront of contemporary art. From Mel Bochner's seminal exhibition
Working Drawings and Other Visible Things on Paper Not Necessarily Meant to Be Viewed as Art
of 1966 to the Museum of Modern Art's major survey
Drawing Now
ten years later, Anna Lovatt documents this period of restless artistic experimentation and fierce political ambition.
Traditionally considered a preparatory or subsidiary practice, drawing's notational, provisional, and incidental qualities accrued new value in the context of post-Minimal and Conceptual art. Considering the work of Bochner, Sol LeWitt, Rosemarie Castoro, Dorothea Rockburne, and Richard Tuttle, Lovatt explores the strategies these artists used to confound long-standing presumptions about drawing, rendering it systematic rather than autographic, public rather than private, and conceptually rigorous rather than manually dexterous. Drawing Degree Zero argues that these artists pursued a neutral, anonymous mode of inscription analogous to Roland Barthes's concept of "writing degree zero."
A lively examination of the resurgence of interest in drawing, Drawing Degree Zero highlights the medium's ability to foreground issues of authorship, process, location, and participation that remain fundamental to contemporary art. Scholars and art aficionados will welcome Lovatt's insights.
"Drawing Degree Zero is well researched, provides unique contributions to the discourse, and includes both color and black-and-white images of exhibitions, installations, and ephemera. This text is an important addition to any library that supports advanced scholarship in postmodern/contemporary art, poststructuralism, or modern French literature."
"This exceptionally astute, detailed study reconfigures our understanding of Minimalist and Conceptual art, demonstrating the importance of drawing to the deconstruction of subjectivity that these movements pursued. Deft, nuanced, and thought-provoking, Drawing Degree Zero explores its material with an unfailing sensitivity to the visual and material properties of artworks and an unwavering sense of their political importance."
"In the 1960s, the 'less is more' of the minimalist aesthetic approached drawing in a whole new way. Virtuoso gestures ceded to repetitive mark-making; convention supplanted invention; the strictures of the grid system ruled supreme. Yet as Anna Lovatt brilliantly argues, rather than destroy drawing, such tactics gave it new life."
"Anna Lovatt makes a compelling argument for the centrality of drawing to Minimal and Conceptual art in the 1960s. Through a series of illuminating case studies, Lovatt reveals the ways in which artists reconfigured the terrain of drawing as dynamic, critical, and utterly contemporary."
Anna Lovatt is Assistant Professor of Art History at Southern Methodist University. She is the editor of Michelle Stuart: Drawn from Nature.
Mailing List
Subscribe to our mailing list and be notified about new titles, journals and catalogs.