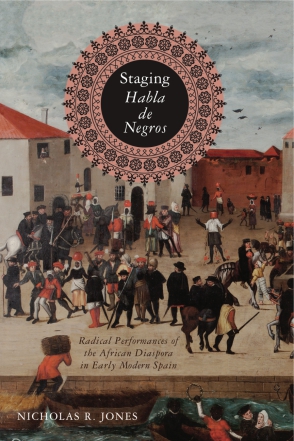 Staging Habla de Negros
Radical Performances of the African Diaspora in Early Modern Spain
Nicholas R. Jones
COMING IN MAY
Staging Habla de Negros
Radical Performances of the African Diaspora in Early Modern Spain
Nicholas R. Jones
"A crucial intervention in discussions about Black Africans in Renaissance Europe. Focusing specifically on early modern Spain, Jones offers insightful and nuanced readings of the ways in which (mostly) white, Spanish writers appropriated black speech in staged performances and poetry, arguing that such appropriations actually encode Black African agency. Importantly, he de-centers the author and asks readers to approach these literary forms from the margin to understand how forces beyond the author influence text formation. Jones's careful, against-the-grain readings open up to readers new archives (and re-present familiar ones from fresh, intriguing perspectives) for the study of black cultural experiences in the Renaissance era."
Description

Reviews

Bio

Subjects
In this volume, Nicholas R. Jones analyzes white appropriations of black African voices in Spanish theater from the 1500s through the 1700s, when the performance of Africanized Castilian, commonly referred to as
habla de negros
(black speech), was in vogue.
Focusing on Spanish Golden Age theater and performative poetry from authors such as Calderón de la Barca, Lope de Rueda, and Rodrigo de Reinosa, Jones makes a strong case for revising the belief, long held by literary critics and linguists, that white appropriations and representations of habla de negros language are "racist buffoonery" or stereotype. Instead, Jones shows black characters who laugh, sing, and shout, ultimately combating the violent desire of white supremacy. By placing early modern Iberia in conversation with discourses on African diasporic studies, Jones showcases how black Africans and their descendants who built communities in early modern Spain were rendered legible in performative literary texts.
Accessibly written and theoretically sophisticated, Jones's groundbreaking study elucidates the ways that habla de negros animated black Africans' agency, empowered their resistance, and highlighted their African cultural retentions. This must-read book on identity building, performance, and race will captivate audiences across disciplines.
"A crucial intervention in discussions about Black Africans in Renaissance Europe. Focusing specifically on early modern Spain, Jones offers insightful and nuanced readings of the ways in which (mostly) white, Spanish writers appropriated black speech in staged performances and poetry, arguing that such appropriations actually encode Black African agency. Importantly, he de-centers the author and asks readers to approach these literary forms from the margin to understand how forces beyond the author influence text formation. Jones's careful, against-the-grain readings open up to readers new archives (and re-present familiar ones from fresh, intriguing perspectives) for the study of black cultural experiences in the Renaissance era."
Nicholas R. Jones is Assistant Professor of Spanish at Bucknell University.
Mailing List
Subscribe to our mailing list and be notified about new titles, journals and catalogs.