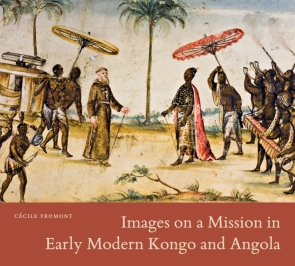 Images on a Mission in Early Modern Kongo and Angola
Cécile Fromont
Buy
Images on a Mission in Early Modern Kongo and Angola
Cécile Fromont
Winner of the 2023 Gustav Ranis International Book Prize
"Images on a Mission in Early Modern Kongo and Angola promises to help reorient this particular corner of the early modern world, and will be enlightening to those interested in the paintings for their own merits, or as documentation of aspects of social life and material culture than were outside the scope of the Capuchins' own intentions."
Description

Reviews

Bio

Table of Contents

Sample Chapters

Subjects
Early modern central Africa comes to life in an extraordinary atlas of vivid watercolors and drawings that Italian Capuchin Franciscans, veterans of Kongo and Angola missions, composed between 1650 and 1750 for the training of future missionaries. These "practical guides" present the intricacies of the natural, social, and religious environment of seventeenth- and eighteenth-century west-central Africa and outline the primarily visual catechization methods the friars devised for the region.
Images on a Mission in Early Modern Kongo and Angola
brings this overlooked visual corpus to public and scholarly attention.
This beautifully illustrated book includes full-color reproductions of all the images in the atlas, in conjunction with rarely seen related material gathered from collections and archives around the world. Taking a bold new approach to the study of early modern global interactions, art historian Cécile Fromont demonstrates how visual creations such as the Capuchin vignettes, though European in form and crafstmanship, emerged not from a single perspective but rather from cross-cultural interaction. Fromont models a fresh way to think about images created across cultures, highlighting the formative role that cultural encounter itself played in their conception, execution, and modes of operation.
Centering Africa and Africans, and with ramifications on four continents, Fromont's decolonial history profoundly transforms our understanding of the early modern world. It will be of substantial interest to specialists in early modern studies, art history, and religion.
"Images on a Mission in Early Modern Kongo and Angola promises to help reorient this particular corner of the early modern world, and will be enlightening to those interested in the paintings for their own merits, or as documentation of aspects of social life and material culture than were outside the scope of the Capuchins' own intentions."
"Fromont's attention to the archive's materiality and her vibrantly close reading of a large, unique body of sources are compelling. Images on a Mission in Early Modern Kongo and Angola reveals a much broader Capuchin visual genre than previously known, one that contains a distinctive approach to Africans (borne out of Capuchins' experiences in central Africa) and to representing missionary experiences, and it significantly extends the visual archive for early modern European-African interactions."
"A visually striking book. . . . Fromont's book instructs us to reject the ongoing violence of imperialism and build a decolonial future that centres epistemologies and ways of being human that operate outside of the framework of colonialism, imperialism, and racial capitalism."
Cécile Fromont is Professor in the History of Art department at Yale University. She is the author of the award-winning book The Art of Conversion and the editor of Afro-Catholic Festivals in the Americas, the latter also published by Penn State University Press.
List of Illustrations
List of Tables
Acknowledgements
Introduction
1. "Nonsense": Capuchin Images of Kongo and Angola Against Italian Preconceptions
2. Practical Guides to the Mission: The Capuchin Central-African Corpus
3. Images and Devotion
4. Images as Method
5. Images Against Idolatry
6. With "the Consent of the People, and the Secular Arm of the Prince"
7. Penned by Encounter: Capuchins, Central Africans, and the Making of a Cross-Cultural Discourse
Conclusion
Notes
Bibliography
Index
Mailing List
Subscribe to our mailing list and be notified about new titles, journals and catalogs.