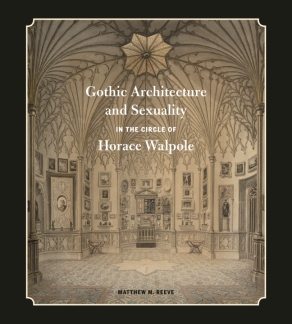 Gothic Architecture and Sexuality in the Circle of Horace Walpole
Matthew M. Reeve
Buy
Gothic Architecture and Sexuality in the Circle of Horace Walpole
Matthew M. Reeve
Winner of the 2022 Book Award for Exemplary Scholarship on the Period between 1600 – 1800 from the Historians of British Art
"Gothic Architecture and Sexuality in the Circle of Horace Walpole is thoroughly researched and wonderfully illustrated; it contributes to the richness of current interest in the histories of interiors, architecture, and design, particularly those that foreground subjective qualities of lived experiences. This is why it is important that Matthew M. Reeve has situated Horace Walpole, his character and personality, at the centre of this study, explaining how Strawberry Hill signifies the summation of his complex, homosocial, and singular life."
Description

Reviews

Bio

Table of Contents

Subjects
Gothic Architecture and Sexuality in the Circle of Horace Walpole
shows that the Gothic style in architecture and the decorative arts and the tradition of medievalist research associated with Horace Walpole (1717–1797) and his circle cannot be understood independently of their own homoerotic culture. Centered around Walpole's Gothic villa at Strawberry Hill in Twickenham, Walpole and his "Strawberry Committee" of male friends, designers, and dilettantes invigorated an extraordinary new mode of Gothic design and disseminated it in their own commissions at Old Windsor and Donnington Grove in Berkshire, Lee Priory in Kent, the Vyne in Hampshire, and other sites.
Matthew M. Reeve argues that the new "third sex" of homoerotically inclined men and the new "modern styles" that they promoted—including the Gothic style and chinoiserie—were interrelated movements that shaped English modernity. The Gothic style offered the possibility of an alternate aesthetic and gendered order, a queer reversal of the dominant Palladian style of the period. Many of the houses built by Walpole and his circle were understood by commentators to be manifestations of a new queer aesthetic, and in describing them they offered the earliest critiques of what would be called a "queer architecture."
Exposing the role of sexual coteries in the shaping of eighteenth-century English architecture, this book offers a profound and eloquent revision to our understanding of the origins of the Gothic Revival and to medievalism itself. It will be welcomed by architectural historians as well as scholars of medievalism and specialists in queer studies.
"Gothic Architecture and Sexuality in the Circle of Horace Walpole is thoroughly researched and wonderfully illustrated; it contributes to the richness of current interest in the histories of interiors, architecture, and design, particularly those that foreground subjective qualities of lived experiences. This is why it is important that Matthew M. Reeve has situated Horace Walpole, his character and personality, at the centre of this study, explaining how Strawberry Hill signifies the summation of his complex, homosocial, and singular life."
"Echoing the prodigious propagation of architectural offspring of the book's subject, it seems clear that Reeve's deeply researched, critically engaged and massively compelling study of Strawberry Hill will be the progenitor of many fascinating studies to come."
"The lavish publication is reflected in the high standard of Reeve's research. His prose is Daedalian in its eloquence but firmly maintains the threads of coherence sometimes abandoned by scholarly theorists, resulting in a work which is accessible and pleasing for all. The range of subject matter will interest an array of audiences, including medievalists; early modernists; historians of art, architecture, and literature; anthropologists; and queer theorists."
"In this imaginative, erudite, and lavishly illustrated book, Reeve delineates the connections between style, subjectivity, and sexuality in Horace Walpole's vision of the Gothic—and as a general matter for the study of visual and material culture—with force, clarity, and nuance. Deeply researched and elegantly written, the book will interest historians of the Middle Ages and of the eighteenth century, art and architectural historians, queer theorists, students of medievalism, and many other readers. It is a stunning achievement of historical imagination and moral eloquence."
"This book makes a brilliant and substantive contribution to research on eighteenth-century Gothic. In keeping with Walpole's own interdisciplinary leanings, Reeve cuts through the disciplinary boundaries that have tended to shape previous studies of Walpole and his circle. Rightly, he treats Walpolean Gothic as a thoroughly multimedia enterprise. In so doing, Reeve raises the critical discourse on medievalism and queer aesthetics to a new level of sophistication."
"Reeve's book is careful and precise at the same time that it is far-reaching and inspiring! It builds on earlier works with enormous care, and it takes Walpole studies to a new location entirely."
"Horace Walpole was an important cultural innovator in both gothic literature and architecture. Although he saw these interests as complementary it has been scholars in literary studies who have most extensively explored his sexual subjectivity. This book is, therefore, a welcome and pioneering study of the queer architectural passions of Walpole and his circle of intimate friends."
"Bridging queer theory, medieval studies, architectural history, and histories of Georgian architecture, Reeve's compelling interpretation shows that in Walpole's circle, the Gothic Revival was a sign that alternative masculinities were not merely surviving, but thriving."
Matthew M. Reeve is Associate Professor of Art History at Queen's University and Fellow of the Society of Antiquaries of London.
List of Illustrations
Preface: Medievalism, Modernity, and the History of Sexuality
Abbreviations
Introduction
1. The New Medievalism: Constructing the Gothic in the Circle of Horace Walpole
2. Horace Walpole's Strawberry Hill
3. Queer Family Romance in the Strawberry Hill Collection
4. Dicky Bateman and the Gothicization of Old Windsor
5. "The Spirit of Strawberry-Castle": Donnington Grove, The Vyne, and Lee Priory
6. From Strawberry Hill Gothic to the Gothic Revival
Notes
Bibliography
Index
Mailing List
Subscribe to our mailing list and be notified about new titles, journals and catalogs.