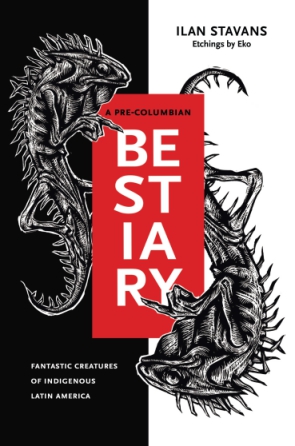 A Pre-Columbian Bestiary
Fantastic Creatures of Indigenous Latin America
Ilan Stavans with etchings by Eko
BUY
A Pre-Columbian Bestiary
Fantastic Creatures of Indigenous Latin America
Ilan Stavans with etchings by Eko
"The imaginary and real beings described by Ilan Stavans with whimsy, wit, irony, and, most of all, wonder, emerge from the pre-Columbian and colonial Americas to remind us that even in our own decolonial times, the imaginary and the nonimaginary, the fantastic and the historical, the speculative and the real continue to coincide in the Americas on the elusive line between fact and fiction, where 'what is known and what is hoped for intermingle.'"
Media

Description

Reviews

Bio

Table of Contents

Sample Chapters

Subjects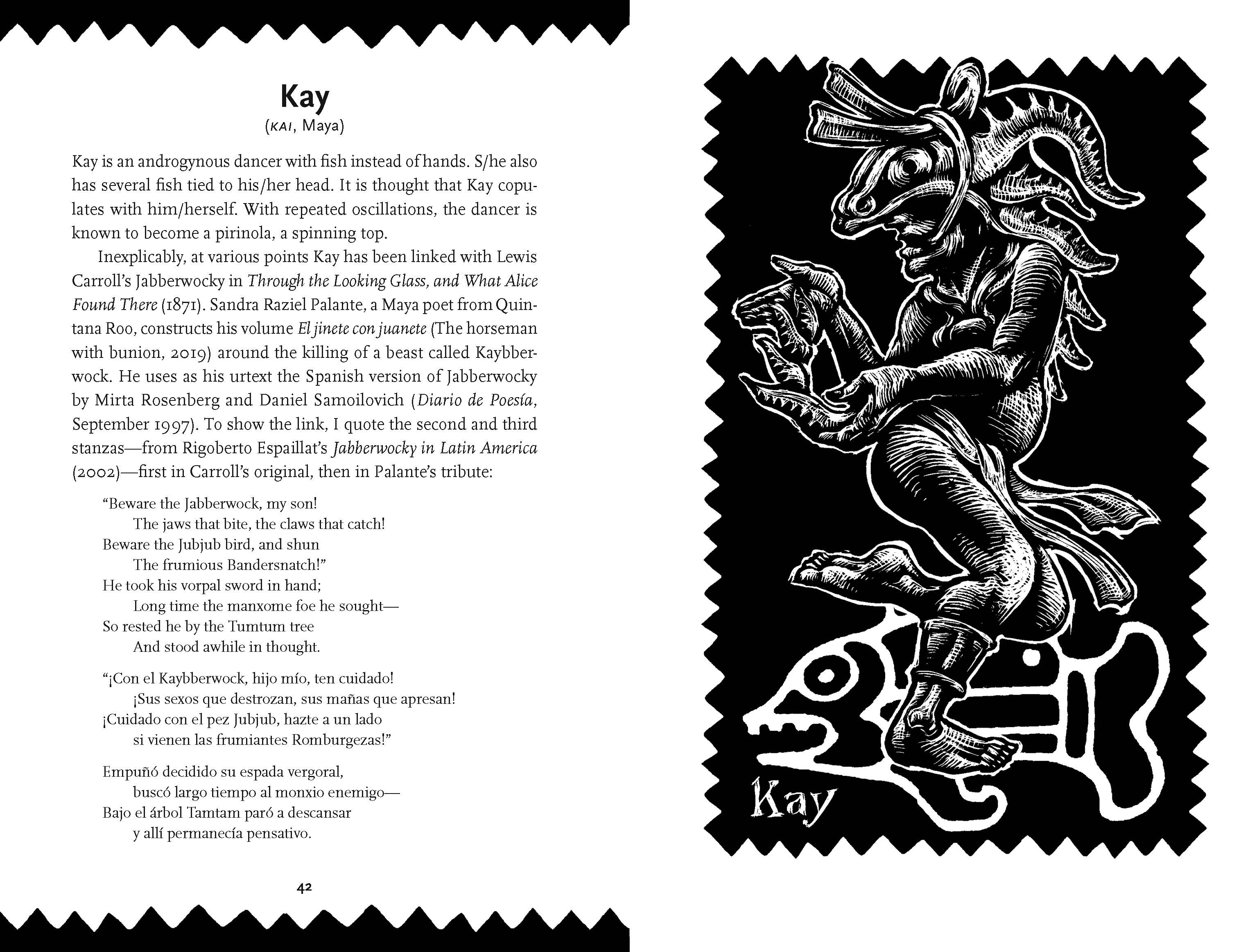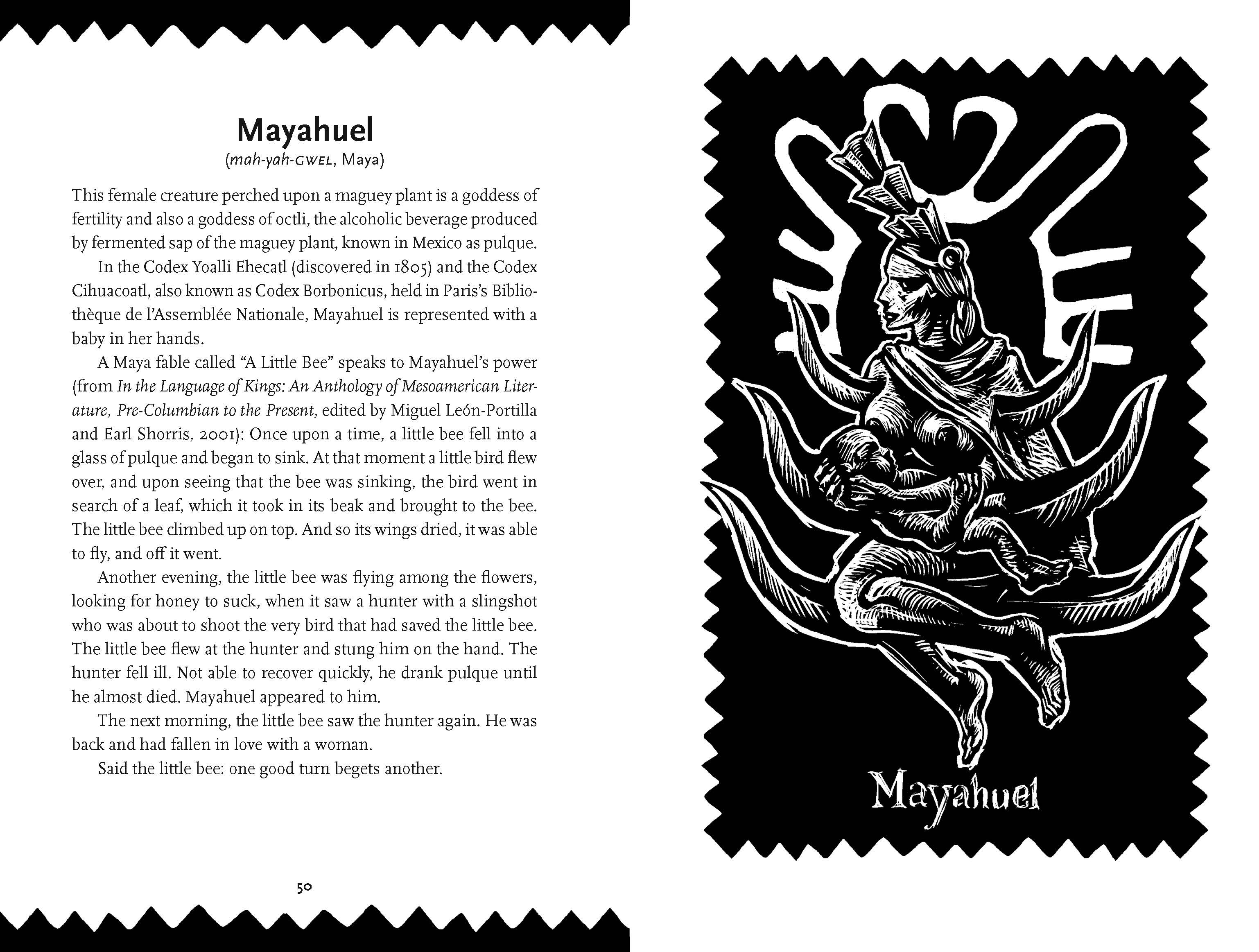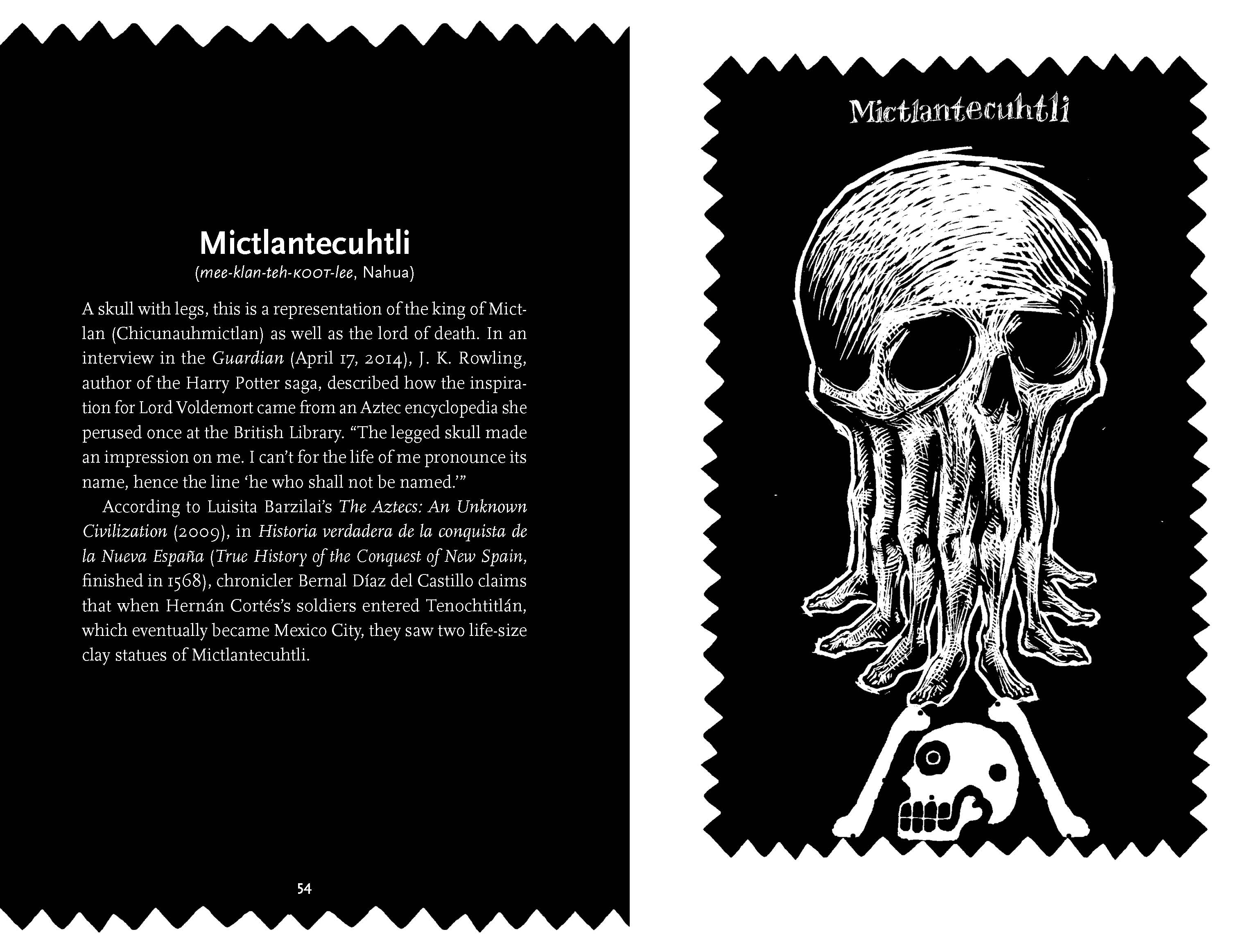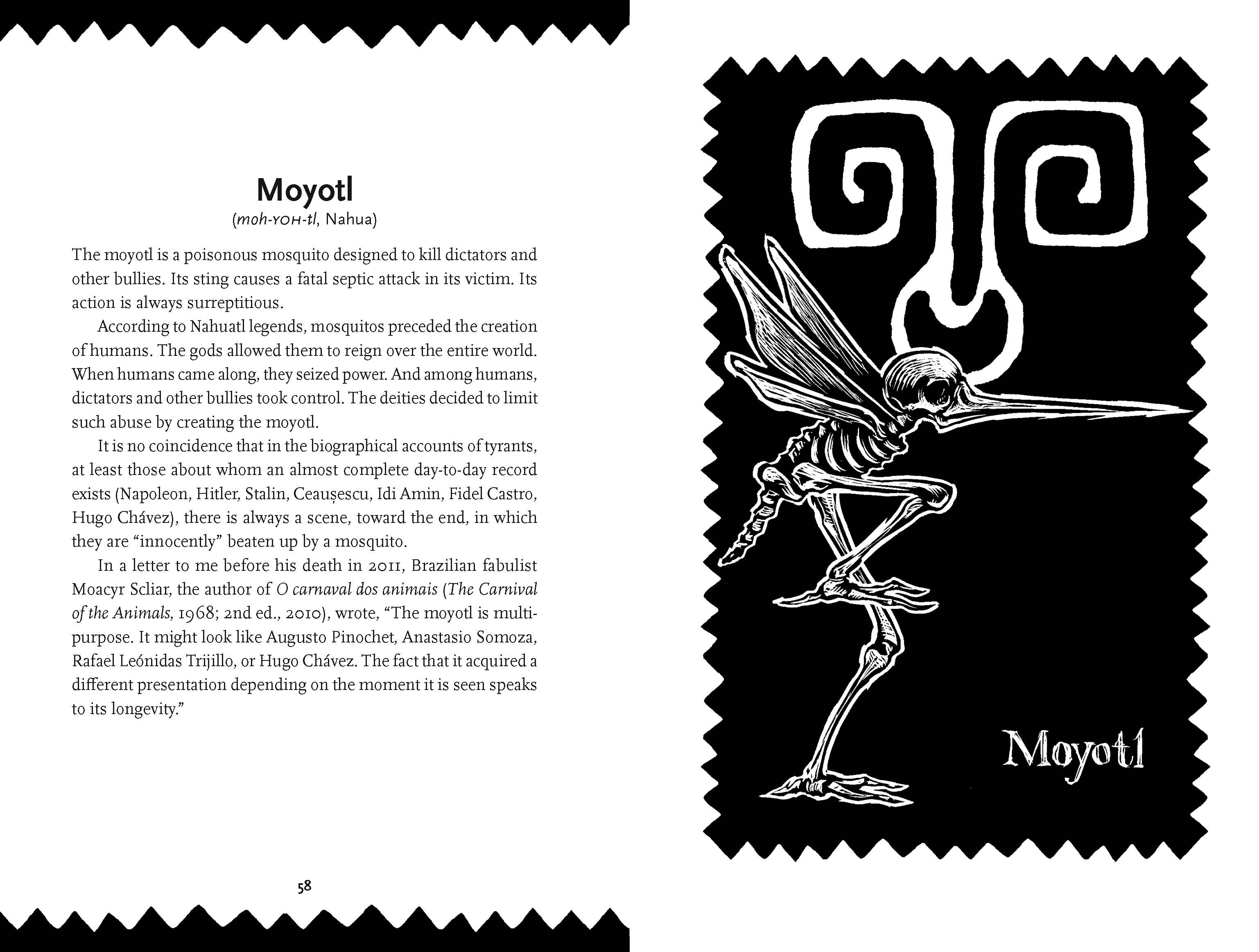 An encyclopedic collaboration between award-winning Mexican American scholar Ilan Stavans and illustrator Eko,
A Pre-Columbian Bestiary
features lively and informative descriptions of forty-six religious, mythical, and imaginary creatures from the Nahua, Aztec, Maya, Tabasco, Inca, Aymara, and other cultures of Latin America.

From the siren-like Acuecuéyotl and the water animal Chaac to the class-conscious Oc and the god of light and darkness Xólotl, the magnificent entities in this volume belong to the same family of real and invented creatures imagined by Dante, Franz Kafka, C. S. Lewis, Jorge Luis Borges, Umberto Eco, and J. K. Rowling. They are mined from indigenous religious texts, like the
Popol Vuh,
and from chronicles, both real and fictional, of the Spanish conquest by Diego Durán, Bernal Díaz del Castillo, and Fernando de Zarzamora, among others. In this playful compilation, Stavans distills imagery from the work of magic realist masters such as Juan Rulfo and Gabriel García Márquez; from songs of protest in Mexico, Guatemala, and Peru; and from aboriginal beasts in Jewish, Muslim, European, British, and other traditions. In the spirit of imaginative invention, even the bibliography is a mixture of authentic and concocted material.

An inspiring record of resistance and memory from a civilization whose superb pantheon of myths never ceases to amaze,
A Pre-Columbian Bestiary
will delight anyone interested in the history and culture of Latin America.
"The imaginary and real beings described by Ilan Stavans with whimsy, wit, irony, and, most of all, wonder, emerge from the pre-Columbian and colonial Americas to remind us that even in our own decolonial times, the imaginary and the nonimaginary, the fantastic and the historical, the speculative and the real continue to coincide in the Americas on the elusive line between fact and fiction, where 'what is known and what is hoped for intermingle.'"
"This is a delightful book. It is a parade, in the arbitrary order of importance that the alphabet allows, of creatures throughout indigenous America, from Aztlan southward, and that show up in the range of books that Stavans references. Challenged to pronounce their names and to imagine their shapes and attributes, the reader will recognize how uncanny the continent is, both strange and familiar."
"This alphabetic delight offers not only a brief anthology of pre-Hispanic imaginary beings but also a door to the secret links between collective imageries that appear to be distant in space and time—although they all live in people's dreams, just like those Freudian insects called Colotls. Bestiaries have their own literary tradition in the Latin American lands (both before and after colonization), ranging from the Mayas, Incas, or Aztecs to contemporary masters such as Borges, Arreola, or Wilcock, which is one of the multiple reasons why the volume is so arresting. Ilan Stavans manages to turn deeply erudite research into personal introspection (including his own father under the form of a Nahuatl grasshopper), and vice versa, making it 'a double bird,' just like the Aztec flying Zulin 'that exists by looking at the mirror.' Only one fantastic creature seems to be omitted here: this very exquisite book."
Ilan Stavans is Lewis-Sebring Professor of Humanities and Latin American and Latino Culture at Amherst College, publisher of Restless Books, and host of NPR's podcast In Contrast. He is the recipient of numerous international awards and honors, and his books have been translated into twenty languages. Among his recently published books are two Penn State University Press titles: the graphic novel adaptation of Don Quixote of La Mancha, illustrated by Roberto Weil, and The Return of Carvajal: A Mystery, illustrated by artist and illustrator Eko, whose engravings are also featured in this book.
Preface
Acuecuéyotl
Amaru
Azcatl
Camazot Tzootz
Chaac
Chachalaca
Chapulín
Chicchán
Chuen
Colotl
Coyametl
Cuetzpalin
Dzaby
Ehecatl
Hixx
Huexólotl
Huitzin
Iguana
Imix Cipactli
Itzpapalotl
Kay
Kuntur
Lama Glama
Lama Guanacoe
Mayahuel
Michin
Mictlantecuhtli
Montizon Puskat
Moyotl
Nahual
Oc
Ocelotl
Omecihuatl
Pauahtun
Tepeyólotl
Thiuime
Tlalcíhuatl Toad
Tochtli
Toci
Tonatiuh
Uturunku
Utzimengari
Xiuhtilán
Xólotl
Xtabay
Zulin
Further Readings
Index
Mailing List
Subscribe to our mailing list and be notified about new titles, journals and catalogs.