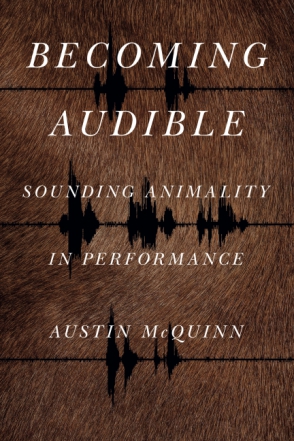 Becoming Audible
Sounding Animality in Performance
Austin McQuinn
Buy
Becoming Audible
Sounding Animality in Performance
Austin McQuinn
"Becoming Audible provides a compelling array of contemporary artworks that explore animality alongside or at the limits of culture."
Description

Reviews

Bio

Table of Contents

Sample Chapters

Subjects
Becoming Audible
explores the phenomenon of human and animal acoustic entanglements in art and performance practices. Focusing on the work of artists who get into the spaces between species, Austin McQuinn discovers that sounding animality secures a vital connection to the creatural.
To frame his analysis, McQuinn employs Gilles Deleuze and Félix Guattari's concept of becoming-animal, Donna Haraway's definitions of multispecies becoming-with, and Mladen Dolar's ideas of voice-as-object. McQuinn considers birdsong in the work of Beatrice Harrison, Olivier Messiaen, Céleste Boursier-Mougenot, Daniela Cattivelli, and Marcus Coates; the voice of the canine as a sacrificial lab animal in the operatic work of Alexander Raskatov; hierarchies of vocalization in human-simian cultural coevolution in theatrical adaptations of Franz Kafka and Eugene O'Neill; and the acoustic exchanges among hybrid human-animal creations in Harrison Birtwistle's opera The Minotaur. Inspired by the operatic voice and drawing from work in art and performance studies, animal studies, zooarchaeology, social and cultural anthropology, and philosophy, McQuinn demonstrates that sounding animality in performance resonates "through the labyrinths of the cultural and the creatural," not only across species but also beyond the limits of the human.
Timely and provocative, this volume outlines new methods of unsettling human exceptionalism during a period of urgent reevaluation of interspecies relations. Students and scholars of human-animal studies, performance studies, and art historians working at the nexus of human and animal will find McQuinn's book enlightening and edifying.
"Becoming Audible provides a compelling array of contemporary artworks that explore animality alongside or at the limits of culture."
"This book fills an important gap in the scholarly conversation. While there has been research on the animal turn in music and, separately, in performance, the intersections between these areas have rarely been addressed when it comes to animals as acoustic agents. An original contribution to the field of cultural animal studies."
"With its interest in in-betweenness, performance, and flux, Becoming Audible is an enlightening read for animal studies enthusiasts from a wide range of humanities backgrounds—literature, theatre, performance art, visual art, music—and indeed speaks to the extent to which the humanities disciplines are becoming part of one large posthuman conversation."
Austin McQuinn is a visual artist, based in Ireland whose work questions human-animal relationships and how they are played out in culture. McQuinn's studio practice spans twenty-five years of solo and selected exhibitions, major public and nonprofit commissioned exhibitions and installations, and projects for private collections. He is a former Associate Lecturer at Waterford Institute of Technology and at Goldsmiths, University of London.
Preface
Acknowledgements
Introduction
1. Becoming Audible - Listening in between Species
2. Becoming Acoustic - Concealing and Revealing Sound in Hunting and Performance Interactions
3. Becoming Botched - Play, Tactical Empathy and Neo-shamanic Acoustic Legacies in Performance
4. Becoming Canine - The Scandal of the Singing Animal Body
5. Becoming Lingual - Primate Trouble in the Academy of Speech
6. Becoming Resonant - Sounding the Creatural through Performance
Coda
Notes
Bibliography
Index
Mailing List
Subscribe to our mailing list and be notified about new titles, journals and catalogs.