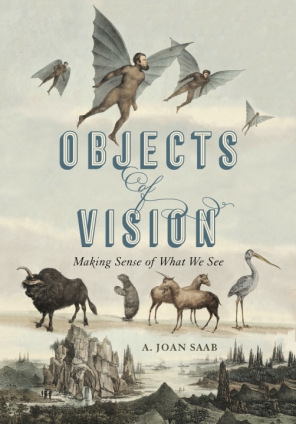 Objects of Vision
Making Sense of What We See
A. Joan Saab
Buy
Objects of Vision
Making Sense of What We See
A. Joan Saab
"Objects of Vision is an engaging and well-written book that adroitly guides readers to understand the complex mechanisms by which meaning is made in visual texts."
Description

Reviews

Bio

Table of Contents

Sample Chapters

Subjects
Advances in technology allow us to see the invisible: fetal heartbeats, seismic activity, cell mutations, virtual space. Yet in an age when experience is so intensely mediated by visual records, the centuries-old realization that knowledge gained through sight is inherently fallible takes on troubling new dimensions. This book considers the ways in which seeing, over time, has become the foundation for knowing (or at least for what we think we know).
A. Joan Saab examines the scientific and socially constructed aspects of seeing in order to delineate a genealogy of visuality from the Renaissance to the present, demonstrating that what we see and how we see it are often historically situated and culturally constructed. Through a series of linked case studies that highlight moments of seeming disconnect between seeing and believing—hoaxes, miracles, spirit paintings, manipulated photographs, and holograms, to name just a few—she interrogates the relationship between "visions" and visuality. This focus on the strange and the wonderful in understanding changing notions of visions and visual culture is a compelling entry point into the increasingly urgent topic of technologically enhanced representations of reality.
Accessibly written and thoroughly enlightening, Objects of Vision is a concise history of the connections between seeing and knowing that will appeal to students and teachers of visual studies and sensory, social, and cultural history.
"Objects of Vision is an engaging and well-written book that adroitly guides readers to understand the complex mechanisms by which meaning is made in visual texts."
"Well researched, beautifully written, and fascinatingly presented, Objects of Vision offers the visual studies field a historical reading of case studies with and around objects and artifacts from the Renaissance to the present. Joan Saab expands the scope of visual studies to include material and technological forms ranging from spirit photography to holograms, and she gives timely insight into photographic truth and the everyday proliferation of images."
"Contributing to the current discourse around fake news, deep fakes, and manipulated images, this volume provides a nuanced, historical look at how people navigate seeing, knowing, and believing."
"Throughout, Saab offers a useful and lucid primer on what it means to consider vision as a historical phenomenon and introduces the reader to various approaches taken by a range of scholars to studying and writing the history of the experience and delineation of the visual sense in the modern era. The final line of her book, which asks the reader to imagine a history of visual expression written from the point of view of the object of vision, rather than the human subject, practically begs for a sequel, one that would surely be as interesting as the present study. "What happens," she asks, "to our historical understandings of vision and visions when images begin to see for themselves?"
"Smart, shrewd, and accessible, Objects of Vision defends compelling theoretical claims, gives the reader new perspectives on some famous historical figures, and introduces some remarkable hoaxes. The volume is a delight to read and a fine addition to the important Perspectives on Sensory history series."
A. Joan Saab is Susan B. Anthony Professor of Art History and Vice Provost of Academic Affairs at the University of Rochester. She is the author of For the Millions: American Art and Culture Between the Wars.
List of Illustrations
Acknowledgements
Prologue: In Memory Of . . .
Introduction: Making Sense of What We See
1. The Persistence of Miraculous Vision
2. Technological Vision: Hoaxes and the Desire to Believe
3. Camera Vision and the Quest for Indexical Truths
4. "Untitled: Postmodern Vision and the triumph of the Pseudo-Event"
Conclusion: How to Look at a Million Images
Notes
Bibliography
Index
Mailing List
Subscribe to our mailing list and be notified about new titles, journals and catalogs.