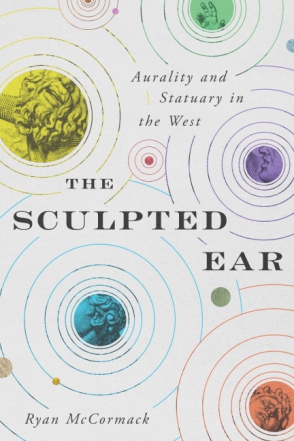 The Sculpted Ear
Aurality and Statuary in the West
Ryan McCormack
Buy
The Sculpted Ear
Aurality and Statuary in the West
Ryan McCormack
"Within the field of historical sound studies, Ryan McCormack claims a forceful voice. He finds his own well-reasoned way between studies of sound as a physical phenomenon and studies of 'aural culture.'"
Description

Reviews

Bio

Table of Contents

Sample Chapters

Subjects
Sound and statuary have had a complicated relationship in Western aesthetic thought since antiquity. Taking as its focus the sounding statue—a type of anthropocentric statue that invites the viewer to imagine sounds the statue might make—
The Sculpted Ear
rethinks this relationship in light of discourses on aurality emerging within the field of sound studies. Ryan McCormack argues that the sounding statue is best thought of not as an aesthetic object but as an event heard by people and subsequently conceptualized into being through acts of writing and performance.
Constructing a history in which hearing plays an integral role in ideas about anthropocentric statuary, McCormack begins with the ancient sculpture of Laocoön before moving to a discussion of the early modern automaton known as Tipu's Tiger and the statue of the Commendatore in Mozart's Don Giovanni. Finally, he examines statues of people from the present and the past, including the singer Josephine Baker, the violinist Aleksandar Nikolov, and the actor Bob Newhart—with each case touching on some of the issues that have historically plagued the aesthetic viability of the sounding statue. McCormack convincingly demonstrates how sounding statues have served as important precursors and continuing contributors to modern ideas about the ontology of sound, technologies of sound reproduction, and performance practices blurring traditional divides between music, sculpture, and the other arts.
A compelling narrative that illuminates the stories of individual sculptural objects and the audiences that hear them, this book will appeal to anyone interested in the connections between aurality and statues in the Western world, in particular scholars and students of sound studies and sensory history.
"Within the field of historical sound studies, Ryan McCormack claims a forceful voice. He finds his own well-reasoned way between studies of sound as a physical phenomenon and studies of 'aural culture.'"
"The Sculpted Ear evidences a long and rich history of sounding and hearing associated with the apparently silent art of sculpture. The book tackles important questions in sound studies, musicology, philosophy, and art history from a fresh perspective. The case studies to be found in each chapter provide new, fascinating information to the scholar of sound as well as intriguing new perspectives on the history of hearing."
"By incorporating sounds from statues with events in history, The Sculpted Ear provides a meaningful picture of statues and their interplay with historical narratives."
Ryan McCormack is a writer and independent scholar based in Knoxville, Tennessee.
Acknowledgments
Introduction: Elvis Leaves the Building
1. Animation Introduces Animation
2. Breathing Voice into Laocoön's Mouth
3. Imperial Possessions
4. Hearing a Stone Man
5. Aural Skins
6. Now You Have to Go, Comrade
7. Museums of Resonance
Conclusion: I Now Present Sergei Rachmaninoff
Notes
Bibliography
Index
Mailing List
Subscribe to our mailing list and be notified about new titles, journals and catalogs.