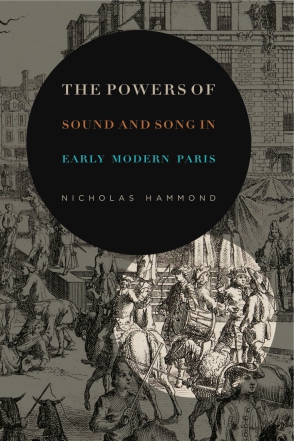 The Powers of Sound and Song in Early Modern Paris
Nicholas Hammond
Buy
The Powers of Sound and Song in Early Modern Paris
Nicholas Hammond
"Hammond concludes this page-turner by highlighting how the songs and sounds of early modern Paris 'give voice to people who would otherwise have remained silent.' He is to be thanked for making them heard today."
Description

Reviews

Bio

Table of Contents

Sample Chapters

Subjects
The long and spectacular reign of Louis XIV of France is typically described in overwhelmingly visual terms. In this book, Nicholas Hammond takes a sonic approach to this remarkable age, opening our ears to the myriad ways in which sound revealed the complex acoustic dimensions of class, politics, and sexuality in seventeenth-century Paris.
The discovery in the French archives of a four-line song from 1661 launched Hammond's research into the lives of the two men referenced therein—Jacques Chausson and Guillaume de Guitaut. In retracing the lives of these two men (one sentenced to death by burning and the other appointed to the Ordre du Saint-Esprit), Hammond makes astonishing discoveries about each man and the ways in which their lives intersected, all in the context of the sounds and songs heard in the court of Louis XIV and on the streets and bridges of Paris. Hammond's study shows how members of the elite and lower classes in Paris crossed paths in unexpected ways and, moreover, how noise in the ancien régime was central to questions of crime and punishment: street singing was considered a crime in itself, and yet street singers flourished, circulating information about crimes that others may have committed, while political and religious authorities wielded the powerful sounds of sermons and public executions to provide moral commentaries, to control crime, and to inflict punishment.
This innovative study explores the theoretical, social, cultural, and historical contexts of the early modern Parisian soundscape. It will appeal to scholars interested in sound studies and the history of sexuality as well as those who study the culture, literature, and history of early modern France.
"Hammond concludes this page-turner by highlighting how the songs and sounds of early modern Paris 'give voice to people who would otherwise have remained silent.' He is to be thanked for making them heard today."
"By resurrecting sounds that occurred in specific acoustical spaces—and at times by analyzing the ways in which certain sounds traversed spaces—Hammond offers profound insights into issues of social rank, politics, sexuality, and the complex processes through which information circulated. Hammond's book, which examines a wide array of acoustic experiences and representations, is a valuable contribution to a recent trend in French studies that is attentive to the sonic, the oral, and the performative."
"Hammond's clear prose conjures the sights and sounds of the terrible punishments meted out to . . . unfortunates accused of various misdeeds. . . . Though the book contains no music notation, Hammond and his team have recorded several of the songs on parisiansoundscapes.org so that readers may listen along. Hearing for the first time—or rehearing in a new way—the songs of the condemned, the ordinary, and the historically forgotten is one of the many pleasures of this fine book."
"[An] unusual, tightly focussed, and evocative book."
"Hammond's evocation of the vanished sound worlds of seventeenth-century France is exemplary, as are the pieces he adds to our puzzle of early-modern sexual activity and sexual identity. That he does so through pages that are consistently a pleasure to read enhances the achievement."
"The book is eclectic, entertainingly written, offering unexpected insights into many aspects of seventeenth-century Paris."
"The Powers of Sound and Song should encourage all historians to re-evaluate their approach to elements of the past that, at first glance, may seem ephemeral or unknowable, and to view the subjects of their enquiries through all five senses, not just visually. A book that will be valuable not just to music historians and cultural historians, but to historians of sexualities as well, The Powers of Sound and Song shows us how to listen to Paris, a model that will be valuable for urban historians too."
"[There are] many promising avenues for future research opened by The Powers of Sound and Song in Early Modern Paris, and scholars are indebted to Nicholas Hammond for showing how to break the silence that has for too long muffled the many sounds of early modern France."
"The profound originality of this book by Nicholas Hammond is to be applauded. In helping us hear and understand in all its diversity the sonic universe of Paris at the beginning of Louis XIV's personal reign, this stimulating study uncovers a neglected tranche of culture from this period. It needed all the finesse and curiosity of an accomplished researcher to reproduce the complexity of the age, right down to the most somber tones of songs that accompanied the major moments of a period rich in contrast."
"A place of encounter and shared listening for people of all classes, the newly built Pont Neuf becomes, in this academic page-turner, the site of discoveries that transform our understanding of seventeenth-century Paris. Gradually, through the clamor of the public world, we make out the echoes of its vast homosexual subculture. Hammond contributes innovatively to historical sound studies and renders the familiar strange, new, and newly exciting for historians, literary scholars, and musicologists alike."
"This erudite, innovative, and highly readable study draws attention to early modern Paris's neglected soundscapes. Focusing on the Pont Neuf and its singers, Hammond pieces together a compelling microhistory in which song and sodomy simultaneously reveal, contest, and cut across the fundamental distinctions of social class that structure Louis XIV's France."
"Taking as a motif a recovered song fragment by Jacques Chausson from the Chansonnier Maurepas, Hammond vividly describes the promiscuous power of sound worlds from the time of the Sun King, a period usually associated with displays of visual opulence and absolutist control."
"This book opens on a vibrant evocation of an aspect of early modern Paris that has been too often overlooked: the sounds of Parisian streets in the 17th and 18th centuries. Nicholas Hammond explores a new way of imagining the early modern city."
"An important, absorbing, and astonishingly original book. While scholars have long focused on the visual aspects of French absolutism, Hammond offers an entirely new interpretation by turning his attention to the auditory worlds of early modern Paris. Examining a wide range of acoustic experiences and representations, from songs to remonstrations, the book shows that sound played a crucial role in shaping identities at all social levels. As Hammond traces these acoustic echoes of the past, he creates a gripping narrative that deepens our understanding of class, politics, sexuality, and punishment in seventeenth-century Parisian culture."
Nicholas Hammond is Professor of Early Modern French Literature and Culture at the University of Cambridge.
List of Illustrations
Acknowledgments
Author's Note
Introduction
Part I: The Power of Sound
1. The Sounds of Paris
2. Singers and Listeners
3. Informé de tout: Sound and Power, 1661–1662
Part II: Chausson's Song
4. The Death and Afterlife of Jacques Chausson
5. Guitaut, Condé, and the Cordon bleu
6. Different Worlds
Conclusion
Appendix
Notes
Bibliography
Index
Mailing List
Subscribe to our mailing list and be notified about new titles, journals and catalogs.