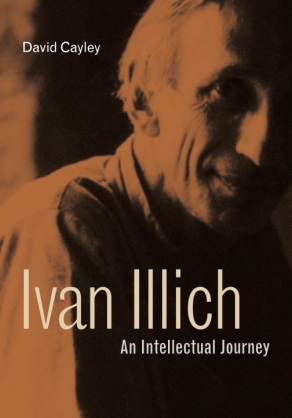 Ivan Illich
An Intellectual Journey
David Cayley
Buy
Ivan Illich
An Intellectual Journey
David Cayley
"This opus represents many, many evenings of intelligent, friendly, and finally life-changing dialogue that culminate in a near-symphonic quality. Cayley's deep understanding and clear prose pull a complex, balanced harmony out of themes that to the casual reader of Illich could seem eclectic."
Description

Reviews

Bio

Table of Contents

Sample Chapters

Subjects
In the eighteen years since Ivan Illich's death, David Cayley has been reflecting on the meaning of his friend and teacher's life and work. Now, in
Ivan Illich: An Intellectual Journey
, he presents Illich's body of thought, locating it in its own time and retrieving its relevance for ours.
Ivan Illich (1926–2002) was a revolutionary figure in the Roman Catholic Church and in the wider field of cultural criticism that began to take shape in the 1960s. His advocacy of a new, de-clericalized church and his opposition to American missionary programs in Latin America, which he saw as reactionary and imperialist, brought him into conflict with the Vatican and led him to withdraw from direct service to the church in 1969. His institutional critiques of the 1970s, from Deschooling Society to Medical Nemesis, promoted what he called institutional or cultural revolution. The last twenty years of his life were occupied with developing his theory of modernity as an extension of church history. Ranging over every phase of Illich's career and meditating on each of his books, Cayley finds Illich to be as relevant today as ever and more likely to be understood, now that the many convergent crises he foresaw are in full public view and the church that rejected him is paralyzed in its "folkloric" shell.
Not a conventional biography, though attentive to how Illich lived, Cayley's book is "continuing a conversation" with Illich that will engage anyone who is interested in theology, philosophy, history, and the Catholic Church.
"This opus represents many, many evenings of intelligent, friendly, and finally life-changing dialogue that culminate in a near-symphonic quality. Cayley's deep understanding and clear prose pull a complex, balanced harmony out of themes that to the casual reader of Illich could seem eclectic."
"David Cayley, who conducted two lengthy radio interviews-turned-books with Illich (in 1988 and 2000) and had a decades-long friendship with him, has written a gripping and unconventional biography of this deeply unconventional man."
"As a friend of Illich, Cayley's book carries forward and, in many ways, completes the vision Illich had not the time in his relatively short life to fully elaborate and explain."
"Ivan Illich: An Intellectual Journey can itself be seen as an act of love, restoring Illich to his rightful place among the significant social and religious thinkers of our time."
"Ivan Illich's work offers us a much needed intellectual and spiritual balm in a time distinguished by the untidy dissolution of certainties. But such a balm is not purchased by cheap grace. It is costly; it requires a new visioning. David Cayley's retrieval of this "vanishing clergyman" offers a way forward in a darkening landscape."
"A crucial contribution to Illich's rediscovery."
"After years of reading Illich, Cayley's genealogy—richly documented and carefully argued—provides the definitive account of how to make sense of one of the last great polymaths and cultural critics."
"Cayley convincingly illuminates how Illich's thought developed and how it revolves around certain central insights: complementarity, the vernacular, incarnation, and a reading of history that sees the West as a deviation from the Gospel. In so doing, Cayley reconnects Illich with the work of important contemporary social theorists—Latour, Agamben, Milbank, and others—and shows how Illich anticipated their work in many ways. This book is unique, much needed, and masterfully executed."
"No other book yet published summarizes and synthesizes Illich's life and thought at this length and in this detail. It is a much-needed intervention with sustained political, social, philosophical, and theological resonance. Cayley's book should now form the starting point for all future critical conversation around Illich's varied, generative, challenging, and often surprising ideas."
"Illich provides a vocabulary for identifying both the core assumptions underwriting these responses (from systems thinking to the imperatives of medically defined 'life') as well as challenging counterproductive interventions and their 'well-intended' justifications. For the contemporary legibility of his life and thought in this way - and innumerable ways for readers to discover – we owe a debt of gratitude to David Cayley."
David Cayley is a Canadian writer and broadcaster. He has produced and presented hundreds of radio documentaries, including two five-hour series with Ivan Illich, and published seven books, among them The Rivers North of the Future: The Testament of Ivan Illich.
Introduction: Ivan Illich as I Knew Him
Prologue: Early Life
1. Exile
2. Cuernavaca
3. Church
4. Deschooling Society
5. Illich as Revolutionary
6. Disabling Professions
7. Certainties
8. Gender
9. Embodiment/Disembodiment
10. "A Bulldozer Lurks in Every Computer": On Reading, Writing, and Language
11. To Hell With Life
12. Corruptio Optimi Pessima
13. Apocalypse
14. Illich's Way of Life
Epilogue: The Art of Suffering
Conclusion: An Intellectual Journey
Notes
Index
Mailing List
Subscribe to our mailing list and be notified about new titles, journals and catalogs.