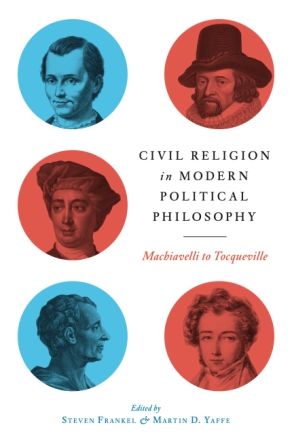 Civil Religion in Modern Political Philosophy
Machiavelli to Tocqueville
Edited by Steven Frankel and Martin D. Yaffe
Buy
Civil Religion in Modern Political Philosophy
Machiavelli to Tocqueville
Edited by Steven Frankel and Martin D. Yaffe
"The question of civil religion deserves our renewed interest, as we witness the longstanding assumptions of modern secularization being shaken. This excellent collection of essays on that old and timely subject brings out both the common assumptions and a range of controversies among liberalism's founding thinkers. Add to the mix a healthy dose of disagreement among the essays' authors, and there is much food for thought here."
Description

Reviews

Bio

Table of Contents

Sample Chapters

Subjects
Inspired by Machiavelli, modern philosophers held that the tension between the goals of biblical piety and the goals of political life needed to be resolved in favor of the political, and they attempted to recast and delimit traditional Christian teaching to serve and stabilize political life accordingly. This volume examines the arguments of those thinkers who worked to remake Christianity into a civil religion in the early modern and modern periods.
Beginning with Machiavelli and continuing through to Alexis de Tocqueville, the essays in this collection explain in detail the ways in which these philosophers used religious and secular writing to build a civil religion in the West. Early chapters examine topics such as Machiavelli's comparisons of Christianity with Roman religion, Francis Bacon's cherry-picking of Christian doctrines in the service of scientific innovation, and Spinoza's attempt to replace long-held superstitions with newer, "progressive" ones. Other essays probe the scripture-based, anti-Christian argument that religion must be subordinate to politics espoused by Jean-Jacques Rousseau and David Hume, both of whom championed reason over divine authority. Crucially, the book also includes a study of civil religion in America, with chapters on John Locke, Montesquieu, and the American Founders illuminating the relationships among religious and civil history, acts, and authority. The last chapter is an examination of Tocqueville's account of civil religion and the American regime.
Detailed, thought-provoking, and based on the careful study of original texts, this survey of religion and politics in the West will appeal to scholars in the history of political philosophy, political theory, and American political thought.
"The question of civil religion deserves our renewed interest, as we witness the longstanding assumptions of modern secularization being shaken. This excellent collection of essays on that old and timely subject brings out both the common assumptions and a range of controversies among liberalism's founding thinkers. Add to the mix a healthy dose of disagreement among the essays' authors, and there is much food for thought here."
"This accessible collection of thoughtful scholarship, written for scholars and students alike, explores the relations between politics and religion in early modern and modern political philosophy. There is a decided focus on the contemporary relevance of the subject matter. Each chapter offers in-depth analysis of primary texts that brings them alive for the reader."
"This volume serves as an emblematic reminder that, since American religious pluralism defied the old European ideal of broad, comprehensive national churches that were coterminous with other state institutions, shared Christian rituals and symbols defined the public faith of Revolutionary Americans."
Steven Frankel is Professor of Philosophy at Xavier University.
Martin D. Yaffe is Professor of Philosophy and Religion at the University of North Texas.
Acknowledgments
Introduction
1. Machiavelli, Christianity, and Civil Religion
Timothy Sean Quinn
2. How Francis Bacon's New Organon Co-opts Biblical Theology for His New Atlantis
Martin D. Yaffe
3. Leviathan's Reconquest of the Christian Person for the State
Mark Shiffman
4. Will Wonders Never Cease? Spinoza's Critique of Miracles
Steven Frankel
5. Liberalism and Christianity: Locke's Use of the Bible in the Second Treatise
Nasser Behnegar
6. Montesquieu's Machiavellian Account of Civil Religion
Andrea Radasanu
7. Montesquieu and Christianity in the American Project: The Moderate Spirit
Paul Carrese
8. Hume on Church Establishments: History, Moderation, and Liberty
Aaron Szymkowiak
9. Rousseau's Civil Religion "Problem"
John Ray
10. How the Founders Agreed About Religious Freedom but Disagreed About the Separation of Church and State
Vincent Phillip Muñoz and Kevin Vance
11. Tocqueville on Religion and Democratic Character: Equality, Mediocrity, and Greatness
Aaron L. Herold
List of Contributors
Index
Mailing List
Subscribe to our mailing list and be notified about new titles, journals and catalogs.