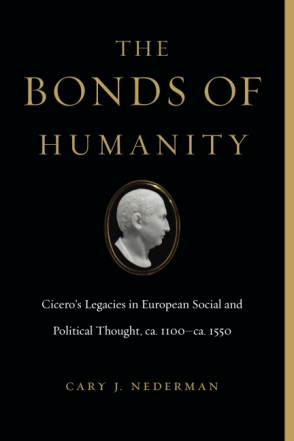 The Bonds of Humanity
Cicero's Legacies in European Social and Political Thought, ca. 1100–ca. 1550
Cary J. Nederman
BUY
The Bonds of Humanity
Cicero's Legacies in European Social and Political Thought, ca. 1100–ca. 1550
Cary J. Nederman
"An invaluable resource for early European political thought. Nederman's careful reading and thorough scholarship fill an important gap in our understanding of the influence of Cicero in this neglected period."
Description

Reviews

Bio

Table of Contents

Sample Chapters

Subjects
Of the great philosophers of pagan antiquity, Marcus Tullius Cicero is the only one whose ideas were continuously accessible to the Christian West following the collapse of the Roman Empire. Yet, in marked contrast with other ancient philosophers, Cicero has largely been written out of the historical narrative on early European political thought, and the reception of his ideas has barely been studied.
The Bonds of Humanity
corrects this glaring oversight, arguing that the influence of Cicero's ideas in medieval and early modern Europe was far more pervasive than previously believed.
In this book, Cary J. Nederman presents a persuasive counternarrative to the widely accepted belief in the dominance of Aristotelian thought. Surveying the work of a diverse range of thinkers from the twelfth to the sixteenth century, including John of Salisbury, Brunetto Latini, Marsiglio of Padua, Christine de Pizan, and Bartolomé de Las Casas, Nederman shows that these men and women inherited, deployed, and adapted key Ciceronian themes. He argues that the rise of scholastic Aristotelianism in the thirteenth century did not supplant but rather supplemented and bolstered Ciceronian ideas, and he identifies the character and limits of Ciceronianism that distinguish it from other schools of philosophy.
Highly original and compelling, this paradigm-shifting book will be greeted enthusiastically by students and scholars of early European political thought and intellectual history, particularly those engaged in the conversation about the role played by ancient and early Christian ideas in shaping the theories of later times.
"An invaluable resource for early European political thought. Nederman's careful reading and thorough scholarship fill an important gap in our understanding of the influence of Cicero in this neglected period."
"In showing that Cicero's influence was greater than many have thought, Nederman has filled a gap in scholarship in a way that will please admirers of Cicero."
Cary J. Nederman is Professor of Political Science at Texas A&M University and the author of six books, including Worlds of Difference: European Discourses of Toleration, c. 1100–c. 1550, also published by Penn State University Press.
Prefatory Remark
Acknowledgments
Cited Works by Cicero
Introduction: Ciceronian Ideas in Early European Social and
Political Thought
1 Prelude to the Early European Cicero(s)
2 Words and Deeds: Some Twelfth- Century Ciceros
3 John of Salisbury: Self- Proclaimed Ciceronian
4 Cicero in the Universities
5 Ciceronian Impulses in Marsiglio of Padua
6 Cicero Speaks French
7 Ciceronian Imperialism
8 Cicero Against Empire: Bartolomé de Las Casas
Conclusion
Notes
Bibliography
Index of Works Cited
Index of Proper Names
Index of Subjects
Mailing List
Subscribe to our mailing list and be notified about new titles, journals and catalogs.