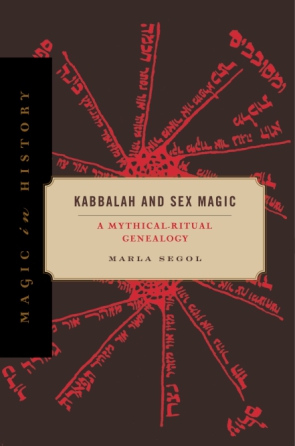 Kabbalah and Sex Magic
A Mythical-Ritual Genealogy
Marla Segol
BUY
Kabbalah and Sex Magic
A Mythical-Ritual Genealogy
Marla Segol
"Segol makes a groundbreaking contribution to the history of kabbalah, Jewish studies, and the history of religion, opening up innovative perspectives for our understanding of sex magic and its reception."
Description

Reviews

Bio

Table of Contents

Sample Chapters

Subjects
In this provocative book, Marla Segol explores the development of the kabbalistic cosmology underlying Western sex magic. Drawing extensively on Jewish myth and ritual, Segol tells the powerful story of the relationship between the divine and the human body in late antique Jewish esotericism, in medieval kabbalah, and in New Age ritual practice.
Kabbalah and Sex Magic traces the evolution of a Hebrew microcosm that models the powerful interaction of human and divine bodies at the heart of both kabbalah and some forms of Western sex magic. Focusing on Jewish esoteric and medical sources from the fifth to the twelfth century from Byzantium, Persia, Iberia, and southern France, Segol argues that in its fully developed medieval form, kabbalah operated by ritualizing a mythos of divine creation by means of sexual reproduction. She situates in cultural and historical context the emergence of Jewish cosmological models for conceptualizing both human and divine bodies and the interactions between them, arguing that all these sources position the body and its senses as the locus of culture and the means of reproducing it. Segol explores the rituals acting on these models, attending especially to their inherent erotic power, and ties these to contemporary Western sex magic, showing that such rituals have a continuing life.
Asking questions about its cosmology, myths, and rituals, Segol poses even larger questions about the history of kabbalah, the changing conceptions of the human relation to the divine, and even the nature of religious innovation itself. This groundbreaking book will appeal to students and scholars of Jewish studies, religion, sexuality, and magic.
"Segol makes a groundbreaking contribution to the history of kabbalah, Jewish studies, and the history of religion, opening up innovative perspectives for our understanding of sex magic and its reception."
Marla Segol is Associate Professor and Director of Undergraduate Studies in the Department of Global Gender and Sexuality Studies at the University at Buffalo. She is the author of Word and Image in Medieval Kabbalah: The Texts, Commentaries, and Diagrams of the "Sefer Yetsirah" and coeditor of Sexuality, Sociality, and Cosmology in Medieval Literary Texts.
Acknowledgements
Introduction
1. Powerful Bodies in the Shiʿ'ur Qomah
2. Medicine and Magic in Assaf's Sefer Refuot and the Sefer Yetsirah
3. Microcosm, Rationalism, and Kabbalah
4. Feeling, Wisdom, and Sexuality in the Sefer Bahir
5. Medieval into Modern Sex Magic
Notes
Bibliography
Index
Mailing List
Subscribe to our mailing list and be notified about new titles, journals and catalogs.