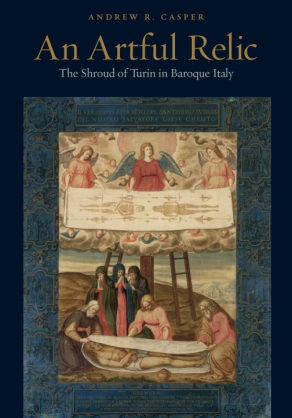 An Artful Relic
The Shroud of Turin in Baroque Italy
Andrew R. Casper
Buy
An Artful Relic
The Shroud of Turin in Baroque Italy
Andrew R. Casper
Winner of the 2022 Roland H. Bainton Book Prize from the Sixteenth Century Society & Conference
"This excellent book reveals the distance between baroque and present day aesthetic theorizing."
Description

Reviews

Bio

Table of Contents

Sample Chapters

Subjects
Winner of the 2022 Roland H. Bainton Book Prize from the Sixteenth Century Society & Conference
In 1578, a fourteen-foot linen sheet bearing the faint bloodstained imprint of a human corpse was presented to tens of thousands of worshippers in Turin, Italy, as one of the original shrouds used to prepare Jesus Christ's body for entombment. From that year into the next century, the Shroud of Turin emerged as Christianity's preeminent religious artifact. In an unprecedented new look, Andrew R. Casper sheds new light on one of the world's most famous and controversial religious objects.
Since the early twentieth century, scores of scientists and forensic investigators have attributed the Shroud's mysterious images to painterly, natural, or even supernatural forces. Casper, however, shows that this modern opposition of artifice and authenticity does not align with the cloth's historical conception as an object of religious devotion. Examining the period of the Shroud's most enthusiastic following, from the late 1500s through the 1600s, he reveals how it came to be considered an artful relic—a divine painting attributed to God's artistry that contains traces of Christ's body. Through probing analyses of materials created to perpetuate the Shroud's cult following—including devotional, historical, and theological treatises as well as printed and painted reproductions—Casper uncovers historicized connections to late Renaissance and Baroque artistic cultures that frame an understanding of the Shroud's bloodied corporeal impressions as an alloy of material authenticity and divine artifice.
This groundbreaking book introduces rich, new material about the Shroud's emergence as a sacred artifact. It will appeal to art historians specializing in religious and material studies, historians of religion, and to general readers interested in the Shroud of Turin.
"This excellent book reveals the distance between baroque and present day aesthetic theorizing."
"An Artful Relic is engaging and original. Casper's careful reading of visual and textual sources, as well as his integration of secondary sources on related topics, develops an important new way of considering the Shroud of Turin and its interpretation and devotional context in the sixteenth and seventeenth centuries."
"Casper has expanded art history by his detailed analysis of the multi-leveled milieu that produced and promoted the devotional cult of the Shroud of Turin, thereby integrating visual culture with material culture, popular culture, and theology."
"Given the historiographical delay in this subject, we can only rejoice to see new avenues opened up by the work of Andrew R. Casper."
Andrew R. Casper is Associate Professor of Art History at Miami University. He is the author of Art and the Religious Image in El Greco's Italy, also published by Penn State University Press.
List of Illustrations
Acknowledgements
List of Abbreviations
Introduction
1. Relic, Image, and Devotion
2. Made Not Begotten: The Shroud as Divine Artifice
3. The Art of Resurrection
4. Reproducing the Shroud
5. The Roman Shroud of Turin: Relic, Icon, Copy
Epilogue
Notes
Bibliography
Index
Mailing List
Subscribe to our mailing list and be notified about new titles, journals and catalogs.