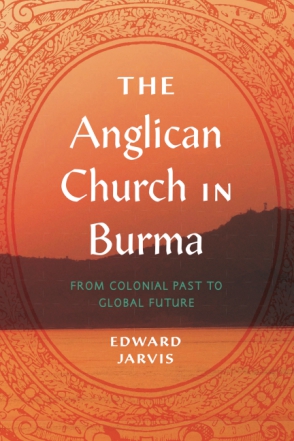 The Anglican Church in Burma
From Colonial Past to Global Future
Edward Jarvis
Buy
The Anglican Church in Burma
From Colonial Past to Global Future
Edward Jarvis
"A definitive and masterful documentary history."
Description

Reviews

Bio

Table of Contents

Sample Chapters

Subjects
Sometimes presumed to be a mere relic of British colonialism, the Anglican Church in Burma (Myanmar) has its own complex identity, intricately interwoven with beliefs and traditions that predate the arrival of Christianity. In this essential volume, Edward Jarvis succinctly reconstructs this history and demonstrates how Burma's unique voice adds vital context to the study of Anglicanism's predicament and the future of worldwide Christianity.
Over the past two hundred years, the Anglican Church in Burma has seen empires rise and fall. Anglican Christians survived the brutal Japanese occupation, experienced rampant poverty and environmental disaster, and began a tortuous and frustrating quest for peace and freedom under a lawless dictatorship. Using a range of sources, including archival documents and the firsthand accounts of Anglicans from a variety of backgrounds, Jarvis tells the story of the church's life beyond empire, exploring how Christians of non-Western heritage remade the church after a significant part of its liturgical documents and literature was destroyed in World War Two and how, more recently, the church has gained attention for its alignment with influential conservative and orthodox movements within Anglicanism.
Comprehensive and concise, this fascinating history will appeal to scholars and students of religious studies, World Christianity, church history, and the history of missions and theology as well as to clergy, seminarians, and those interested in the current crises and future direction of Anglicanism.
"A definitive and masterful documentary history."
"The scholarship and archival thoroughness of the author are unimpeachable. . . . The book is a helpful case study in support of the thesis that 'as time progressed, the age-old power frameworks superimposed onto worldwide [Christianity] were indeed shown to be universally defective.'"
"This excellent case study of Anglicanism in Burma illustrates why different Churches in different contexts have differing emphases in their teaching while holding the same gospel."
"The Anglican Church in Burma makes a meaningful and significant input to the fields of church history and mission studies. This kind of in-depth research into the Anglican Church in Burma has not been previously published, and the findings are an important and interesting new contribution to global Christianity."
"The Anglican Church in Burma is an engaging historical narrative that highlights Western Christianity interfacing with indigenous religion and culture—and the ramifications of a 'hybrid' religious faith for the Christian Church in Asia. This is a welcome addition to the scarce resources on the Asian history of Christianity and mission, particularly on Anglicanism in Myanmar."
Edward Jarvis is Fellow of the Royal Asiatic Society and the Royal Anthropological Institute. He is the author of Sede Vacante: The Life and Legacy of Archbishop Thục and Carlos Duarte Costa: Testament of a Socialist Bishop.
Foreword by Archbishop Stephen Than Myint Oo
Acknowledgements
List of Abbreviations
Introduction
Chapter 1. "The Only Natural Soil Available": Burma and the Arrival of Christianity
Chapter 2. "A Devout Individual Churchman Here and There": The Church in Colonial Burma
Chapter 3. "Fellow-Subjects of Our Gracious Empress": Peoples and Missions of the Colonial Church
Chapter 4. "Where There Ain't No Ten Commandments": The Church in the Early Twentieth Century
Chapter 5. "Patient in Tribulation but Resolute in Faith": The Church and the Second World War
Chapter 6. "This Last Step in the Historic Task": Independence and the Challenges of Postcolonial Burma
Chapter 7. "A Land and People of Promise": Intercultural Theology in a Southeast Asian Context
Chapter 8. "Carrying the Cross": Perspectives on the Church in Burma Today
Afterword
Appendix 1: Chronology of the Anglican Church in Burma
Appendix 2: List of Bishops Having Leadership of the Church in Burma
Appendix 3: List of Ethnic Groups and Subgroups in Burma
Notes
Bibliography
Index
Mailing List
Subscribe to our mailing list and be notified about new titles, journals and catalogs.