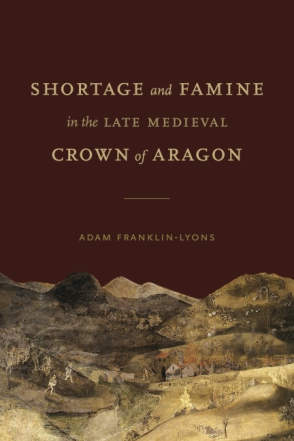 Shortage and Famine in the Late Medieval Crown of Aragon
Adam Franklin-Lyons
Buy
Shortage and Famine in the Late Medieval Crown of Aragon
Adam Franklin-Lyons
"Franklin-Lyons shows a truly virtuosic command of a very diverse and complicated set of primary sources. Shortage and Famine in the Late Medieval Crown of Aragon is so legible and lively that a reader unfamiliar with the evidence might not recognize what a truly impressive accomplishment this is in terms of archival work."
Description

Reviews

Bio

Table of Contents

Sample Chapters

Subjects
In the late fourteenth century, the medieval Crown of Aragon experienced a series of food crises that created conflict and led to widespread starvation. Adam Franklin-Lyons applies contemporary understandings of complex human disasters, vulnerability, and resilience to explain how these famines occurred and to describe more accurately who suffered and why.
Shortage and Famine in the Late Medieval Crown of Aragon details the social causes and responses to three events of varying magnitude that struck the western Mediterranean: the minor food shortage of 1372, the serious but short-lived crisis of 1384–85, and the major famine of 1374–76, the worst famine of the century in the region. Shifts in military action, international competition, and violent attempts to control trade routes created systemic panic and widespread starvation—which in turn influenced decades of economic policy, social practices, and even the course of geopolitical conflicts, such as the War of the Two Pedros and the papal schism in Italy.
Providing new insights into the intersecting factors that led to famine in the fourteenth-century Mediterranean, this deeply researched, convincingly argued book presents tools and models that are broadly applicable to any historical study of vulnerabilities in the human food supply. It will be of interest to scholars of medieval Iberia and the medieval Mediterranean as well as to historians of food and of economics.
"Franklin-Lyons shows a truly virtuosic command of a very diverse and complicated set of primary sources. Shortage and Famine in the Late Medieval Crown of Aragon is so legible and lively that a reader unfamiliar with the evidence might not recognize what a truly impressive accomplishment this is in terms of archival work."
"Using sources from an impressive array of municipal, royal, and ecclesiastical archives, Franklin-Lyons's ambitious and timely study offers a convincing accounting of the roles that human agency played in generating or worsening food shortages within the later medieval western Mediterranean. This highly original treatment fills a notable void in medieval Mediterranean historiography, adds texture and nuance to existing work on premodern food crises, and will serve as a valuable model to scholars and nonspecialist readers interested in inequality and the essential roles played by governmental institutions."
Adam Franklin-Lyons is Associate Professor at the Marlboro Institute for Liberal Arts and Interdisciplinary Studies at Emerson College.
List of Illustrations
Acknowledgements
Introduction
Part I: Limits
1. The Measure of Production
2. The Power of Distribution
3. The Limits of Individual Access
Part II: Disruptions
4. Two Shortages of Lesser Magnitude
5. The Famine of 1374-75
Conclusion
Notes
Bibliography
Index
Mailing List
Subscribe to our mailing list and be notified about new titles, journals and catalogs.