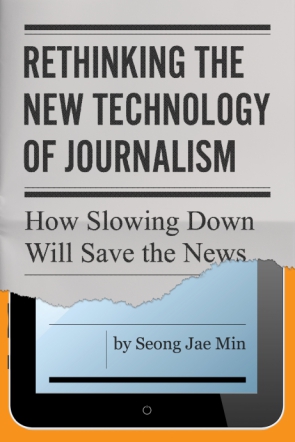 Rethinking the New Technology of Journalism
How Slowing Down Will Save the News
Seong Jae Min
Buy
Rethinking the New Technology of Journalism
How Slowing Down Will Save the News
Seong Jae Min
A 2022 Choice Outstanding Academic Title
"A highly readable journey through a history of technological innovations and journalism that argues against investing in the "new" for its own sake. A fascinating development in the scholarship around slow journalism."
Media

Description

Reviews

Bio

Table of Contents

Sample Chapters

Subjects
Watch "PSU Press Presents: Communication in the Disinformation Age," a virtual author event hosted by the Press on April 8th, 2022 with Ashley Rose Mehlenbacher, Seong Jae Min, Billie Murray, and moderator Mary E. Stuckey:
News organizations have always sought to deliver information faster and to larger audiences. But when clicks drive journalism, the result is often simplistic, sensational, and error-ridden
reporting. In this book, Seong Jae Min argues in favor of "slow journalism," a growing movement that aims to produce more considered, deliberate reporting that better serves the interests of democracy.
Min explores the role of technology in journalism from the printing press to artificial intelligence, documenting the hype and hope associated with each new breakthrough as well as the sometimes disappointing—and even damaging—unintended consequences. His analysis cuts through the discussion of clickbait headlines and social-media clout chasing to identify technological bells and whistles as the core problem with journalism today. At its heart, Min maintains, traditional shoe-leather reporting—knocking on doors, talking to people, careful observation and analysis—is still the best way for journalism to serve its civic purpose.
Thoughtful and engaging, Rethinking the New Technology of Journalism is a compelling call for news gathering to return to its roots. Reporters, those studying and teaching journalism, and avid consumers of the media will be interested in this book.
"A highly readable journey through a history of technological innovations and journalism that argues against investing in the "new" for its own sake. A fascinating development in the scholarship around slow journalism."
"This well-researched plea for deliberately reflective journalism practice is bound to inspire debate and productive follow-up inquiry."
Seong Jae Min is Associate Professor of Communication Studies at Pace University. He is the author of As Democracy Goes, So Does Journalism: Evolution of Journalism in Liberal, Deliberative, and Participatory Democracy.
List of Illustrations
Acknowledgements
Introduction: Journalism and Technology
Between Technological Determinism and Social Construction of Technology
1. From the Printing Press to Blockchain: The Social Shaping of Journalism Technologies
The Printing Press and the Birth of Newspapers
The Telegraph and the Inverted Pyramid Style of Writing
The Long and Winding Road to Newsroom Computerization
The Internet, the Death of Newspapers, and New Journalistic Norms
Virtual and Augmented Realities: The Empathy Machine?
Will Artificial Intelligence Save or Destroy Journalism?
Is Blockchain a New Savior of Journalism?
2. The Journalistic Field and the Narrative of Techno-Journalism
The Unstable Journalistic Field
What They Talk About When They Talk About Technology
Keeping Up with Technologies
The Crumbling Boundaries of the Journalistic Field
3. Journalism, Going Slow
The Slow Movement
Slowness in Journalism
Slow and Mindful Innovation
Innovation with and Beyond Technology
Culture, Norms, and People in Newsroom Innovation
Conclusion: In Search of Journalism's Identities
Notes
Bibliography
Index
Mailing List
Subscribe to our mailing list and be notified about new titles, journals and catalogs.