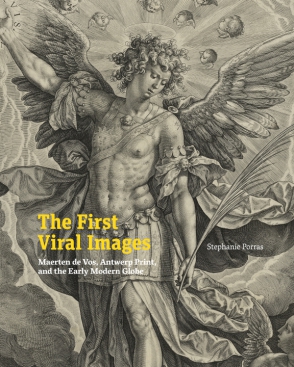 The First Viral Images
Maerten de Vos, Antwerp Print, and the Early Modern Globe
Stephanie Porras
Buy
The First Viral Images
Maerten de Vos, Antwerp Print, and the Early Modern Globe
Stephanie Porras
"Briskly argued, this engaging volume tells a story of dispersive transmission and 'distributed agency,' focusing on the forms and functions of the multiple versions of St. Michael the Archangel produced in Antwerp, Spain, Peru, New Spain, and the Philippines between the 1580s and ca. 1700. Porras's account is theoretically engaged—as witness her rejection of paradigms of 'translation,' 'hybridization,' or 'circulation'—and her argument, precisely because she anchors it in a specific image and its afterlife, is entirely convincing."
Description

Reviews

Bio

Table of Contents

Sample Chapters

Subjects
As a social phenomenon and a commonplace of internet culture, virality provides a critical vocabulary for addressing questions raised by the global mobility and reproduction of early modern artworks. This book uses the concept of virality to study artworks' role in the uneven processes of early modern globalization.
Drawing from archival research in Asia, Europe, and the Americas, Stephanie Porras traces the trajectories of two interrelated objects made in Antwerp in the late sixteenth century: Gerónimo Nadal's Evangelicae historiae imagines, an illustrated devotional text published and promoted by the Society of Jesus, and a singular composition by Maerten de Vos, St. Michael the Archangel. Both were reproduced and adapted across the early modern world in the seventeenth century. Porras examines how and why these objects traveled and were adopted as models by Spanish and Latin American painters, Chinese printmakers, Mughal miniaturists, and Filipino ivory carvers. Reassessing the creative labor underpinning the production of a diverse array of copies, citations, and reproductions, Porras uses virality to elucidate the interstices of the agency of individual artists or patrons, powerful gatekeepers and social networks, and economic, political, and religious infrastructures. In doing so, she tests and contests several analytical models that have dominated art-historical scholarship of the global early modern period, putting pressure on notions of copying, agency, context, and viewership.
Vital and engaging, The First Viral Images sheds new light on how artworks, as agents of globalization, navigated and contributed to the emerging and intertwined global infrastructures of Catholicism, commerce, and colonialism.
"Briskly argued, this engaging volume tells a story of dispersive transmission and 'distributed agency,' focusing on the forms and functions of the multiple versions of St. Michael the Archangel produced in Antwerp, Spain, Peru, New Spain, and the Philippines between the 1580s and ca. 1700. Porras's account is theoretically engaged—as witness her rejection of paradigms of 'translation,' 'hybridization,' or 'circulation'—and her argument, precisely because she anchors it in a specific image and its afterlife, is entirely convincing."
"By parsing the layovers made by prints during their international transit in the sixteenth century, Stephanie Porras shows us the trace of their journeys. Prints transgressed both geographical limits and boundaries set up by the idea of genre and medium. Forging an exemplary path through both decolonial and reception studies, this book leaves in the rearview mirror the privileging of authorship, centers, and points of origins as it attempts to recuperate localities and agents occluded by colonial erasure."
Stephanie Porras is Professor of Art History at Tulane University. She is the author of Pieter Bruegel's Historical Imagination and Art of the Northern Renaissance, the former also published by Penn State University Press.
List of Illustrations
Acknowledgements
1. Viral Images
2. Fixing the Line
3. Conquering and Forgetting
4. Local Mediators in Latin America
5. Silver and Souls in Manila
Conclusion: Imaginings
Notes
Bibliography
Index
Download a PDF sample chapter here: Chapter1
Mailing List
Subscribe to our mailing list and be notified about new titles, journals and catalogs.