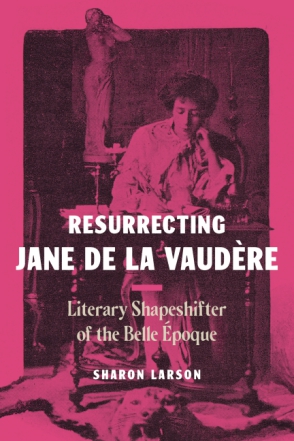 Resurrecting Jane de La Vaudère
Literary Shapeshifter of the Belle Époque
Sharon Larson
Buy
Resurrecting Jane de La Vaudère
Literary Shapeshifter of the Belle Époque
Sharon Larson
"A biography of Jane de La Vaudère has been long overdue. La Vaudère has been unjustly forgotten by literary history, like many women of her generation who defied societal conventions by participating in a world largely dominated by male figures. Her great body of work is fascinating and original, as it reflects the important social, scientific, feminist, and literary discourses and ideas that agitated French society in the late nineteenth century. In this regard, Resurrecting Jane de La Vaudère is a much-needed and welcomed contribution."
Description

Reviews

Bio

Table of Contents

Sample Chapters

Subjects
This engrossing narrative recounts the story of Jane de La Vaudère (née Jeanne Scrive), a prolific and celebrated writer of France's Belle Époque. Interweaving biography and literary analysis, Sharon Larson examines the ways in which La Vaudère adapted her persona to shifting literary trends and readership demands—and how she created and profited from controversy.
Relatively unknown today, La Vaudère published more than forty novels, poetry collections, and dramatic works as well as hundreds of shorter pieces. A controversial figure who was known as a plagiarist, La Vaudère attracted the attention of the public and of her peers, who caricatured her in literary periodicals and romans à clef. Most notably, La Vaudère claimed to have written the Rêve d'Egypte pantomime, whose 1907 production at the Moulin Rouge featured a kiss between Missy and Colette that led to riots and the suspension of future performances. Larson scrutinizes the ensemble of these various media constructions, privileging La Vaudère's self-representation in interviews and advertisements, and brings to light her agency in creating an image that captivated public attention and boosted sales of her writings.
An engrossing examination of La Vaudère's life and work, this volume probes the quandaries of scholarship seeking to responsibly recover lost female voices and makes a long-overdue contribution to nineteenth-century French literary studies.
"A biography of Jane de La Vaudère has been long overdue. La Vaudère has been unjustly forgotten by literary history, like many women of her generation who defied societal conventions by participating in a world largely dominated by male figures. Her great body of work is fascinating and original, as it reflects the important social, scientific, feminist, and literary discourses and ideas that agitated French society in the late nineteenth century. In this regard, Resurrecting Jane de La Vaudère is a much-needed and welcomed contribution."
Sharon Larson is Associate Professor of French at Christopher Newport University.
List of Illustrations
Acknowledgements
Introduction
1. The Makings of a Biography
2. Becoming Jane de La Vaudère
3. La Vaudère's Plagiarism: Subversion Through Copy
4. The Plagiarized Plagiarist: Missy de Morny, Colette, and the Scandal of Rêve d'Égypte
5. Deciphering La Vaudère's "Fierce" Feminism
6. Driving into the Future: The Château de La Vaudère and Continued Legacies
Notes
Jane de La Vaudère: A Comprehensive Bibliography
Works Cited
Index
Mailing List
Subscribe to our mailing list and be notified about new titles, journals and catalogs.