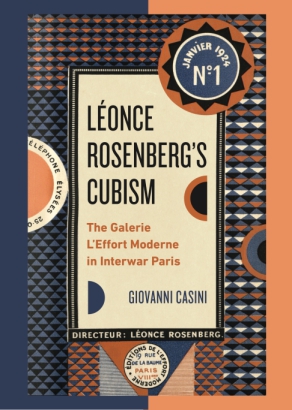 Léonce Rosenberg's Cubism
The Galerie L'Effort Moderne in Interwar Paris
Giovanni Casini
Buy
Léonce Rosenberg's Cubism
The Galerie L'Effort Moderne in Interwar Paris
Giovanni Casini
"Much more than a case study or monograph, Léonce Rosenberg's Cubism shows how Rosenberg advocated for and developed a heterogeneous or 'cosmopolitan modernism.' In doing so, Casini rewrites the standard account of Cubism between the wars as a nationalistically inspired 'return to order' centered on the Parisian avant-garde."
Description

Reviews

Bio

Subjects
The history of modernism has generally been written as a story of artists and their creations alongside the collectors, gallerists, and curators who supported them. This is especially true of Cubism, where the received narrative centers on a tightly circumscribed group of artists and agents connected to the dealer Daniel-Henry Kahnweiler.
Léonce Rosenberg's Cubism
shakes up the canon, revealing its artificial nature and pointing to a different, more inclusive understanding of the development of Cubism.
Kahnweiler's Cubism was narrowly focused. In contrast, Giovanni Casini shows us, the influential art dealer Léonce Rosenberg bought virtually any piece that could be labeled "Cubist" and proposed a radically different understanding of the movement. At Rosenberg's Galerie L'Effort Moderne in Paris, artists such as Joseph Csáky, Auguste Herbin, Jean Metzinger, Diego Rivera, Gino Severini, and Georges Valmier were accorded the same treatment as Pablo Picasso or Georges Braque. In this book, Casini considers Rosenberg's contribution to the history of Cubism, reflecting on the ways in which artistic movements are manufactured—and interpretive paradigms adopted.
Deftly weaving biography with a scholarly analysis built on extensive archival research, Léonce Rosenberg's Cubism is a fresh look at the history of interwar modernism and the definitive study of a figure who has been unjustly sidelined in the history of art. It will be compulsory reading for scholars of Cubism and Modernism.
"Much more than a case study or monograph, Léonce Rosenberg's Cubism shows how Rosenberg advocated for and developed a heterogeneous or 'cosmopolitan modernism.' In doing so, Casini rewrites the standard account of Cubism between the wars as a nationalistically inspired 'return to order' centered on the Parisian avant-garde."
"Under the auspices of his Galerie L'Effort Moderne, gallerist Léonce Rosenberg sought to chart a course for avant-garde art in Paris after World War I. Giovanni Casini offers us the first full-scale critical account of Rosenberg as businessman, patron, publisher, and collector. This book significantly adds to our understanding of the culture of both Cubism and abstract art in the 1920s."
Giovanni Casini is an independent art historian and curator based in Milan, Italy. He is curating an exhibition on the decoration of Rosenberg's Paris apartment for the Musée Picasso, currently scheduled to take place in 2024.
Mailing List
Subscribe to our mailing list and be notified about new titles, journals and catalogs.