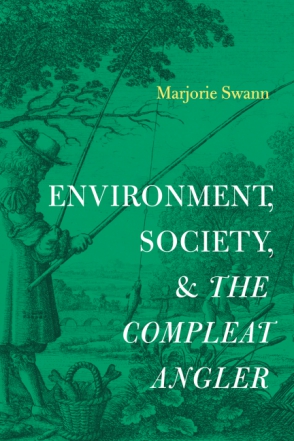 Environment, Society, and The Compleat Angler
Marjorie Swann
Buy
Environment, Society, and The Compleat Angler
Marjorie Swann
"One of the earliest and most popular precursors of nature writing in English has at last received the critical attention it deserves. Marjorie Swann's book is arguably the most complete study of The Compleat Angler ever written—and a vital corrective to outdated New Historicist interpretations. It makes an invaluable contribution to Walton studies and early modern ecocriticism."
Description

Reviews

Bio

Table of Contents

Sample Chapters

Subjects
First published in 1653,
The Compleat Angler
is one of the most influential environmental texts ever written. Addressing a politically and religiously polarized nation devastated by warfare, disease, ecological degradation, and climate change, Izaak Walton's famous fishing treatise stages a radical thought experiment: how might humanity's enhanced relationship with the natural world generate a new kind of sustaining—and sustainable—social order beyond the traditional boundaries of the church, the state, and the biological family?
Challenging the current scholarly consensus that reads Walton's how-to manual as a conservative polemic camouflaged by fishlore, Marjorie Swann examines this richly complicated portrayal of the natural world through an ecocritical lens and explores other neglected aspects of Walton's writings, including his depictions of social hierarchy, gender, and sexuality. In the process, Swann analyzes a host of noncanonical environmental texts and provides a groundbreaking reappraisal of Charles Cotton's "Part II" of The Compleat Angler. This study extends the hydrological turn in early modern ecocriticism and demonstrates how, as a genre, angling manuals provide new insights into the environmental, cultural, social, and literary history of early modern England.
Taking its place alongside landmark works of ecocriticism such as Green Shakespeare and Milton and Ecology, this fresh and timely reassessment of The Compleat Angler rightly ranks Izaak Walton among the most important environmental writers of the early modern era.
"One of the earliest and most popular precursors of nature writing in English has at last received the critical attention it deserves. Marjorie Swann's book is arguably the most complete study of The Compleat Angler ever written—and a vital corrective to outdated New Historicist interpretations. It makes an invaluable contribution to Walton studies and early modern ecocriticism."
Marjorie Swann is Professor of English at Ottawa University. She is the author of Curiosities and Texts: The Culture of Collecting in Early Modern England and editor of a new critical edition of The Compleat Angler (Oxford University Press, 2014).
List of Illustrations
Acknowledgements
Note on the Text
Introduction
1. The Environmental Imagination of Izaak Walton
2. Creating the Brotherhood of the Angle
3. The Great Chain of Eating
4. Charles Cotton and the Properties of Angling
Epilogue: Haunted by Walton
Notes
Bibliography
Index
Mailing List
Subscribe to our mailing list and be notified about new titles, journals and catalogs.