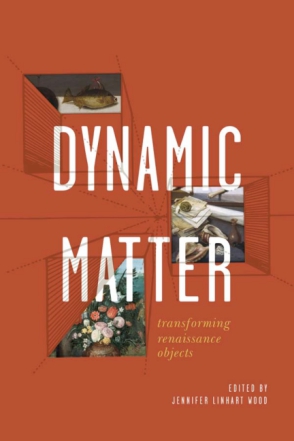 Dynamic Matter
Transforming Renaissance Objects
Edited by Jennifer Linhart Wood
Buy
Dynamic Matter
Transforming Renaissance Objects
Edited by Jennifer Linhart Wood
"The essays collected in Dynamic Matter enact a series of dazzling revelations. They range across the literary and the visual arts, confessional difference, and forms of entertainment that are both public and more personal; taken together, they reinvigorate the conversation about objects and subjects (and objects as subjects) in the Renaissance."
Description

Reviews

Bio

Table of Contents

Sample Chapters

Subjects
Dynamic Matter
investigates the life histories of Renaissance objects. Eschewing the critical tendency to study how objects relate to human needs and desires, this work foregrounds the objects themselves, demonstrating their potential to transform their environments as they travel across time and space.
Integrating early modern material theories with recent critical approaches in Actor-Network Theory and object-oriented ontology, this volume extends Aristotle's theory of dynameos—which conceptualizes matter as potentiality—and applies it to objects featured in early modern texts such as Edmund Spenser's The Faerie Queene, Robert Hooke's Micrographia, and William Shakespeare's The Tempest. Individual chapters explore the dynameos of matter by examining its manifestations in particular forms: combs are inscribed with words and brushed through human hair; feathers are incorporated into garments and artwork; Prince Rupert's glasswork drops explode; a whale becomes animated by the power of a magical bracelet; and books are drowned. These case studies highlight the potentiality matter itself possesses and that which it activates in other matter.
A theorization of objects grounded in Renaissance materialist thought, Dynamic Matter examines the richness of things themselves; the larger, multiple, and changing networks in which things circulate; and the networks created by these transformative objects.
In addition to the editor, the contributors to this volume include Anna Riehl Bertolet, Erika Mary Boeckeler, Naomi Howell, Emily E. F. Philbrick, Josie Schoel, Maria Shmygol, Edward McLean Test, Abbie Weinberg, and Sarah F. Williams.
"The essays collected in Dynamic Matter enact a series of dazzling revelations. They range across the literary and the visual arts, confessional difference, and forms of entertainment that are both public and more personal; taken together, they reinvigorate the conversation about objects and subjects (and objects as subjects) in the Renaissance."
"Dynamic Matter furthers the scholarly conversation in the cultural "life histories" of early modern things by turning towards the transformative power of their unexpected, untimely, and mobile networks. A valuable contribution to many conversations, this smartly theorized and tightly organized volume is thought-provoking and original, capacious and accessible, and at many points even exciting to read. This book will quickly become an essential resource for the study of Renaissance material culture."
Jennifer Linhart Wood teaches at George Mason University and serves on the editorial team for Shakespeare Quarterly at the Folger Shakespeare Library. She is the author of Sounding Otherness in Early Modern Drama and Travel: Uncanny Vibrations in the English Archive, winner of the 2021 Medieval and Renaissance Drama Society's David Bevington Award for Best New Book in Early Drama Studies.
List of Illustrations
Acknowledgements
Introduction: Transformative Materiality and Renaissance Dynamics
Jennifer Linhart Wood
Part I: Objects Within / Without the Body
1. "Farre Fetched and Deare Bought": The Global Cosmetic Exchange Between Elizabeth I, Melike Safiye Sultan, and the Kira Esperanza Malchi
Josie Schoel
2. Comb Poems
Erika Mary Boeckeler
3. Variable Vestments and Clothing Conversions: Piecing Out the Past in Tudor Exeter
Naomi Howell
Part II: Networking Objects
4. Bird- People, Utopias, Arte Plumaria: The Influence of Native American Feathers on Renaissance Literature and Culture
Edward McLean Test
5. Needlework Patterns on the Move: Traveling Toward (Re)incarnation
Anna Riehl Bertolet
6. "Whose Least Part Crackt, the Whole Does Fly": The Explosive Case of Prince Rupert's Drops
Abbie Weinberg
Part III: Staging Properties
7. Traveling Music and Theatrics: Jemmy LaRoche's "Raree Show"
Sarah F. Williams
8. Protean Objects in William Percy's The Aphrodysial or Sea-Feast
Maria Shmygol
9. "I'll Drown My Book": Prospero's Grimoire, Adrift
Emily E. F. Philbrick
Selected Bibliography
List of Contributors
Index
Mailing List
Subscribe to our mailing list and be notified about new titles, journals and catalogs.