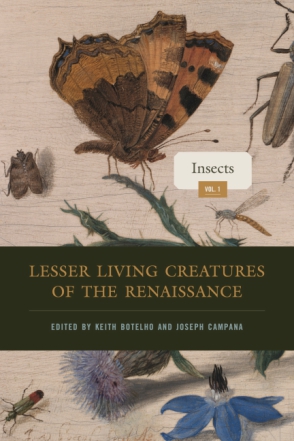 Lesser Living Creatures of the Renaissance
Volume 1, Insects
Edited by Keith Botelho and Joseph Campana
Buy
Lesser Living Creatures of the Renaissance
Volume 1, Insects
Edited by Keith Botelho and Joseph Campana
"Lesser Living Creatures of the Renaissance brings a welcome and timely focus on early modern understandings of insect life, ideas, and work that stood, as the authors convincingly argue, in the midst of the transformation of natural history 'as literary authority' to embodying the new scientific ideas and observational methods of the era. This two-volume work makes a significant scholarly contribution to literary studies and history by bringing insects and insect life into these conversations."
Description

Reviews

Bio

Subjects
Lesser Living Creatures
examines literary and cultural texts from early modern England in order to understand how people in that era thought about—and with—insect and arachnid life. Designed for the classroom, the book comprises two volumes—
Insects
and
Concepts
—that can be used together or independently. Each addresses the collaborative, multigenerational research that produced early modern natural history and provides new insights into the old question of what it means to be human in a world populated by beasts large and small.
Volume 1, Insects, examines how insects burrowed into the literal and symbolic economies of the era. The contributors consider diminutive creatures—such as bees and beetles, flies and fleas, silkworms and spiders—and their depictions in plays, poetry, fables, natural histories, and more. In doing so, they illuminate how early modern science and literature worked as intersecting systems of knowledge production about the natural world and show definitively how insect life was, and remains, intimately entangled with human life.
In addition to the editors, contributors to this volume include Chris Barrett, Roya Biggie, Bruce Boehrer, Gary Bouchard, Dan Brayton, Eric Brown, Mary Baine Campbell, Perry Guevara, Shannon Kelley, Emily King, Karen Raber, Kathryn Vomero Santos, Donovan Sherman, and Steven Swarbrick.
"Lesser Living Creatures of the Renaissance brings a welcome and timely focus on early modern understandings of insect life, ideas, and work that stood, as the authors convincingly argue, in the midst of the transformation of natural history 'as literary authority' to embodying the new scientific ideas and observational methods of the era. This two-volume work makes a significant scholarly contribution to literary studies and history by bringing insects and insect life into these conversations."
"There has not previously been such a wide-ranging collection as this. Lesser Living Creatures of the Renaissance is a vital new contribution to not only early modern studies, not only animal studies and ecocriticism, but also the history of science, the history of medicine, and current debates about the environment."
Keith Botelho is Professor of English at Kennesaw State University. He is the author of Renaissance Earwitnesses: Rumor and Early Modern Masculinity.
Joseph Campana is William Shakespeare Professor of English and Director of the Center for Environmental Studies at Rice University. He is the author of The Pain of Reformation: Spenser, Vulnerability, and the Ethics of Masculinity and the coeditor, with Scott Maisano, of Renaissance Posthumanism.
Mailing List
Subscribe to our mailing list and be notified about new titles, journals and catalogs.