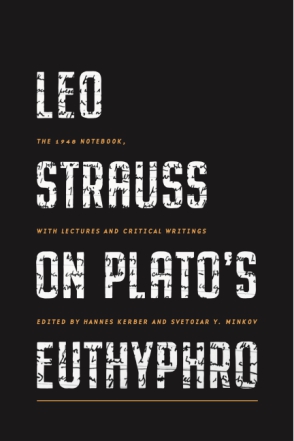 Leo Strauss on Plato's Euthyphro
The 1948 Notebook, with Lectures and Critical Writings
Edited by Hannes Kerber and Svetozar Y. Minkov
COMING IN APRIL
Leo Strauss on Plato's Euthyphro
The 1948 Notebook, with Lectures and Critical Writings
Edited by Hannes Kerber and Svetozar Y. Minkov
"Leo Strauss on Plato's 'Euthyphro' is a most valuable work of scholarship and it will prove to be of tremendous interest, and even indispensable, to scholars and students of political philosophy, religion, philosophy, and classics as a whole and of Leo Strauss and Plato in particular."
Description

Reviews

Bio

Subjects
Leo Strauss famously asserted that the fundamental, defining debate within Western civilization is that between Jerusalem and Athens, piety and philosophy, the Bible and Plato. And yet, surprisingly, Strauss never published any of his thoughts on Plato's dialogue on piety, the
Euthyphro
.
This volume presents, for the first time, Strauss's 1948 notebook on the dialogue, written in preparation for a class at the New School for Social Research. Featuring close analysis and line-by-line commentary, the notebook opens a window onto a philosophic mind in action, as Strauss asks questions of the classic text, jots down observations and formulations, and analyzes very specific terms and arguments but also steps back, reviews the overall movement of the dialogue, and reconsiders previous conclusions. Beyond the notebook, the volume also brings together all the known materials that lay out Strauss's thoughts on the Euthyphro. This includes newly transcribed and edited public lectures, illuminating appendixes, critical essays by volume editors Hannes Kerber and Svetozar Y. Minkov and scholar Wayne Ambler, an account of Strauss's public lecture, and a new English translation of Plato's Euthyphro by Seth Benardete, a classicist and one of Strauss's students.
Engaging and inspiring, Leo Strauss on Plato's "Euthyphro" is a vital resource for scholars and students of political theory, readers interested in the intersection of philosophy and religion, and a must-have for anyone who studies Strauss.
"Leo Strauss on Plato's 'Euthyphro' is a most valuable work of scholarship and it will prove to be of tremendous interest, and even indispensable, to scholars and students of political philosophy, religion, philosophy, and classics as a whole and of Leo Strauss and Plato in particular."
"Strauss's notes on the Euthyphro, which have never been published, offer important insights into his thinking, and will make a splash in the world of Strauss studies. The excellent interpretive essays in the volume should draw attention in their own right."
Hannes Kerber is Lecturer at the University of Munich and Postdoctoral Fellow at Harvard University. He is the author of Die Aufklärung der Aufklärung: Lessing und die Herausforderung des Christentums.
Svetozar Y. Minkov is Professor of Philosophy and directs the philosophy program at Roosevelt University. He is the author of Leo Strauss on Science: Thoughts on the Relation between Natural Science and Political Philosophy and coeditor of Toward "Natural Right and History": Lectures and Essays by Leo Strauss, 1937–46.
Mailing List
Subscribe to our mailing list and be notified about new titles, journals and catalogs.