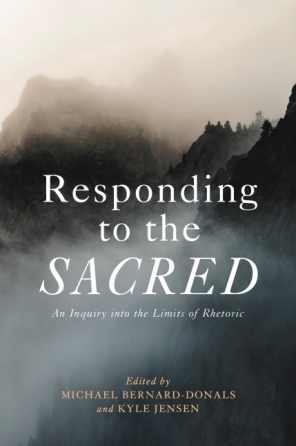 Responding to the Sacred
An Inquiry into the Limits of Rhetoric
Edited by Michael Bernard-Donals and Kyle Jensen
COMING IN APRIL
Responding to the Sacred
An Inquiry into the Limits of Rhetoric
Edited by Michael Bernard-Donals and Kyle Jensen
"Responding to the Sacred provides a capacious and prismatic view of communicating that which is not fully communicable, and in doing so, it ventures to rhetoric's very edges—and beyond."
Description

Reviews

Bio

Subjects
With language we name and define all things, and by studying our use of language, rhetoricians can provide an account of these things and thus of our lived experience. The concept of the sacred, however, raises the prospect of the existence of phenomena that transcend the human and physical and cannot be expressed fully by language.
The sacred thus reveals limitations to rhetoric.
Featuring essays authored by some of the foremost scholars of rhetoric working today, this wide-ranging collection of theoretical and methodological studies takes seriously the possibility of the sacred and the challenge it poses to rhetorical inquiry. The contributors engage with religious rhetorics—Jewish, Jesuit, Buddhist, pagan—as well as rationalist, scientific, and postmodern rhetorics, studying, for example, divination in the Platonic tradition, Thomas Hobbes's and Walter Benjamin's accounts of sacred texts, uncanny algorithms of Big Data, and Hélène Cixous's sacred passages and passwords. From these studies, new definitions of the sacred along with new rhetorical practices for engaging with the sacred emerge.
This book provides new insight on the relation of rhetoric and the sacred, showing the capacity of rhetoric to study the ineffable but also shedding light on the boundaries between them.
"Responding to the Sacred provides a capacious and prismatic view of communicating that which is not fully communicable, and in doing so, it ventures to rhetoric's very edges—and beyond."
Michael Bernard-Donals is Chaim Perelman Professor of Rhetoric and Culture at the University of Wisconsin–Madison. He is the author, editor, coauthor, or coeditor of ten books in the field, focusing mainly on the relation between rhetoric and ethics. Kyle Jensen is Professor of English at Arizona State University and the author of Reimagining Process: Online Writing Archives and the Future of Writing Studies.
Mailing List
Subscribe to our mailing list and be notified about new titles, journals and catalogs.