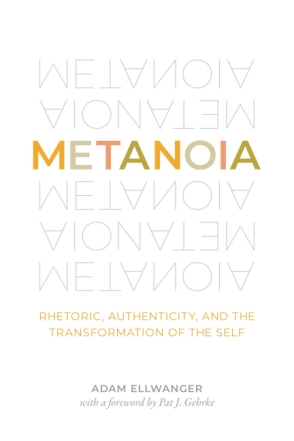 Metanoia
Rhetoric, Authenticity, and the Transformation of the Self
Adam Ellwanger, Foreword by Pat J. Gehrke
Buy
Metanoia
Rhetoric, Authenticity, and the Transformation of the Self
Adam Ellwanger, Foreword by Pat J. Gehrke
"Ellwanger offers an original and provocative contribution to the study of metanoia that extends our understanding of the relation between epistrophe and metanoia significantly and places metanoia in productive tension with the concept of ethos. Ellwanger is at his very best in his practice of 'paratactical rhetorical analysis,' placing conceptions of metanoia side by side to facilitate a clearer understanding of personal transformation, and he is a master of creating a narrative of his analysis."
Description

Reviews

Bio

Table of Contents

Sample Chapters

Subjects
Western culture is in a moment when wholly new kinds of personal transformations are possible, but authentic transformation requires both personal testimony and public recognition. In this book, Adam Ellwanger takes a distinctly rhetorical approach to analyzing how the personal and the public relate to an individual's transformation and develops a new vocabulary that enables a critical assessment of the concept of authenticity.
The concept of metanoia is central to this project. Charting the history of metanoia from its original use in the classical tradition to its adoption by early Christians as a term for religious conversion, Ellwanger shows that metanoia involves a change within a person that results in a truer version of him- or herself—a change in character or ethos. He then applies this theory to our contemporary moment, finding that metanoia provides unique insight into modern forms of self-transformation. Drawing on ancient and medieval sources, including Thucydides, Plato, Paul the Apostle, and Augustine, as well as contemporary discourses of self-transformation, such as the public testimonies of Caitlyn Jenner and Rachel Dolezal, Ellwanger elucidates the role of language in signifying and authenticating identity.
Timely and original, Ellwanger's study formulates a transhistorical theory of personal transformation that will be of interest to scholars working in social theory, philosophy, rhetoric, and the history of Christianity.
"Ellwanger offers an original and provocative contribution to the study of metanoia that extends our understanding of the relation between epistrophe and metanoia significantly and places metanoia in productive tension with the concept of ethos. Ellwanger is at his very best in his practice of 'paratactical rhetorical analysis,' placing conceptions of metanoia side by side to facilitate a clearer understanding of personal transformation, and he is a master of creating a narrative of his analysis."
Adam Ellwanger is Associate Professor of English at the University of Houston-Downtown.
Foreword
Acknowledgments
Introduction: Toward an Analytic Conception of Metanoia
1. Taking It Back: The History of Rhetorical Metanoia in the Classical Tradition and Beyond
2. Crucifying the Old Man: Christian Metanoic Testimony and the Changing of the Heart
3. Finding Yourself: Metanoia, Epistrophe, and the Ontology of the Modern Ethos
Conclusion: Afterthoughts; Past, Present, and Future Selves
Notes
Bibliography
Index
Mailing List
Subscribe to our mailing list and be notified about new titles, journals and catalogs.