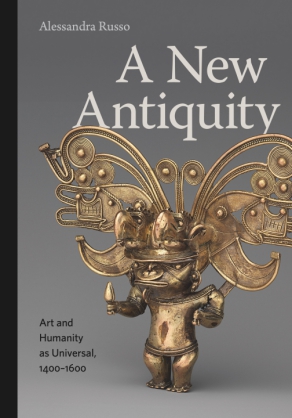 A New Antiquity
Art and Humanity as Universal, 1400–1600
Alessandra Russo
Coming in February
A New Antiquity
Art and Humanity as Universal, 1400–1600
Alessandra Russo
"Alessandra Russo fully restores the centrality of the plural notion of antiquity to the age of the first global interactions. Her reading of a range of writings by humanists, explorers, and missionaries subverts traditional accounts of the Renaissance and reveals how the material encounter with cultures and societies around the world led Europeans to theorize art as universal and redefine the human condition on this basis."
Description

Reviews

Bio

Subjects
We tend to think of sixteenth-century European artistic theory as separate from the artworks displayed in the non-European sections of museums. Alessandra Russo argues otherwise. Instead of considering the European experience of "New World" artifacts and materials through the lenses of "curiosity" and "exoticism," Russo asks a different question: What impact have these works had on the way we currently think—and theorize—about the arts?
Centering her study on a vast corpus of early modern textual and visual sources, Russo posits that the subtlety and inventiveness of the myriad of American, Asian, and African creations that were pillaged, exchanged, and often eventually destroyed in the context of Iberian colonization—including sculpture, painting, metalwork, mosaic, carving, architecture, and masonry—actually challenged and revolutionized sixteenth-century European definitions of what art is and what it means to be human. In this way, artifacts coming from outside Europe between 1400 and 1600 played a definitive role in what are considered distinctively European transformations: the redefinition of the frontier between the "mechanical" and the "liberal" arts and a new conception of the figure of the artist.
Original and convincing, A New Antiquity is a pathbreaking study that disrupts existing conceptions of Renaissance art and early modern humanity. It will be required reading for art historians specializing in the Renaissance, Iberian studies, and Latin American studies and for anyone interested in anthropology and aesthetics..
"Alessandra Russo fully restores the centrality of the plural notion of antiquity to the age of the first global interactions. Her reading of a range of writings by humanists, explorers, and missionaries subverts traditional accounts of the Renaissance and reveals how the material encounter with cultures and societies around the world led Europeans to theorize art as universal and redefine the human condition on this basis."
Alessandra Russo is Professor in the Department of Latin American and Iberian Cultures at Columbia University. She is the author of The Untranslatable Image and El realismo circular and a coeditor of Images Take Flight.
Mailing List
Subscribe to our mailing list and be notified about new titles, journals and catalogs.