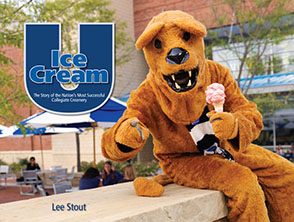 Ice Cream U
The Story of the Nation's Most Successful Collegiate Creamery
Lee Stout
BUY
Ice Cream U
The Story of the Nation's Most Successful Collegiate Creamery
Lee Stout
"How is it that a humble ice cream cone vies for icon status with JoePa and the Nittany Lion Shrine? What is so unique about Penn State's Berkey Creamery . . . that causes it to grow when other college creameries have been shrinking or disappearing altogether? What draws business professionals from all over the world to Penn State to learn the secrets of ice cream making in our famous Ice Cream Short Course? How did [Penn State] become 'Ice Cream U'? . . . Penn State is famous for many accomplishments, beautiful campuses, outstanding faculty and students, successful alumni, and much more. This book concentrates on one of its most popular achievements—the Creamery—and how it has become one of Penn State's great success stories." —From the Introduction
Description

Bio

Subjects
"How is it that a humble ice cream cone vies for icon status with JoePa and the Nittany Lion Shrine? What is so unique about Penn State's Berkey Creamery . . . that causes it to grow when other college creameries have been shrinking or disappearing altogether? What draws business professionals from all over the world to Penn State to learn the secrets of ice cream making in our famous Ice Cream Short Course? How did [Penn State] become 'Ice Cream U'? . . . Penn State is famous for many accomplishments, beautiful campuses, outstanding faculty and students, successful alumni, and much more. This book concentrates on one of its most popular achievements—the Creamery—and how it has become one of Penn State's great success stories." —From the Introduction
From a modest start, the Creamery gradually developed into an internationally respected center for dairy education and research. Professional respect for the Creamery across the globe is matched by the enthusiasm of Penn State fans and alumni who consider the Creamery to be home to some of their happiest memories. Local author and historian Lee Stout weaves together stories of the Creamery and Pennsylvania's agricultural past with a lighthearted and enlightening look at our enduring love affair with ice cream.
Lee Stout (B.A., 1969; M.A., 1972, Penn State University) earned his master's of library science from the University of Pittsburgh in 1974. He spent twenty-seven years as Penn State's university archivist, and from 2001 until his retirement in 2007, he headed public services and outreach for special collections in the University Libraries.
Mailing List
Subscribe to our mailing list and be notified about new titles, journals and catalogs.