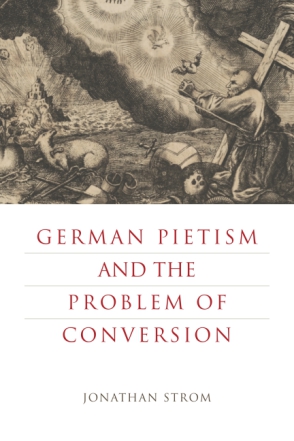 German Pietism and the Problem of Conversion
Jonathan Strom
BUY
German Pietism and the Problem of Conversion
Jonathan Strom
Winner of the 2019 Dale W. Brown Book Award for Outstanding Scholarship in Anabaptist and Pietist Studies
"Church historians and historians of theology will appreciate Strom's careful discussion of Bußkampf and the stages of conversion; historians of religion will revel in the complexities of Pietist belonging. . . . This brief review cannot do justice to this thought-provoking book."
Description

Reviews

Bio

Table of Contents

Sample Chapters

Subjects
August Hermann Francke described his conversion to Pietism in gripping terms that included intense spiritual struggle, weeping, falling to his knees, and a decisive moment in which his doubt suddenly disappeared and he was "overwhelmed as with a stream of joy." His account came to exemplify Pietist conversion in the historical imagination around Pietism and religious awakening. Jonathan Strom's new interpretation challenges the paradigmatic nature of Francke's narrative and seeks to uncover the more varied, complex, and problematic character that conversion experiences posed for Pietists in the seventeenth and eighteenth centuries.
Grounded in archival research, German Pietism and the Problem of Conversion traces the way that accounts of conversion developed and were disseminated among Pietists. Strom examines members' relationship to the pious stories of the "last hours," the growth of conversion narratives in popular Pietist periodicals, controversies over the Busskampf model of conversion, the Dargun revival movement, and the popular, if gruesome, genre of execution conversion narratives. Interrogating a wide variety of sources and examining nuance in the language used to define conversion throughout history, Strom explains how these experiences were received and why many Pietists had an uneasy relationship to conversions and the practice of narrating them.
A learned, insightful work by one of the world's leading scholars of Pietism, this volume sheds new light on Pietist conversion and the development of piety and modern evangelical narratives of religious experience.
"Church historians and historians of theology will appreciate Strom's careful discussion of Bußkampf and the stages of conversion; historians of religion will revel in the complexities of Pietist belonging. . . . This brief review cannot do justice to this thought-provoking book."
"Jonathan Strom's argument provides a level of nuance in understanding the nature of Pietist conversion and conversion narratives that has not previously been achieved. This book offers a sophisticated contribution to the field of Pietism studies, and it will appeal to scholars in the field, graduate students, and upper-level undergraduates."
"Jonathan Strom's manuscript is a landmark study that redirects our understanding of one of the key concepts of Pietist religion in a fundamental way."
Jonathan Strom is Associate Dean of Faculty and Academic Affairs and Professor of Church History at Candler School of Theology, Emory University, and the author of Pietism and Community in Europe and North America, 1650–1850.
Contents
List of Illustrations
Preface
Abbreviations
Introduction
I August Hermann Francke's Conversion
II Early Pietism and the Diverse Cultures of Conversion
III Conversion in Light of Death: von Schönberg and Henckel's Last Hours
IV The Busskampf and Conflicting Views of Conversion after Francke
V Pietist Periodicals and the Conversion Narrative
VI Conversion at Dargun
VII Execution Narratives and the Collapse of the Conversion Narrative
VIII Conclusion
Notes
Bibliography
Index
Mailing List
Subscribe to our mailing list and be notified about new titles, journals and catalogs.